The growing fight over coronavirus vaccine patents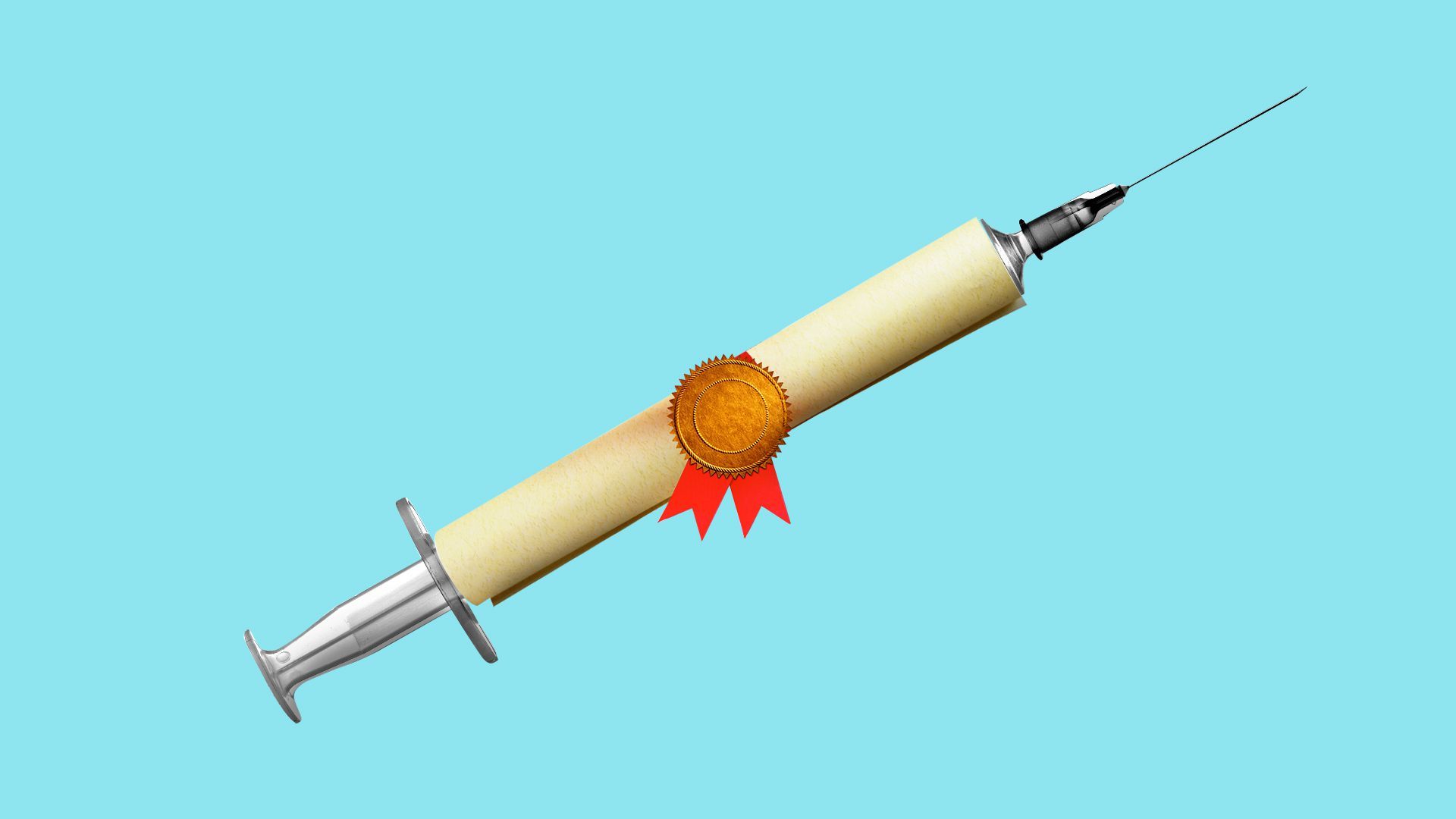 A growing chorus of advocates wants to weaken some of the intellectual property protections for coronavirus vaccines, which they say will quickly expand global supplies. But critics say the move wouldn't work, and would set a bad precedent.
Where it stands: The Biden administration is evaluating the idea, including whether it would work as intended.
The big picture: Rich countries, including the U.S., are well into their vaccination efforts, while many developing nations have yet to begin.
Around 100 countries, led by India and South Africa, want the World Trade Organization to temporarily suspend some intellectual property rights for coronavirus vaccines and treatments, Nature reports.
"If a temporary waiver to patents cannot be issued now, during these unprecedented times, when will be the right time?" Tedros Adhanom Ghebreyesus, the director general of the World Health Organization, recently tweeted, the Washington Post reports. "Solidarity is the only way out."
The other side: The U.S., the European Union, the U.K. and most major pharmaceutical companies have opposed the measure so far.
"COVID-19 vaccines are complex biologic products," 31 board members of PhRMA, the drug industry's leading trade group, wrote in a letter to Biden earlier this month. "Eliminating protections would not speed up production."
"The thing about vaccines is that, unlike a drug, you can't just [follow instructions] and assume that you've got a vaccine. This is a complex biological process that has multiple quality-control steps," Jerome Kim, director-general of the International Vaccine Institute in Seoul, told Nature.
Krishna Udayakumar, associate director for innovation at the Duke Global Health Institute, told the Post that the debate is "more symbolic than practical," and that "what we really need is a stronger effort to develop vaccine manufacturing and transfer knowledge and know how, which is much deeper than patents."
Experts have also raised concerns that removing patent protections would reduce innovation incentives for drug companies in the future.
What we're watching: The Biden administration says it's looking into the idea.
"We are exploring every avenue to coordinate with our global partners and are evaluating the efficacy of this specific proposal by its true potential to save lives," USTR spokesman Adam Hodge told CNBC.
Pressure on the administration may be increasing. Some progressive lawmakers support the waivers, and House Speaker Nancy Pelosi recently sent a letter "urging the administration to study the issue," per CNBC.
What they're saying: "We must find a 'third way' on intellectual property that preserves the multilateral rules that encourage research and innovation while promoting licensing agreements to help scale-up manufacturing of medical products," Ngozi Okonjo-Iweala, director-general of the WTO, wrote earlier this month in an op-ed.
Go deeper: The problem with vaccine patents
Go deeper