Burst bubble: Chinese Super League in financial turmoil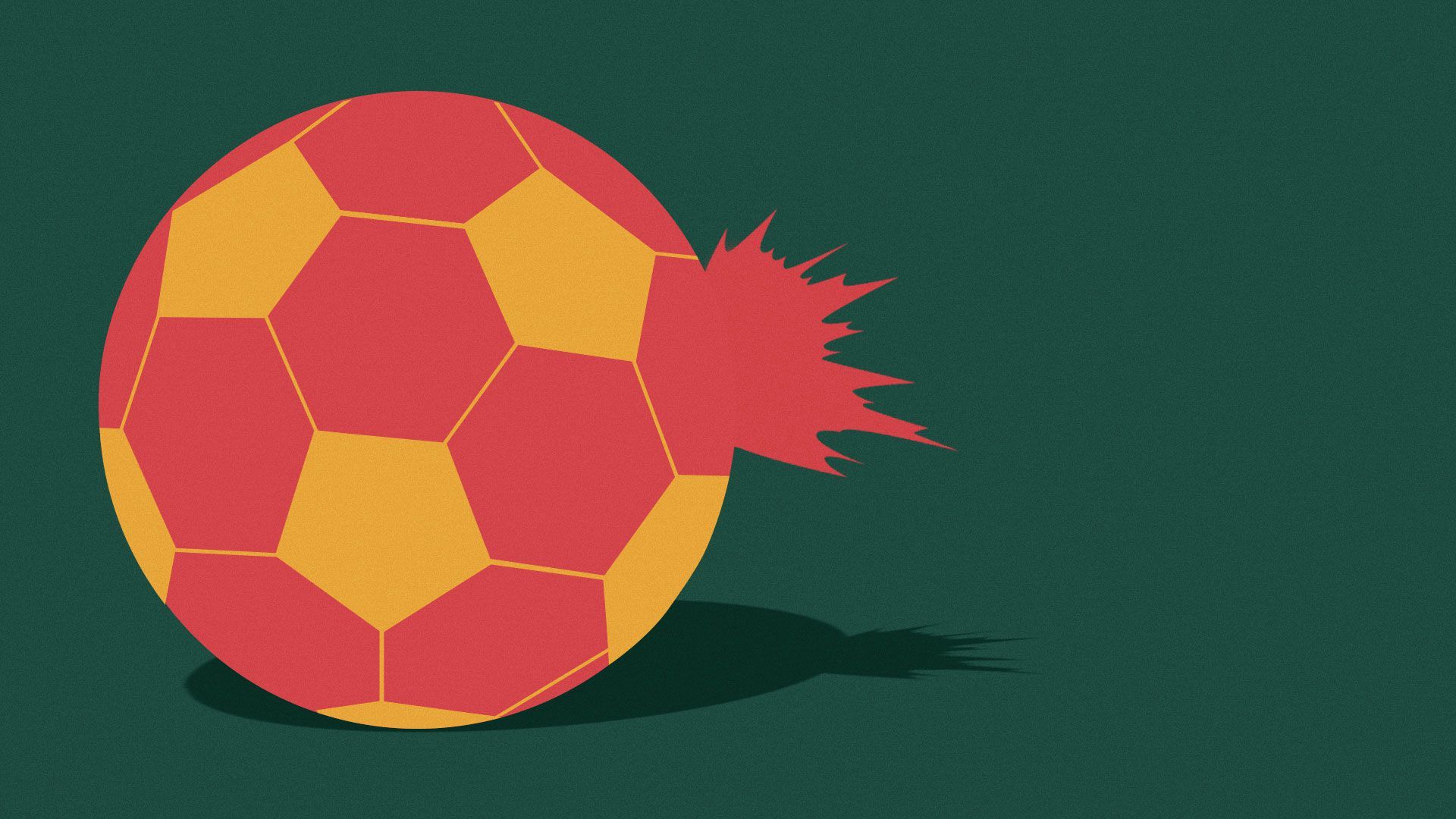 The Chinese Super League was on the rise and threatening to tilt the balance of global soccer during the last decade. Now, it's in complete disarray.
Why it matters: The CSL helped catalyze China's soccer boom, and its foreign stars brought a global audience to its shores. Now, the league's uncertain future could damage soccer's domestic popularity.
The state of play: Government regulations introduced in the past two years have made Chinese teams less appealing for high-caliber talent, China-based news outlet Sixth Tone reports.
New rules have lowered salaries, restricted the number of foreign players a team can have, and required teams to drop the names of corporate sponsors from their team names and logos..
Driving the news: Defending league champion Jiangsu FC shocked fans last month when it announced it would cease operations — the latest in a growing list of CSL clubs to fold or experience financial turmoil.
Catch up quick: The gold rush in Chinese soccer began in earnest in 2012. By the middle of the decade, the CSL had become a major player in the global transfer market.
In 2012, a handful of global stars headlined by former Chelsea striker Didier Drogba joined the CSL, hinting at its growing power.
By 2016, China had begun raiding the world's top clubs and making offers few players could refuse. "We cannot fight this, as it's economics, not football," said one Brazilian club's sporting director.
Those players have come and gone, and the "golden era of cash that marked the peak of the CSL" appears to be over, notes ESPN's Joey Lynch.
What to watch: One silver lining for the future of Chinese soccer is that the new rules encourage clubs to develop more homegrown players, which could ultimately improve the national team talent pipeline.
The bottom line: In early 2016, the Chinese transfer record was broken three times in 10 days. Five years later, all three of those players have left China — and the club that paid hefty sums for two of them no longer exists.
Go deeper: China's soccer dreams have faltered
Go deeper