Fauci: Trump's tweets to "LIBERATE" states "like a punch to the chest"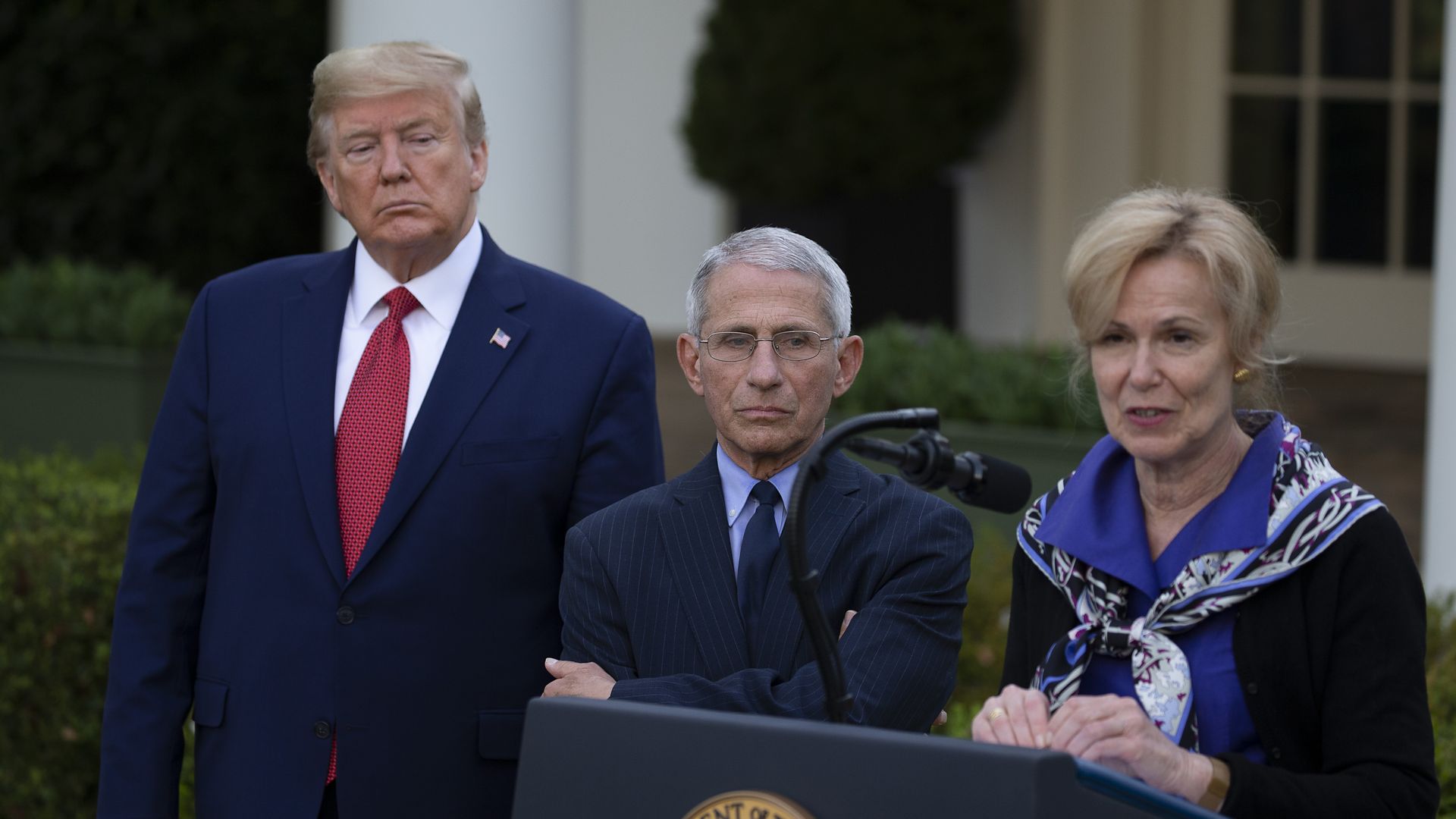 Leading members of former President Trump's White House coronavirus task force opened up on the pressures of working in the administration in a CNN special report, broadcast Sunday.
Of note: In CNN's "COVID War: The Pandemic Doctors Speak Out," Anthony Fauci recalled that Trump tweeting "LIBERATE" blue states in order to push them to reopen "hit me like a punch to the chest," while Deborah Birx said "fault No.1" with the administration was it didn't "provide consistent messaging to the American people."
Other key takeaways: NIAID director Fauci also revealed to CNN's Sanjay Gupta that he and former White House coronavirus coordinator Birx had "good cop-bad cop" roles in the Trump administration — adding, "I was the bad cop, she was the good cop."
"They referred to me, as I often say, as the skunk at the picnic because whenever they would say things were great, I would say ... I don't really think so," Fauci said.
He acknowledged that "there are people" who feel Birx "should have pushed more. She probably should have," but he's "very reluctant to condemn anything" involving her as she had "a much more difficult situation," with an office in the West Wing.
"She did a lot of good," he said. "She knocked herself out getting up at 3:00 in the morning putting that data together presenting it every day."
Birx said she had a "very uncomfortable" call with Trump after warning on CNN last August of spiking cases in rural communities, telling Gupta she got a "whole lot of pushback" for that.
She added that she knew she was "being watched" during her time in the Trump administration.
"Everybody inside was waiting for me to make a misstep so that they could, I guess, remove me from the task force," Birx said.
For the record: While others spoke of pressure from Trump, former CDC chief Robert Redfield told Gupta, "I didn't have really difficult challenges with the White House. The challenges I had were with the office of" former Health and Human Services Secretary Alex Azar.
Representatives for Trump did not immediately respond to Axios' request for comment.
Go deeper: Deborah Birx says thousands of U.S. COVID-19 deaths could've been prevented
Go deeper