Amazon's scorched-earth PR strategy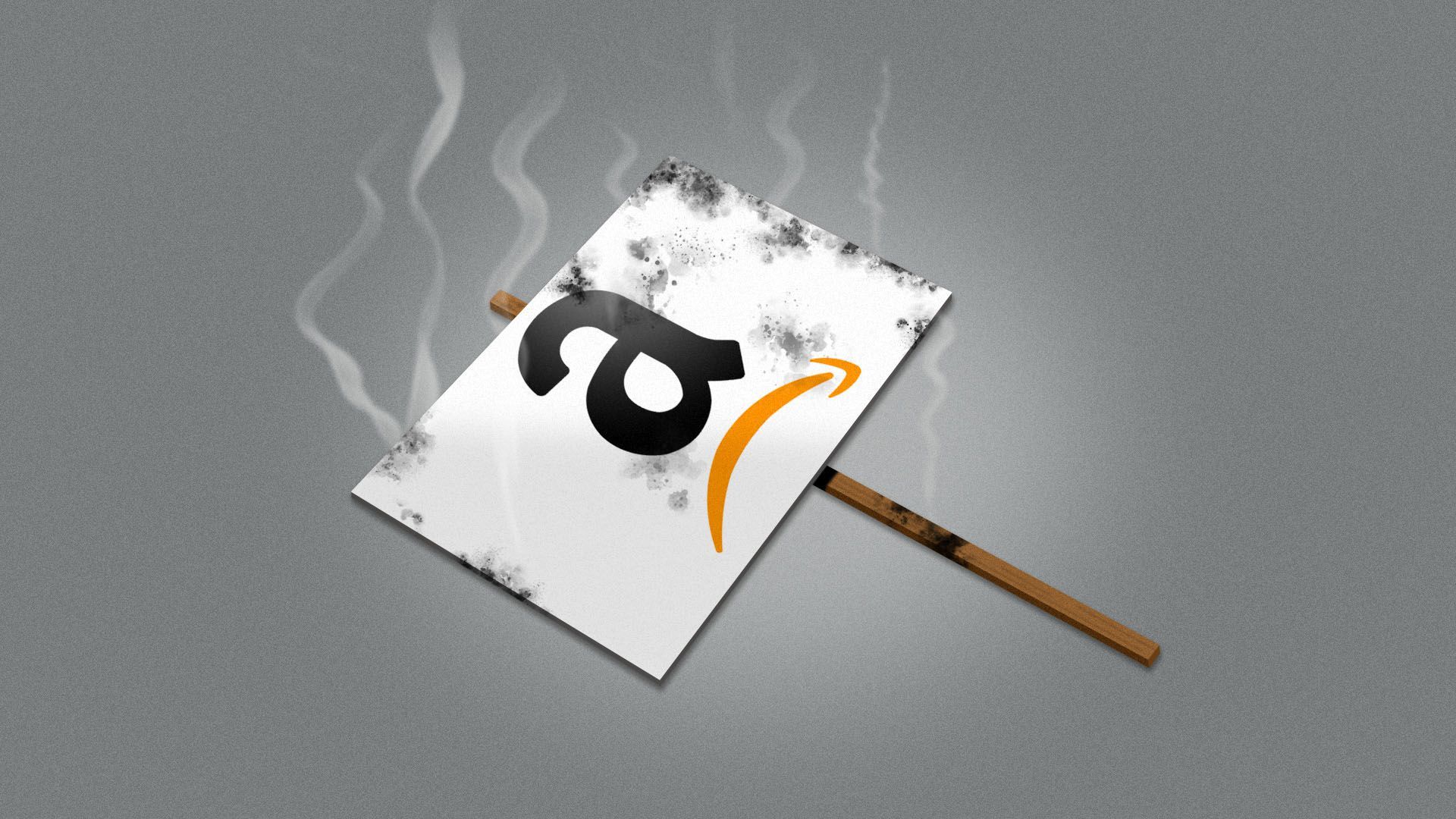 Amazon has launched a sharp-elbowed PR offensive on social media in response to a sea of pressure from workers, politicians and regulators.
Why it matters: It's a risky move that could help fight short-term battles but also risks establishing a pattern of antagonism against people and groups that could be thorns in the company's side for years to come.
Driving the news: Amazon is nearing the finale of a union-organizing effort at an Alabama warehouse, with mail-in voting due to end Monday.
The company has campaigned aggressively against the union, including a crescendo of text messages sent directly to workers, according to one pro-union site. It has also reportedly deleted hundreds of thousands of lower-level warehouse workers from a corporate directory.
The company confirmed to Axios that it has hired local police to work off-hours as security for the Alabama warehouse, which Amazon said is to protect employees coming to and from work. The company declined to comment on the broader PR campaign.
What they're saying: Executives have replied to political attacks with pugnacious tweets, directly targeting Elizabeth Warren and Bernie Sanders in comments last week amid criticisms that the company doesn't pay enough taxes or adequately compensate employees.
"I welcome @SenSanders to Birmingham and appreciate his push for a progressive workplace. I often say we are the Bernie Sanders of employers, but that's not quite right because we actually deliver a progressive workplace," Amazon consumer boss Dave Clark tweeted on Wednesday.
More broadly, Amazon has challenged the narrative that it is a harsh place to work. In a tweet to Rep. Mark Pocan (D-Wis.), the company denied allegations that tough schedules force workers to urinate in bottles rather than take bathroom breaks — prompting more reports that this is indeed taking place.
The big picture: Amazon is almost certain to be under a microscope in the coming years.
From an antitrust perspective, Amazon already dominates online retail and is a major player in Web services and is a growing player in both online advertising and physical stores (Whole Foods, Amazon Books, Amazon Go).
The company has long been criticized for the amount of taxes it pays. Still, it's hard to see what Amazon has to gain by baiting senators, and Amazon doubled down after Warren pushed back.
Between the lines: Some of Amazon's snappy retorts came from Clark's personal account, but most came from the corporate Amazon News account, which has no name attached.
And while some saw Clark as the voice behind the corporate push, Vox reported Sunday that the increased aggression came after founder Jeff Bezos urged executives to tackle critics head on.
Our thought bubble: Bezos may like the tough talk, and the company may hope it's standing up for itself and rallying public opinion. But it could easily backfire, antagonizing key constituencies and deepening Amazon's identification as an overbearing bully.
What's next: The results of the union vote will begin being counted on Tuesday, though the process, overseen by the National Labor Relations Board, could take a couple of days.
Go deeper