Georgia lawmaker released on bond after arrest during signing of GOP voting bill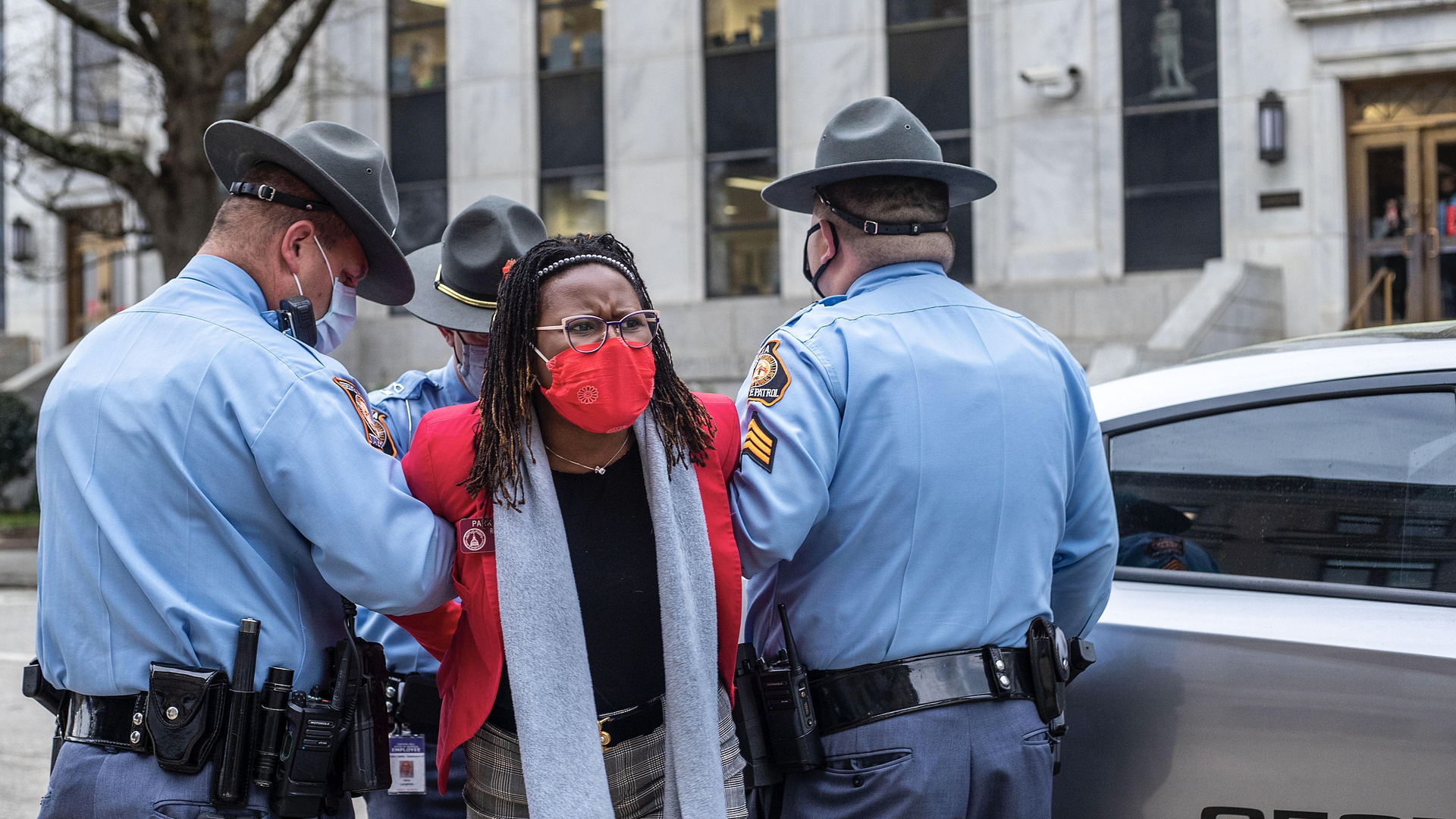 Georgia State Rep. Park Cannon (D) was released on bond late Thursday after being arrested and forcibly removed from the Capitol for attempting to knock on the door of Gov. Brian Kemp (R), who was in the process of signing a sweeping GOP-sponsored bill to curb voting access.
Why it matters: The video of Cannon's arrest went viral Thursday night, as Georgia again became ground zero for the national debate over voting rights.
The big picture: The bill Kemp signed is one of dozens of voting-rights rollbacks making their way through state GOP legislatures, an effort that President Biden on Thursday labeled "sick" and "un-American."
The Georgia law imposes new ID requirements, limits the use of ballot drop boxes, and changes early voting hours, among other things. Kemp said at the signing that it will ensure Georgia's elections are "secure, accessible and fair."
Democrats in Congress have named the "For the People Act," a landmark piece of federal legislation that would expand voting rights, reduce money in politics and limit partisan gerrymandering, as a top priority to counter Republicans' voting restrictions, which some have likened to "Jim Crow in new clothes."
The state of play: Cannon was charged with obstruction of law enforcement and disrupting a session of the Georgia General Assembly, after she knocked on Kemp's door and called on him to sign the bill in public.
Sen. Reverend Raphael Warnock (D-Ga.) visited Park in Fulton County jail after she was detained.
"What we have witnessed today is a desperate attempt to lock out and squeeze the people out of their own democracy," Warnock, who was elected to the Senate in January, said outside the jail. "We are going to take this fight to give the people their voices back."
What they're saying: "Hey everyone, thank you for your support. I've been released from jail. I am not the first Georgian to be arrested for fighting voter suppression. I'd love to say I'm the last, but we know that isn't true," Cannon tweeted after midnight.
"But someday soon that last person will step out of jail for the last time and breathe a first breath knowing that no one will be jailed again for fighting for the right to vote."
Go deeper