Facebook, Google, Twitter CEOs face House grilling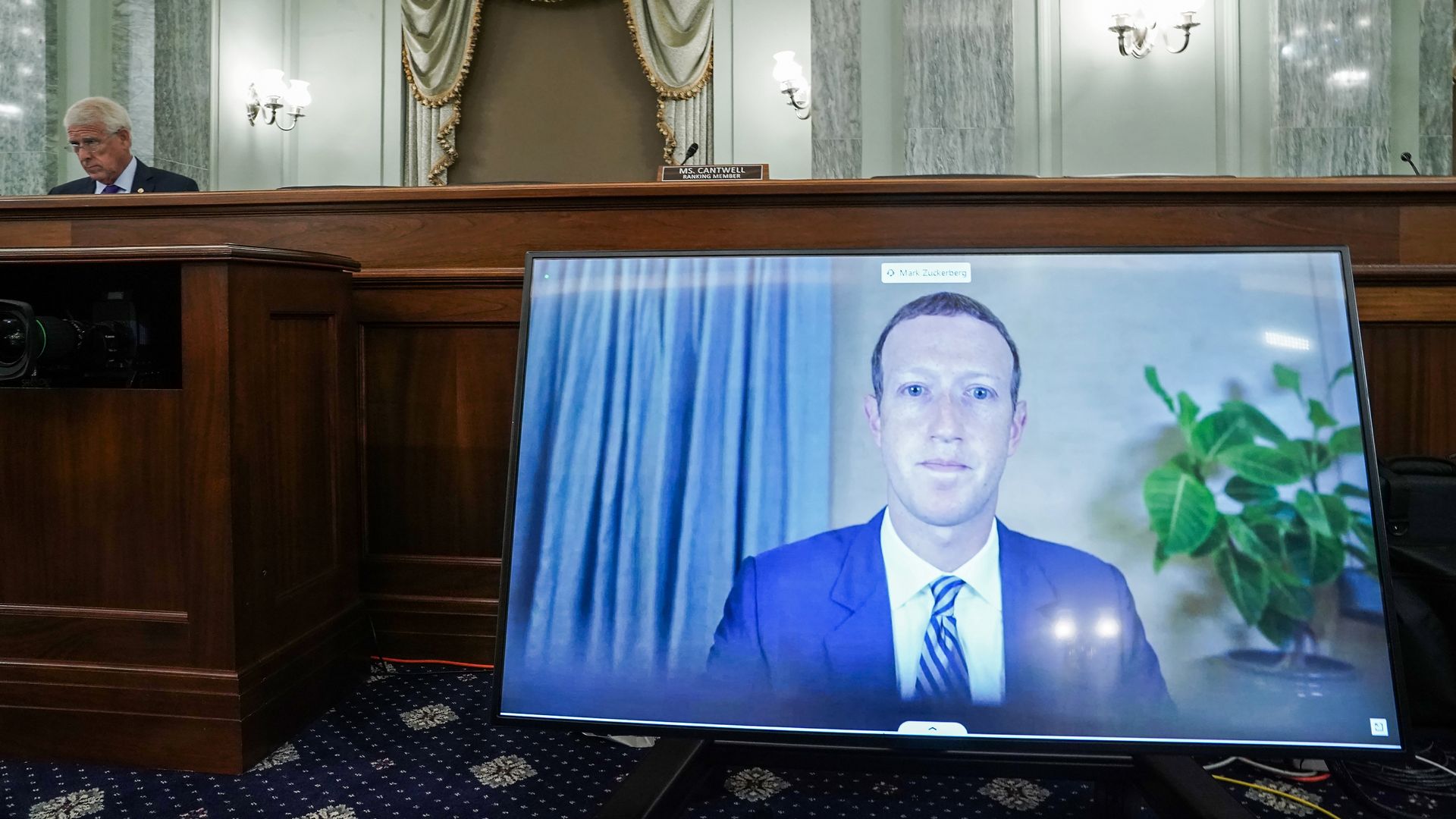 Lawmakers from both parties attacked online platforms for causing offline harm to children, public health and democracy at a House hearing with the CEOs of Facebook, Google and Twitter testifying virtually on Thursday.
The big picture: The hearing is focused on social media's role in spreading misinformation and extremism, with the Jan. 6 insurrection at the U.S. Capitol and false information about the pandemic top of mind for Democratic lawmakers who have pledged to pursue legislation.
Where it stands: Rep. Jan Schakowsky (D-Ill.), chair of the House Subcommittee on Consumer Protection and Commerce, said misinformation about the pandemic and the 2020 election led to lives being lost.
"The witnesses here today have demonstrated time and time again that self-regulation has not worked," Schakowsky said. "They must be held accountable for allowing disinformation and misinformation to spread."
House Energy & Commerce Committee Chairman Frank Pallone expressed frustration with Facebook, and said the company amplifies misinformation. "That's why Congress has to act," Pallone said. "You're not bystanders, you're encouraging this stuff."
Meanwhile, Rep. Gus M. Bilirakis (R-Fla.), the ranking Republican on the consumer protection subcommittee, said he's heard from constituents about online bullying and said the committee can come together to force changes on the platforms.
"What I do want to hear is what you will do to bring our country back from the fringes and stop the poisonous practices that drive depression, isolation, and suicide," Bilirakis said. "Our kids are being lost, while you say you will try to do better, as we've heard countless times already."
Rep. Cathy McMorris Rodgers (R-Wash.), the ranking Republican on the House Energy & Commerce Committee, told the CEOs their platforms are her "biggest fear" as a parent.
"Do you know what has convinced me Big Tech is a destructive force? It's how you've abused your power to manipulate and harm our children," Rodgers said.
Yes, but: Rep. Steve Scalise (R-La.) focused on familiar Republican complaints about bias against conservatives, pressing Dorsey about Twitter's treatment of the New York Post and its story about Hunter Biden.
Dorsey said the company made a "total mistake" with the New York Post. "We will make mistakes and our goal is correct them as quickly as possible."
What they're saying: In his opening remarks, Facebook CEO Mark Zuckerberg defended the company's actions in handling election misinformation, and the pointed to the role former President Trump played in the Capitol attack.
"We didn't catch everything, but we made our services inhospitable to those who might do harm," Zuckerberg said. "And when we feared that he would incite further violence, we suspended the former president's account."
Google CEO Sundar Pichai defended Section 230 in his opening remarks and went through election and Covid-19 related policies YouTube has rolled out, while Twitter CEO Jack Dorsey took some responsibility for misinformation on Twitter and touted his idea that content moderation should be a shared and collaborative process.
Schakowsky pressed Zuckerberg on Facebook COO Sheryl Sandberg's comments shortly after the Capitol riot that the insurrection was not largely planned on Facebook. He mostly dodged: "Certainly there was content on our services, and from that perspective there is further work we need to do."
Context: In written testimony, Zuckerberg suggested legislation could require online platforms to have systems in place for identifying and removing unlawful content in order to receive key liability protection.
Google CEO Sundar Pichai instead focused on improving transparency for how content moderation decisions are made, while Twitter CEO Jack Dorsey focused his written testimony on algorithmic choice.
Go deeper