Biden sets new goal of 200 million vaccine doses in first 100 days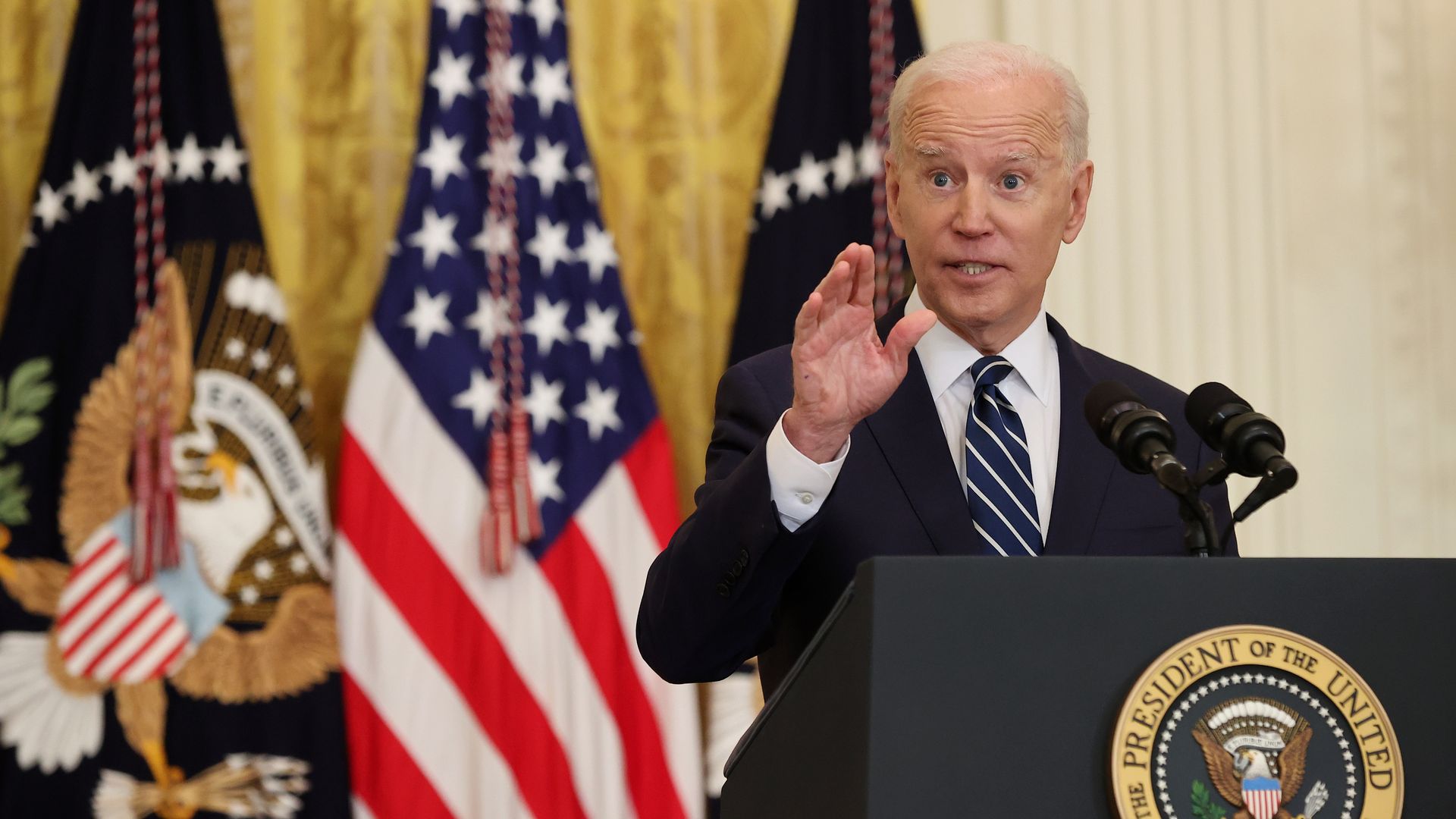 President Biden on Thursday announced a new COVID-19 vaccine goal at his first press conference since taking office: 200 million shots administered within his first 100 days.
Why it matters ... At the current 7-day average of about 2.5 million doses administered per day, the U.S. would reach 200 million shots in the days leading up to Biden's 100th day in office: April 30.
The U.S. easily surpassed Biden's original goal of 100 million shots in his first 100 days, which some criticized as insufficiently ambitious.
The president is now significantly increasing expectations, with the U.S. having administered roughly 115 million doses through his first 64 days, according to Bloomberg.
What they're saying: "I know it's ambitious, twice our original goal, but no other country in the world is going to come close, not even close, to what we are doing," Biden said at the outset of his first news conference, before taking questions.
Between the lines: Since Biden took office, the Johnson & Johnson one-shot vaccine has been authorized for use by the FDA, providing a third option to a national stockpile that already included the Pfizer and Moderna vaccines.
With states having had several few months to work out kinks in their vaccine systems, the U.S. has reached record highs of over 3 million doses administered
Biden has ordered all states to make coronavirus vaccines to all adults by May 1, and dozens have already met that eligibility goal.
Yes, but: The massive scale and complexity of the vaccine rollout could bring hurdles that slow the current pace of distribution, such as a drop in demand, logistical issues, or unforeseen supply problems.
The big picture: The president is aiming for Americans to be able to gather safely in small groups by July 4. The Centers for Disease Control has said that fully vaccinated people can gather indoors — without masks — and still be safe.
This story is breaking news. Please check back for updates.
Go deeper