Attention wars move to the living room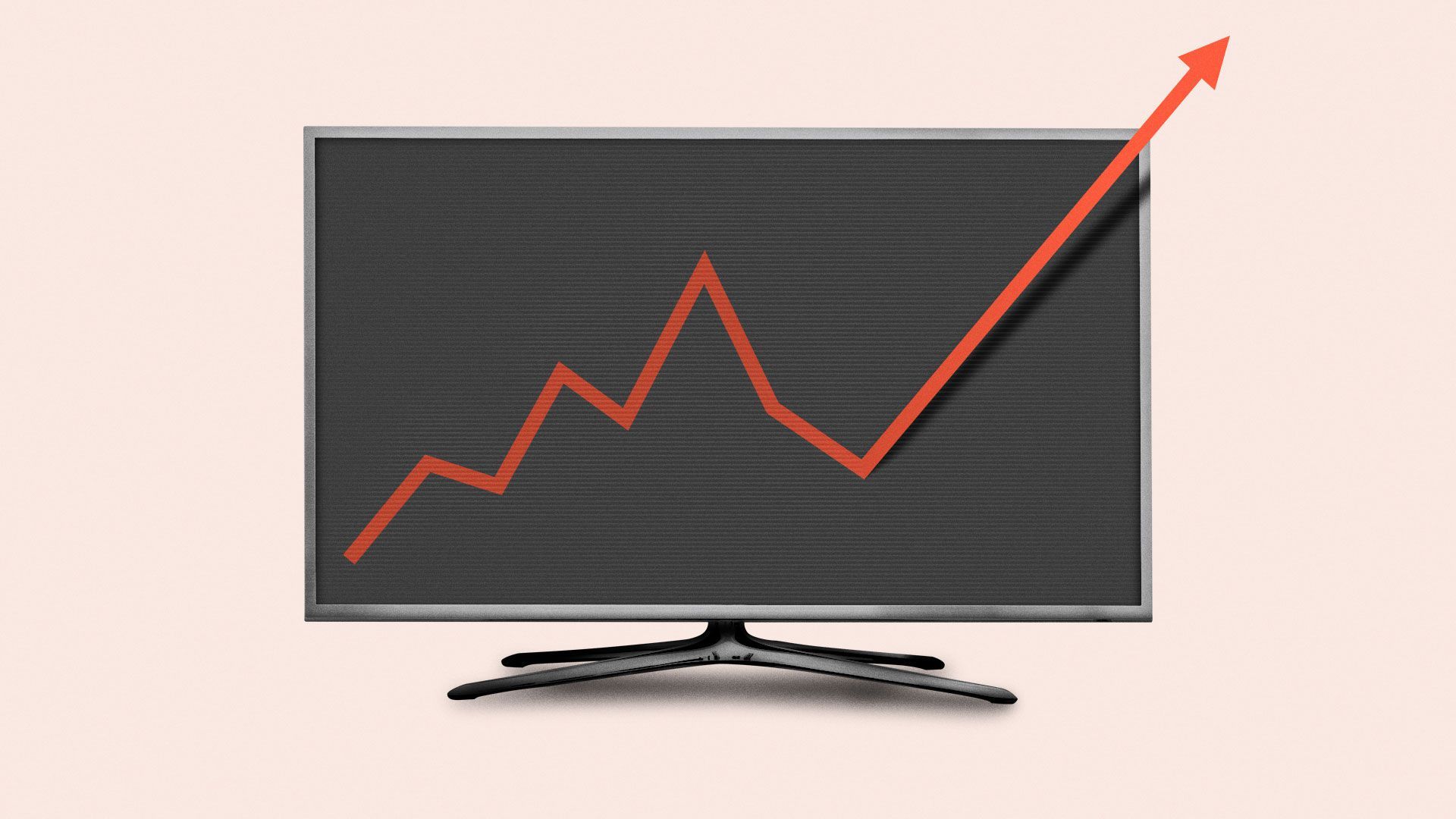 The time Americans spend streaming television has skyrocketed during the pandemic, causing a mad dash by content companies, tech firms and advertisers to invest unprecedented amounts in digital TV.
Why it matters: Prior to the mass adoption of streaming, the fight for the future of consumers' attention was mostly being fought on smartphones, not smart TVs.
By the numbers: Amid the pandemic, the vast majority of over-the-top (OTT) digital TV consumption has occurred in living rooms, per Nielsen.
On average, more than 62% of streaming TV content occurred in living rooms during lockdowns last year, compared to roughly 16% and 13% in primary bedrooms and secondary bedrooms.
Connected TV usage jumped 33.8% last year to 1 hour, 17 minutes per day, according to eMarketer. Subscription streaming, which happens primarily on televisions, saw a 33.9% increased in usage to 1 hour, 12 minutes per day.
Streaming apps like Hulu and Netflix say the vast majority of their content is consumed on connected TVs in the living room, not smartphones.
YouTube says over 120 million people streamed YouTube and YouTube TV on TV screens in December 2020 in the U.S., up from 100 million in March 2020. In a blog post, it cited more educational content being consumed in living rooms.
Driving the news: Roku said Tuesday ahead that it's launching the first-ever brand studio for streaming TV ads. The effort comes as Roku pushes to grow its "platform" revenue, which mostly consists of advertising on its free streaming network, The Roku Channel.
Roku's vice president of ad marketing Dan Robbins tells Axios that the company's monetized video ad impressions more than doubled year over year in 2020. Roku is adding roughly a dozen people from Funny or Die's branded content team to help bolsters its new brand studio for digital TV ads. 
Details: Heading into this year's virtual "Newfronts" season, where digital content companies give presentations to court marketers, several streaming companies, like Amazon (a newcomer to the presentations), Roku, Vizio and others will be presenting new advertising tools to woo Madison Avenue.
Roku said this month it is acquiring Nielsen's advanced TV advertising division as it works to help traditional television ad dollars migrate more quickly to streaming. Roku's ad-supported business is now significantly larger than its hardware business.
Vizio is looking to make a similar transition, as smart TV hardware becomes ubiquitous among most American households. CNBC reports that like Roku, Vizio is pitching investors as it pans to go public on its ability to grow its streaming ads business, which is smaller but has more potential for growth.
NBCUniversal's Peacock announced Tuesday new investments to make TV ads more engaging with data, including giving viewers the opportunity to buy things via digital TV ads.
Amazon is also eyeing connected TV ads as a way to extend its ad inventory to sellers on its platform that like to use its shopping data to target customers.
Be smart: Investments in digital TV advertising are helping to shift marketing dollars to smart TVs, which is also helping to accelerate the shift to smart TV consumption altogether.
Prior to new announcements from Google around privacy changes, ad tech companies like Trade Desk and Magnite saw their stocks skyrocket during the pandemic — despite initial advertising market headwinds — thanks to growing investor optimism in targeted advertising on smart TVs.
The big picture: Investment in advertising for digital TV is coming amid a free, ad-supported TV app boom.
What to watch: The pandemic has expedited a shift to streaming, but it's still to be seen whether the enormous growth rate for digital TV will continue at the same pace once we're no longer homebound.
Go deeper