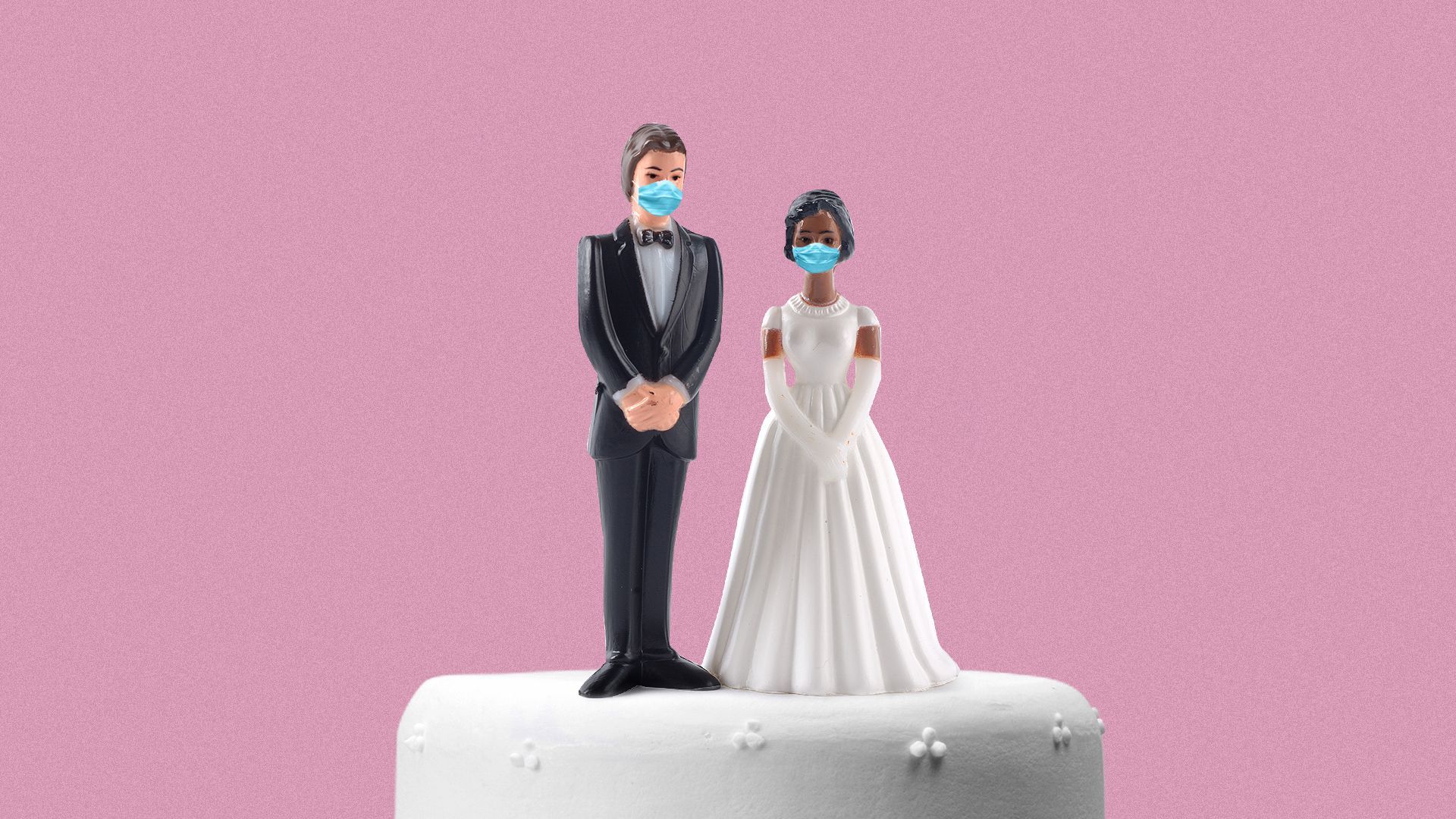 The latest sign of a return to normal: The traditional in-person wedding is plotting a comeback.
Why it matters: The colossal wedding business — already facing upheaval as marriage rates plummet — was left for dead by the pandemic. The effect crushed revenues for the lengthy list of love beneficiaries: vendors, florists, hotels, caterers, jewelers, makeup artists and more.
What they're saying: "From the summer on, the wedding industry will be great — short of another natural disaster," Richard Markel, head of the Association for Wedding Professionals International, tells Axios.
Flashback: As the virus exploded and the economy plunged into a deep hole, some weddings were canceled — but most ceremonies were scaled back and held on Zoom.
Last quarter, Etsy's wedding category grew 30% compared with the previous year — a nod to the fact that people were "finding a way to get married" and gather virtually, executives recently said.
By the numbers: Roughly 40% got married and hosted a reception last year, according to a survey of 7,600 couples by The Knot.
But nearly half with weddings originally scheduled for 2020 opted to postpone part of their celebration to this year or later.
What they're saying: "Even if they got married during the pandemic, they're going to have a real wedding celebration as soon as they're comfortable," Christopher Pappas, CEO of Chefs Warehouse, a food distributor, told analysts last month.
Pappas said there will be a "massive explosion of catering and parties," noting what he's heard from wedding planners and caterers.
Yes, but: The industry's revival is largely virus-dependent. The latest CDC guidance says to avoid events and gatherings. New York is allowing receptions and catered events as of this week — with the number of attendees capped. Massachusetts is also loosening restrictions.
"When we have a good proportion of the people vaccinated, I think you're going to see weddings in the normal way that we've seen within a reasonable period of time," NIAID director Anthony Fauci told Meet the Press last week. (He didn't specify when.)
One report from a wedding research group urges more caution, noting the industry won't even begin to see recovery until 2022 or 2023.
There are hints from the hotel industry — a huge wedding beneficiary —that plans are taking shape, setting off a possible earlier-than-expected revival.
One example: Playa Hotels and Resorts told Wall Street its revenue on the books for weddings this year is roughly half of what it was in 2019 — a quicker rebound than internal projections.
Worth noting: Some border restrictions remain, limiting destinations for weddings abroad (and honeymoons).
What to watch: "It's going to be interesting to see how how many people are still in the business ... a lot of vendors are not in business or they are already locked in to a wedding that they booked in 2019 at a different price," Markel says.
Go deeper