Opening the vaccine doors too wide, too fast could threaten equity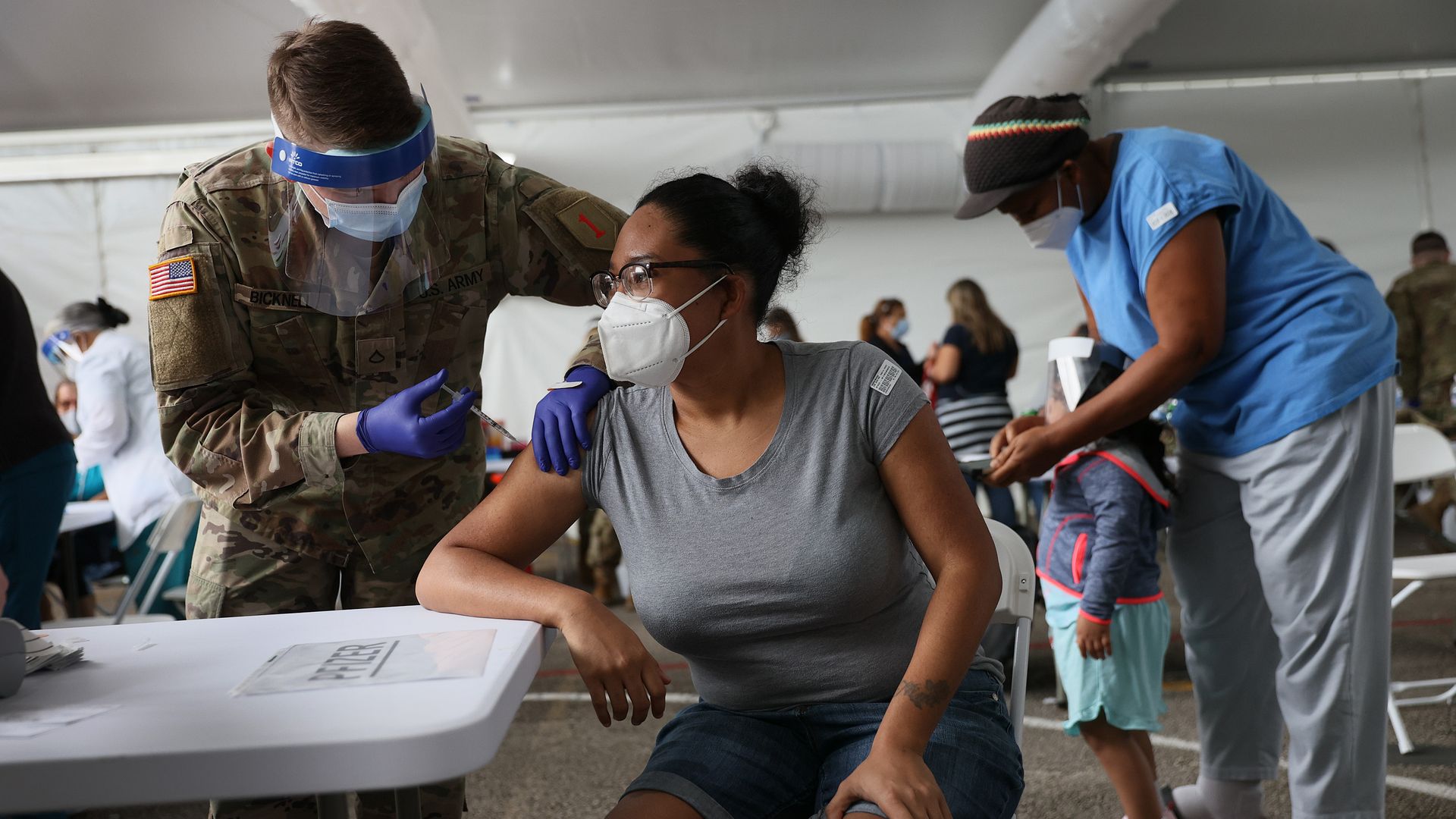 Several states are making their entire adult populations eligible for coronavirus vaccines well ahead of President Biden's May 1 goal.
Why it matters: Opening up eligibility could get more shots in arms, but it also risks creating more competition for vaccines before many vulnerable Americans have received theirs.
Driving the news: Alaska and Mississippi have made the vaccine available to everyone older than 16. Ohio, Utah, Michigan, Montana and Connecticut have all said they'll follow suit within the next few weeks, per CNN.
Where it stands: Alaska has fully vaccinated more of its population than any other state, at over 18%, and Connecticut is near the top, according to Johns Hopkins' vaccine tracker.
But Ohio and Michigan are in the middle of the pack, and only seven states have vaccinated smaller shares of the their population than Mississippi.
Nationally, about 37% of people 65 and older are fully vaccinated, and about 65% have received at least one dose, per the CDC.
What they're saying: "One of the risks of opening up to all adults is it does become a bit of a free for all, and it becomes much more difficult to target vaccines and ensure those who are most vulnerable are vaccinated first," KFF's Jen Tolbert said.
"It is wonderful news that come May, vaccine supply will no longer be the limiting factor in getting Americans vaccinated. The bottleneck will then become distribution. Demand will outstrip our ability to get shots in arms, and that's when the 'hunger games' will truly begin," said Celine Gounder, an assistant professor at the New York University Grossman School of Medicine.
"We will need to pay special attention to equity, otherwise the most vulnerable will be left out, including people who work hourly jobs, don't have easy access to a computer or the internet, have lower levels of literacy, and have disabilities," she added.
The other side: An increase in vaccine supply may mean that speed and equity don't necessarily have to work against each other.
"We can increase eligibility to get as much speed going as possible (and prevent doses from sitting in storage), while also targeting communities that are unable to get access due to barriers to care," said Leana Wen, a visiting professor at George Washington University School of Public Health.
Between the lines: Even when eligibility is wide open, providers may still have some ability to prioritize the highest-risk patients.
"As providers are scheduling appointments, they should consider an individual's risk of exposure due to their employment and their vulnerability to severe disease in determining how to schedule appointments," the Michigan State Emergency Operations Center wrote in a memo announcing the eligibility dates last week.
Go deeper