Trump's parting gift: Border rage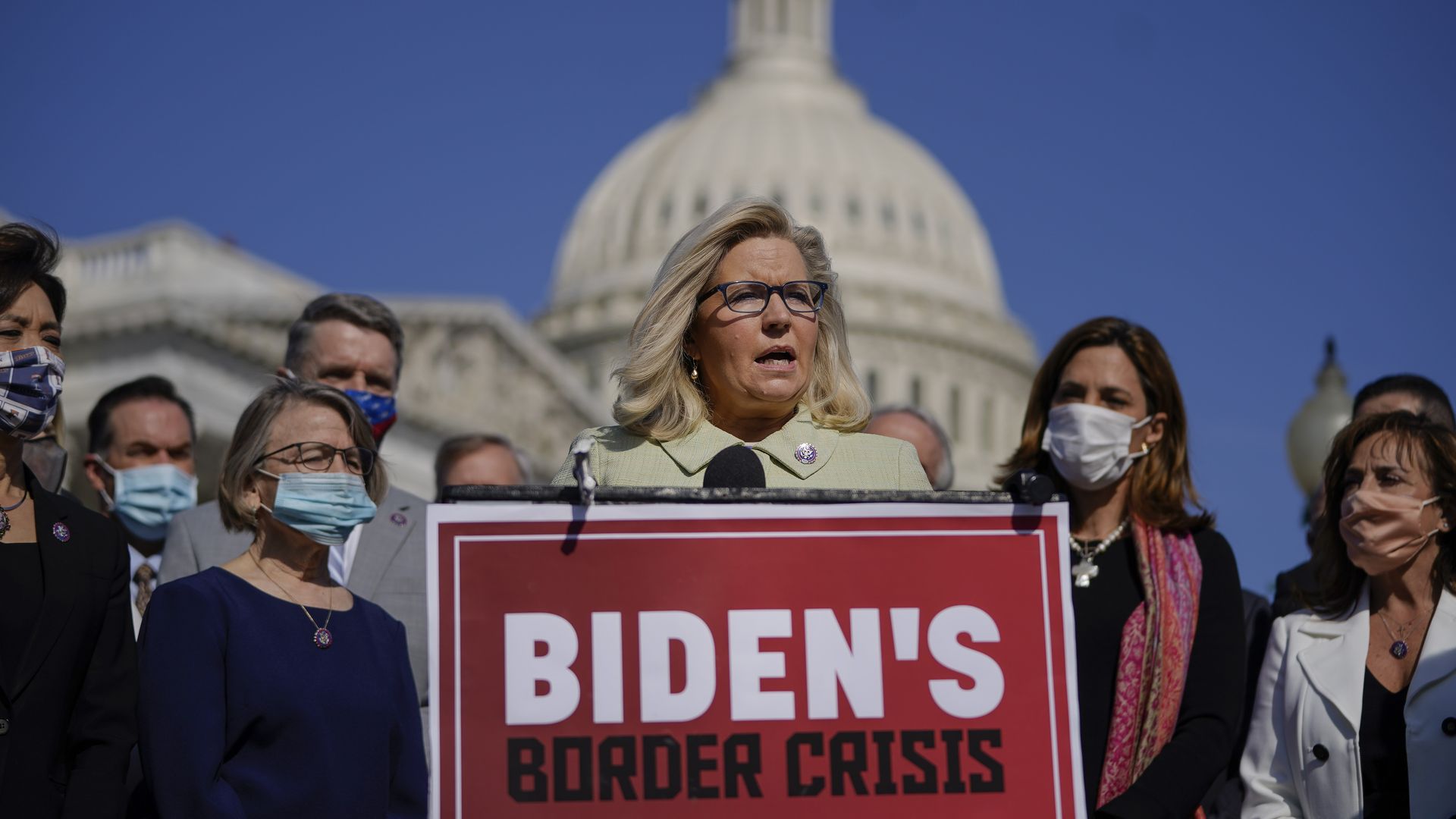 Donald Trump's parting political legacy for the Republican Party is giving it an issue to rally around as it's being outflanked on COVID-19 recovery efforts.
Driving the news: The former president's strident immigration language — vowing to have Mexico pay for a wall — fueled Democratic pledges for a more humanitarian approach. Now, unaccompanied children are flooding across the border, and the Biden administration is scrambling to respond.
Although Trump's no longer in office, his fellow Republicans are following his playbook.
He also forced many progressives to take a maximalist response to his approach, making it difficult for President Biden to find either the middle ground or a workable solution.
Between the lines: House Republicans rallied Thursday behind a lectern reading, "Biden's Border Crisis."
House Minority Leader Kevin McCarthy is leading a Republican delegation to the U.S.-Mexico border on Monday.
Now, some Democratic members of the House are also planning their own trip, as Axios reported Thursday.
"This is a deep humanitarian situation that demands a dignified response, not dangerous rhetoric," said Rep. Joaquin Castro (D-Texas), who is organizing the Democrats' trip.
The big picture: Trump convinced his supporters a border wall, as well as strict policies for returning families and unaccompanied children, would solve most of America's problems.
His political opponents responded by saying that removing him from office was a better approach.
Biden vowed to pursue comprehensive immigration reform, but many Central Americans fleeing poverty, the coronavirus and a pair of hurricanes took his approach as an invitation to make their way north.
White House press secretary Jen Psaki has dismissed Trump's most recent criticism and said, "We're going to chart our own path forward, and that includes treating children with humanity and respect, and ensuring they're safe when they cross our borders."
What they're saying: Some Democrats are now warning the situation is much more complex.
"You just can't say, 'Yeah, yeah, let everybody in' — because then we're affected down there at the border," Rep. Henry Cuellar (D-Texas) told Axios recently.
On Thursday, he said: "I'm glad that different people are coming down to the border and visiting. But I do caution my colleagues that just a few hours at the border doesn't take away from the lifetime of experience a lot of people who live at the border do understand."
Why it matters: Republicans in both the House and Senate voted unanimously against the $1.9 trillion COVID-19 relief package that Biden signed into law on Thursday.
They said a majority of it was focused on issues unrelated to the coronavirus.
Nonetheless, polls showed the package was supported by some 75% of Americans.
Shifting focus to the border provides their own form of political refuge.
Go deeper: The White House acknowledges some responsibility for the situation at the border but says many of the dynamics are beyond the president's control.
Last weekend, Biden dispatched senior officials to the border to assess the situation firsthand. They briefed him in person Wednesday.
That same day, the White House conceded his more welcoming rhetoric had contributed to an increase in border crossings.
"Surges tend to respond to hope, and there was significant hope for a more humane policy after four years of pent-up demand," said Roberta Jacobson, the president's border czar.
Editor's note: This story has been corrected to quote Rep. Joaquin Castro, not his brother Julian Castro.
Go deeper