Facebook expands fan payments, subscription options in appeal to creators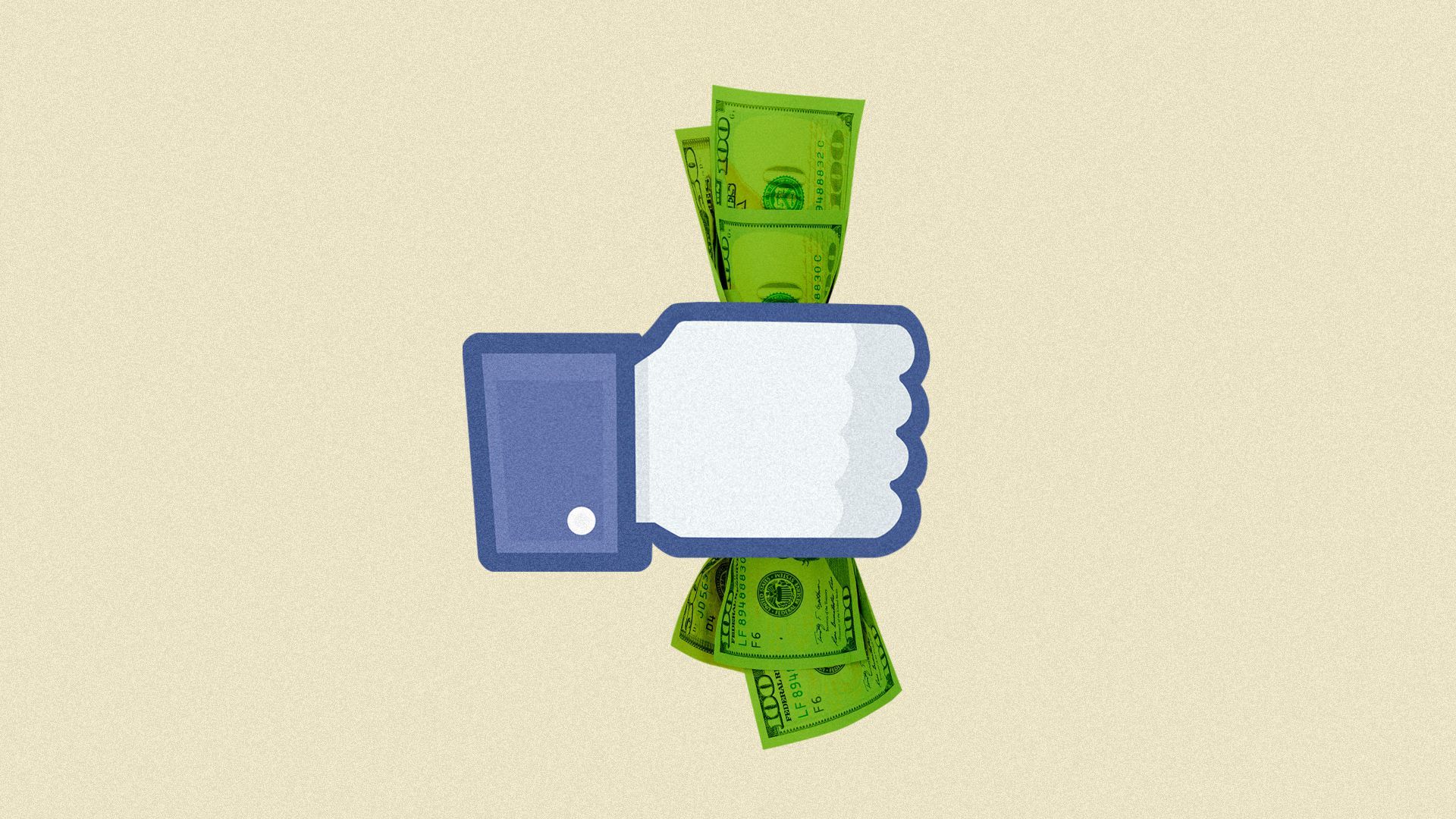 Facebook said Thursday it's significantly expanding the number of options for creators to get paid directly by fans.
Why it matters: These investments will "help strengthen the relationship between creators and their fans," said Yoav Arnstein, director for Facebook app monetization. The company hopes that this will ultimately increase engagement across Facebook and its family of apps, like Instagram, Messenger and WhatsApp.
Driving the news: Facebook is going to allow users to start making revenue off short-form video.
The platform is updating its in-stream video ad eligibility so that more creators can start making money from ad revenue splits on live events and videos.
Video creators can now earn money from videos as short as one minute long, with a minimally interruptive ad running at 30 seconds. Previous requirements considered on-demand videos to be at least three minutes long.
Facebook is starting to test sticker ads within its "Stories" product.
It's also expanding paid online events and fan subscriptions to more countries. (Paid online events are particularly helpful for creators in the services industry that have had to shut down during the pandemic, including brick and mortar shops like fitness studios.)
The company is making it easier for creators to receive payments from fans directly by allowing them to distribute free "Stars" giveaways to viewers.
"Stars," like Twitter's new "Super Follows" feature, allow users to send small acknowledgements to their favorite content creators to boost their visibility and connection with the creator and add to the creator's earnings.
Facebook is investing $7 million over the next few months in consumer education and adoption via free Stars.
Over the past six months, Facebook says that people sent video and gaming creators an average of 1 billion Stars per month, equal to $10 million per month.
By the numbers: The tech giant says that from 2019 to 2020 ...
The number of content creators earning the equivalent of $10,000 per month grew 88%.
The number of creator earning $1,000 per month grew 94%.
Payouts to creators for in-stream ad revenue splits grew over 55%.
The big picture: The success of platforms that prioritize creators like TikTok, OnlyFans and Substack has led to a mad dash of investments from tech companies into products that help creators monetize their audience.
Facebook, Snapchat and YouTube have launched TikTok competitors.
Twitter recently announced it will create a new feature that allows users to charge their followers for more content via a payment tool called "Super Follows."
What to watch: Creators on Facebook's new TikTok rival "Reels" are still ineligible for ad revenue, as those videos are under a minute. But the company plans to introduce in-stream ads for shorter videos in the future.
Go deeper