Palestinians want Biden's backing for elections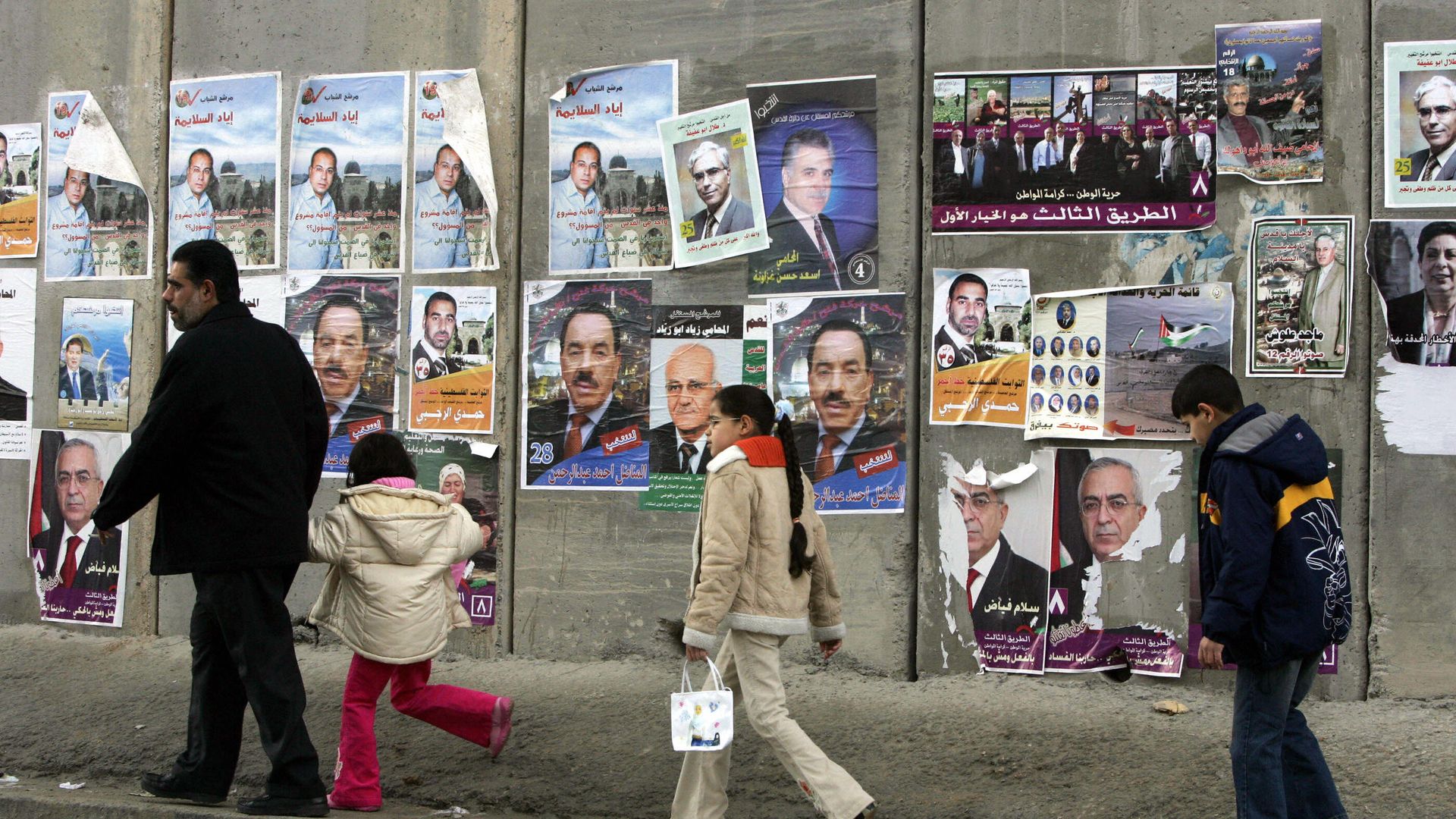 The Palestinian Authority is trying to convince the Biden administration to support the upcoming Palestinian parliamentary elections, planned for May 22, and not to object to the participation of Hamas.
Why it matters: The elections currently appear to be a low priority for the Biden administration — but that will change if they actually take place, and in particular, if they're won by Hamas, a U.S.-designated terror organization.
Flashback: Hamas' victory in the last elections, in 2006, surprised the George W. Bush administration, which had pressed for the elections and for Hamas to be allowed to participate.
The U.S. and many other Western countries boycotted Hamas after its victory and demanded the group renounce violence, recognize Israel and commit to previous agreements signed by the Palestine Liberation Organization and the Palestinian Authority. Hamas refused.
Elections have been planned since 2006 but never held.
The state of play: Many senior Palestinian officials said in recent days that the elections will indeed take place as preparations have passed the point of no return. The deadline for selecting candidate lists is March 31.
Driving the news: Three weeks ago, Palestinian Civilian Affairs Minister Hussein al-Sheikh sent a letter to Hady Amr, the U.S. deputy assistant secretary of state for Israel-Palestine, about the upcoming elections.
Sheikh — who is positioning himself as the main point of contact in the Palestinian Authority for the Biden administration following the death of former PLO chief negotiator Saeb Erekat — claimed Hamas committed itself to nonviolence and agreed to the PLO parameters of the two-state solution. 
Yes, but: Hamas has not followed with a clear statement of its own.
What's next: State Department officials stressed that the exercise of democratic elections is a matter for the Palestinian people to determine.
But for now, it seems the Biden administration is sticking to the general policy of all U.S. administrations since 2006.
"We note that the U.S. and other key partners in the international community have long been clear about the importance of participants in the democratic process accepting previous agreements, renouncing violence and terrorism and recognizing Israel's right to exist," a State Department official told Axios.
The bottom line: If the elections do proceed on schedule, the Biden administration will have to shape a policy of its own — or at least brace for a contentious outcome.
Go deeper