Oprah's Meghan and Harry interview draws big numbers for CBS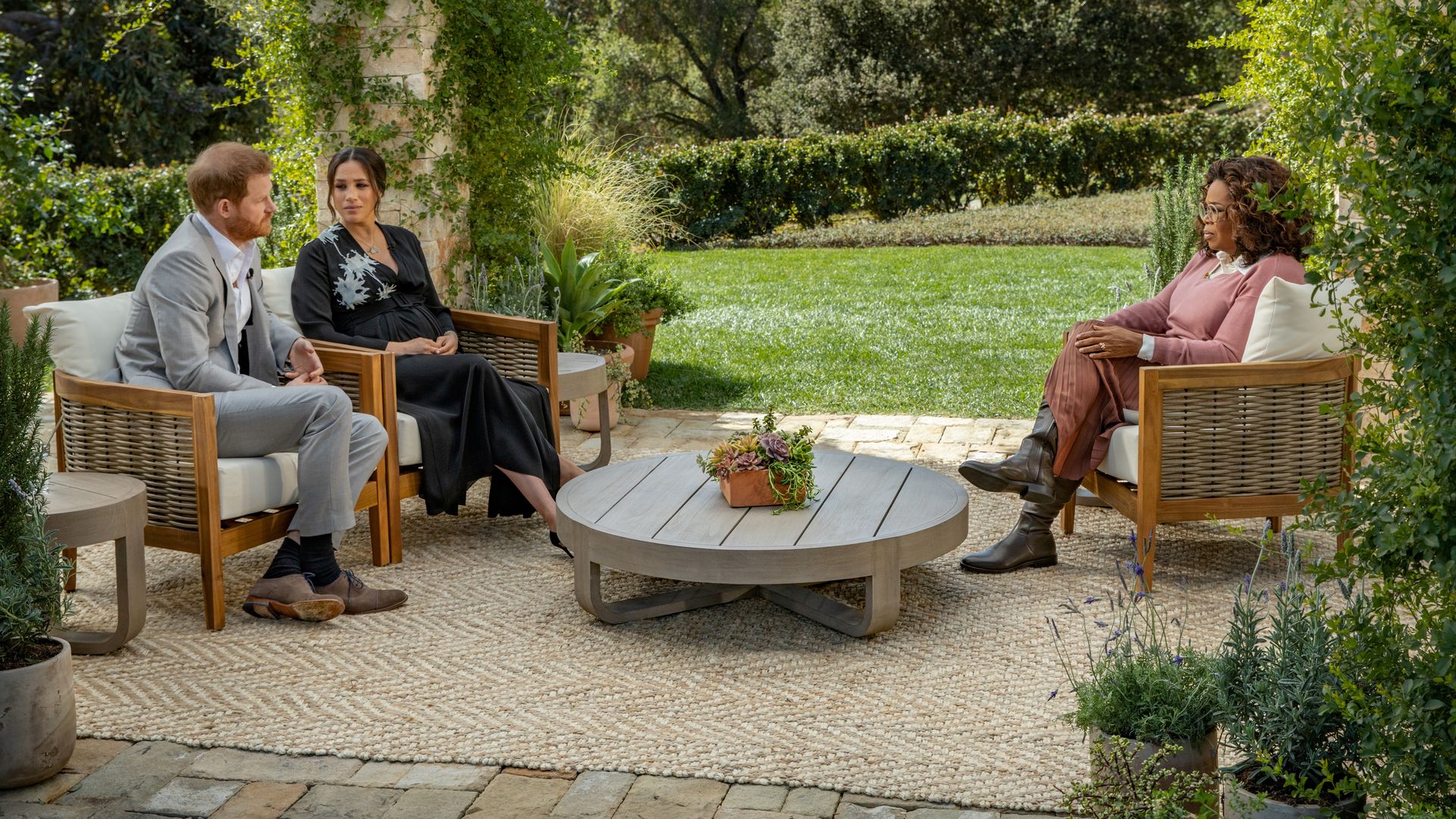 Oprah Winfrey's explosive interview with Prince Harry and Meghan Markle Sunday drew a whopping 17.1 million viewers, making it one of the most watched TV interviews in recent history, according to preliminary ratings from Nielsen.
Why it matters: The ratings speak not just to Americans' interest in Royal Family drama, but also Winfrey's popularity and skill as an interviewer.
Details: The interview with the Duke and Duchess of Sussex was also the subject of social media fodder Sunday night and Monday morning.
CBS noted on Monday that #OprahMeghanHarry, as well as the names and words "Meghan," "Archie," "Kate," "Charles," "Diana," "William" and "Royal" all trended within the top 10 on Twitter Sunday night.
The big picture: Live TV ratings are generally shrinking as more Americans cut the cord in favor of streaming. CBS' Super Bowl broadcast in January drew the worst live TV ratings in years, but set streaming records.
In a statement, CBS said this was the network's most live-streamed event outside of the NFL and Super Bowl Sunday this season.
Yes, but: For some viewers, the streaming era has presented confusion in trying to navigate how, where and when to watch a hit interview if you are unable to watch it live.
Unlike major sporting events and award shows, CBS didn't broadcast this interview simultaneously with viewers on the West Coast.
The network licensed the interview from Winfrey's production company Harpo Productions for more than $7 million, per The Wall Street Journal.
The interview appeared live on ViacomCBS' new streaming service Paramount+ last night, but it's unclear where it will live permanently, given that the Oprah Winfrey Network (OWN) is owned in part by Discovery which just this year launched its own streaming service Discovery+.
The interview will be available on the CBS app and CBS.com for free for 30 days.
What's next: The preliminary ratings don't include data from viewership in places like restaurants in bars, nor does it include streaming data.
Presumably many more people will watch the interview on-demand in coming days. Global viewership is also likely to boost overall viewership numbers.
Go deeper