Inspector general: Ethics questions prompted criminal referral involving Elaine Chao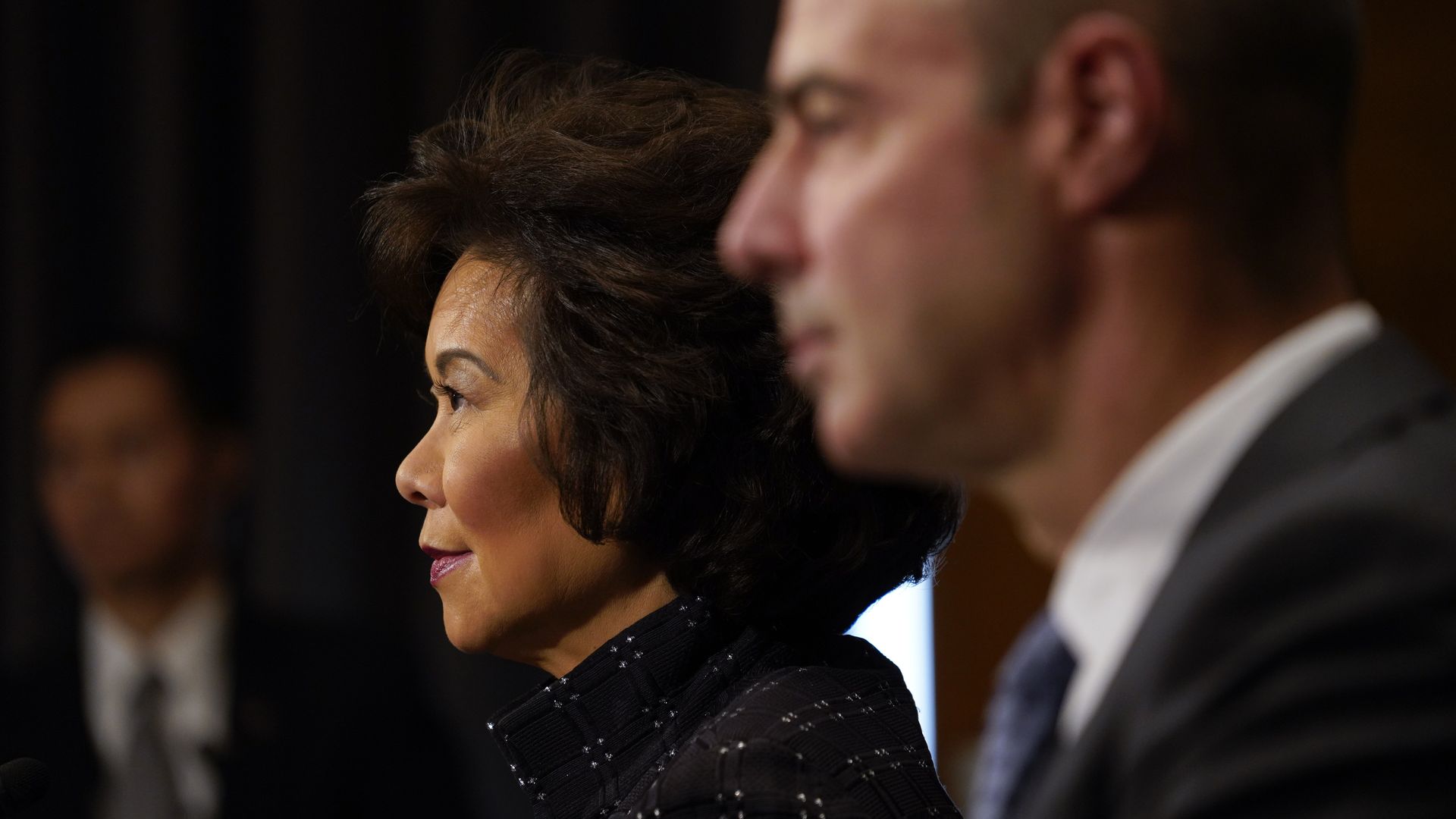 The Transportation Department's deputy inspector general said a "formal investigation into potential misuses of [former Secretary Elaine Chao's] position was warranted," after finding evidence of possible ethics violations, according to a report made public on Wednesday.
Why it matters: The report reveals that the IG last December asked the Justice Department and U.S. Attorney for the District of Columbia to consider a criminal investigation into Chao's actions, citing possible ethical or administrative concerns. Both declined to investigate.
The state of play: The IG found multiple "potential ethics concerns arising from the actions of the Secretary and Office of the Secretary (OST) staff under her direction," the investigators wrote, adding that Chao used the department's staff time "for tasks for the Secretary that appear to be personal in nature." Such requests include:
Asking staff to contact the Department of Homeland Security about the status of a work permit for a student who benefited from her family's philanthropic foundation.
Making "extensive plans" to include family members in events during an official trip to China in November 2017 that was ultimately canceled, per a House committee press release on the IG report.
Directing staff to support her father, in marketing his biography and editing his Wikipedia page. She allegedly instructed two staffers to send a copy of his book to a "well-known CEO of a major U.S. corporation (which is not regulated by DOT)."
Zoom out: The Transportation Department's Office of Inspector General opened the investigation into Chao in 2019 upon the request of the House Committees on Transportation and Infrastructure and Oversight and Reform.
What they're saying: Rep. Peter DeFazio (D-Ore.), chair of the House Committee on Transportation and Infrastructure, said he was "disappointed" that the DOJ declined to pursue the matter.
"Secretary Chao's flagrant abuse of her office provides further evidence that additional ethics and transparency reforms are needed," Rep. Carolyn Maloney (D-N.Y.), chair of the Committee on Oversight and Reform, added in the statement.
The other side: Chao declined to respond to a request for comment from the New York Times, but shared a memo expressing the importance of promoting her family as part of her duties.
"Asian audiences welcome and respond positively to actions by the Secretary that include her father in activities when appropriate," the memo, dated September 2020, said.
Go deeper