The cost of the pandemic is catching up to health insurers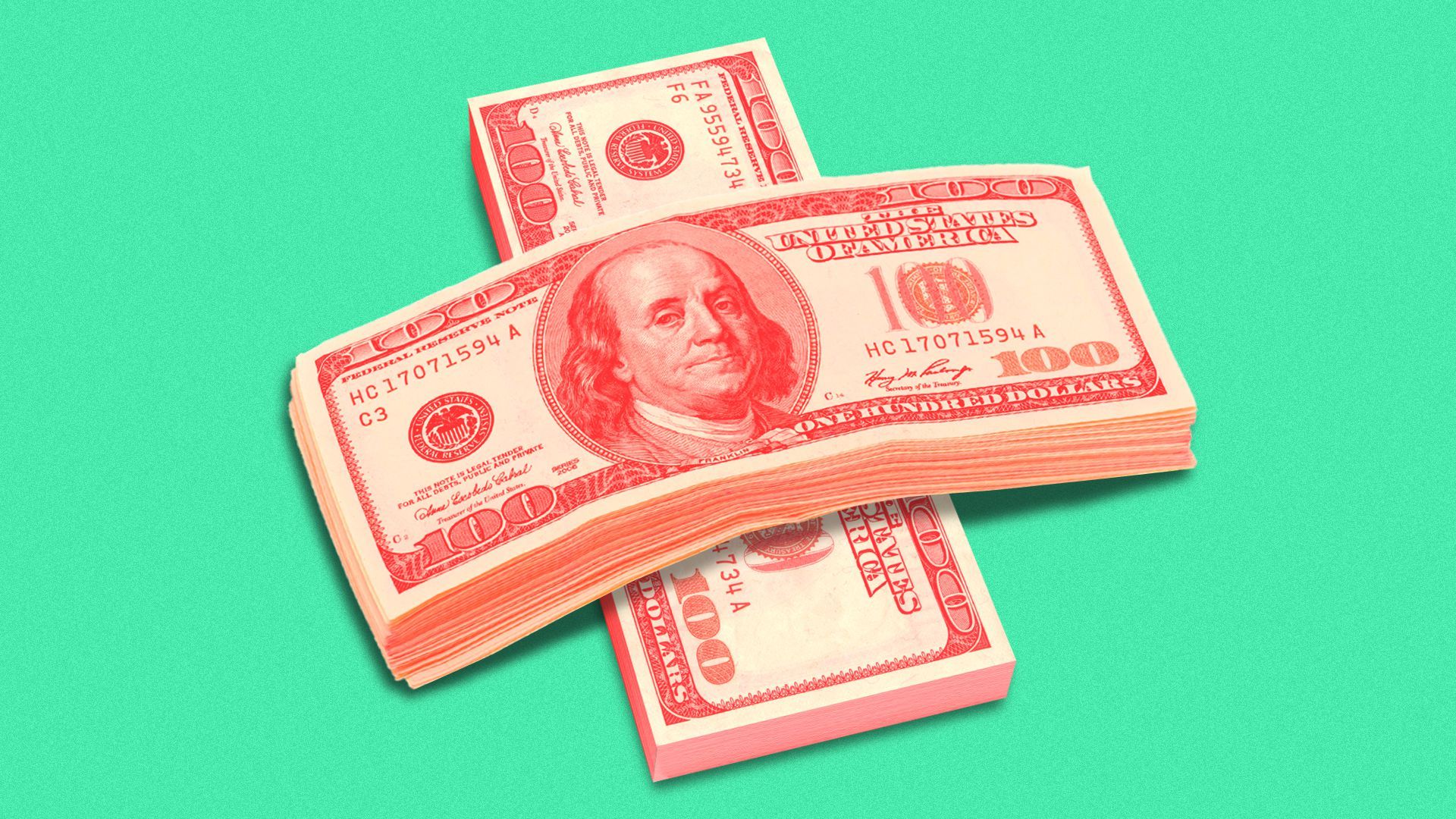 Health insurers' massive pandemic windfall may be interrupted, thanks to an uptick in people seeking the medical care they put off and higher COVID-19 testing and treatment costs.
Why it matters: It turns out that an uncontrolled pandemic gets expensive for insurers, patients, and employers.
Flashback: Insurers rode out the start of COVID-19 on a high — joining a stable of industries that bucked economic collapse. Now the tide is turning.
Patients pushed out non-COVID related care for fear of contracting the virus or simply because states banned certain procedures.
The result was a period of record-breaking profits for players like UnitedHealth that paid out fewer claims.
It also could have long-term health implications for the people who put off care.
What's going on: People trickled back into doctor's offices and costs related to testing and treating COVID-19 bit insurers.
Aetna said profits fell 41% from the prior year, partly because there was a resurgence in care that was put off at the beginning of the pandemic.
UnitedHealth said some non-COVID related care started to return to more normal levels — though it moderated as cases jumped.
Similarly, Humana said use of non-COVID related Medicare use was back at normal levels in October, before slipping again in November and December.
Plus: There were high rates of hospital admissions because of the heavy wave of infections, causing costs to jump.
By the numbers: UnitedHealth said COVID-related care was about 11% of all care in the final quarter of the year. That was 6% in the previous quarter.
Humana said it incurred $1.5 billion in COVID treatment costs last year. 
Yes, but: The health insurance industry still raked in plenty of money last year. Some of that will go back to consumers, but some will line insurers' pocketbooks.
What it means for you: You (or your employer) paid a health insurance premium in 2020 that was set well before the pandemic hit.
That means millions of individuals and companies likely overpaid for their health insurance last year — even after accounting for "premium holidays" issued by insurers — and will be receiving money back in the form of a rebate. 
The question is how much money — and fourth quarter earnings are suggesting that the gap between what insurers received in premiums and paid out in claims may have shrank toward the end of the year. (Rebates are calculated by using a three-year average of premiums and claims.)
What to watch: "The most recent wave caused somewhat of a deferral of care again," Brad Ellis, an analyst at Fitch Ratings, tells Axios.
What's different now: It's not as dramatic as during the first outbreak wave. "The distinction in the second and third wave has been providers have had time to develop protocols to handle people in the office," Ellis says.
The bottom line: The cost of the pandemic is catching up to health insurers. But only some of that will be borne by the insurers themselves.
The rest will be felt by everyone who paid 2020 premiums, when they receive smaller rebates later this year. 
Go deeper