COVID-19 lessons for trapping the next pandemic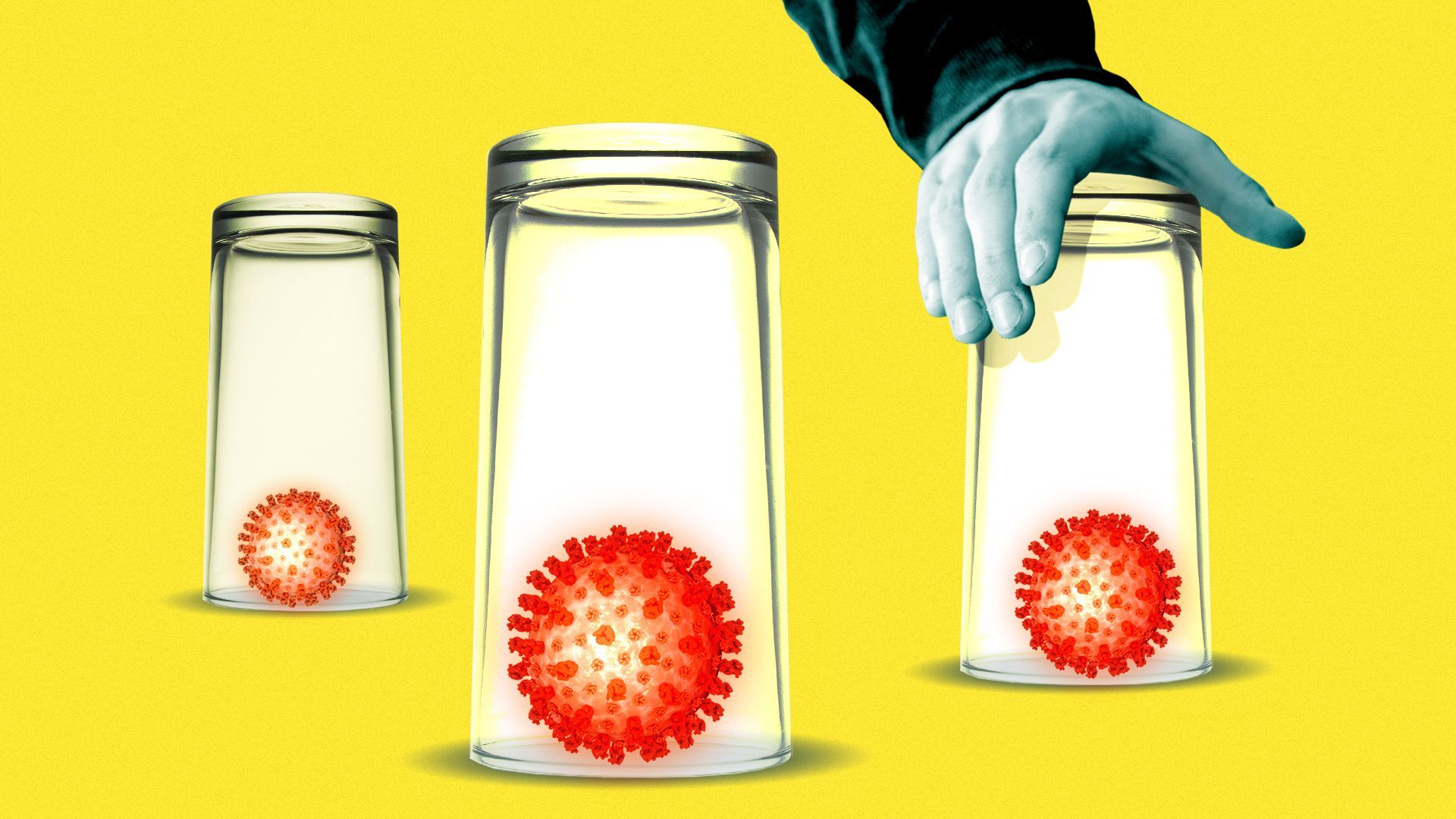 Now that COVID-19 vaccines are bringing hope to fighting the pandemic, there is some concern the U.S. and others will lose interest in improving the tools needed to confront emerging outbreaks.
The big picture: On top of the coronavirus pandemic, there are currently other smaller outbreaks around the globe — some with pandemic potential. These, and the threat of viruses emerging in the future, mean more permanent pandemic preparedness is needed, experts tell Axios.
"We have to pay for [pandemic preparedness] in perpetuity, and that's been one of the problems with preparedness. We usually have an emergency, and then afterward we vow never again, and there's some money that goes to it. Then, after a few years, people's memories fade and then you see an erosion and budget cuts."
— Jennifer Nuzzo, senior scholar, Johns Hopkins Center for Health Security
Driving the news: Besides trying to stamp out the current COVID-19 pandemic, public health officials are warily watching several other hotspots around the globe.
Guinea and the Democratic Republic of the Congo are grappling with a new Ebola outbreak. They notified the WHO quickly and rapidly moved to try to contain it with a vaccination program, contact tracing and quarantining. Neighboring countries are vowing cross-border collaboration.
Russia notified the WHO on Feb. 18 about seven people confirmed with avian influenza (H5N8), but this was months after first becoming aware of the possible outbreak on Dec. 3, the WHO said. The WHO, which is testing the samples, says these would be the first humans infected with this strain, but also notes it has not yet been reported as transmitting between humans.
A swine influenza G4 EA H1N1 is being monitored in China. The virus hasn't passed between humans but has unique characteristics and is widespread among the pig population, giving it serious pandemic potential.
As seen in the map below, there are many other outbreaks that endanger people and strain health care resources.
Long term, the U.S. and other nations need to continue building a better national and global network for surveillance, transparency and coordinated responses, Nuzzo and CRDF Global senior technical adviser Julie Fischer tell Axios.
1) Surveillance is key, particularly as 70% of newly emerging diseases originate from animals transmitting a pathogen to a human.
This includes developing systematic genomic sequencing such as in the U.K. and Denmark, Fischer says. Right now, genomic sequencing is mostly done by academics, but a broader system could offer the state and federal governments key info, including common issues like foodborne illnesses, she adds.
Diagnostics, such as CRISPR tools under development, also need to be faster, cheaper and easily accessible.
Contact tracing is key to halting outbreaks without killing the economy with public lockdowns, Nuzzo says, and can be used for various outbreaks, like measles.
2) Transparency can make a difference between an outbreak and a pandemic.
"There's a lot of incentives for countries not to report if they think that they can contain whatever the event is and they think the risks of reporting are potentially damaging to their economies ... until the point when it's inevitable that others will find out," Fischer says.
3) Fostering an agile and larger health care workforce.
"The same people with the same tools and resources who are responding to COVID-19 will also be responding to those other events as they emerge. And where our systems are already overstretched, adding one more challenge to the mix simply takes systems under stress and spreads them even thinner," Fischer says.
"You have to be ready to understand how to surge by having people who are multiply trained, who can back each other up, who can shift tasks around so that people with the expertise that is not replaceable can be freed up to investigate the next crisis as it's happening," Fischer says.
Nuzzo agrees that a "fundamental bottleneck is not having enough people to do it all," including the task of reviewing and acting upon a greater amount of surveillance data as that network improves.
What to watch: Whether the pandemic experience of the last year translates to more permanent preparedness.
Everyone is now "very sensitized to the impact of emerging diseases that can happen and the need to develop systems at a local level that are agile enough to respond to outbreaks when they happen," Fischer says.
Go deeper: How the world could monitor for potential pandemic viruses
Go deeper