"Fludemic" model accurately maps where COVID hotspots will crop up a week out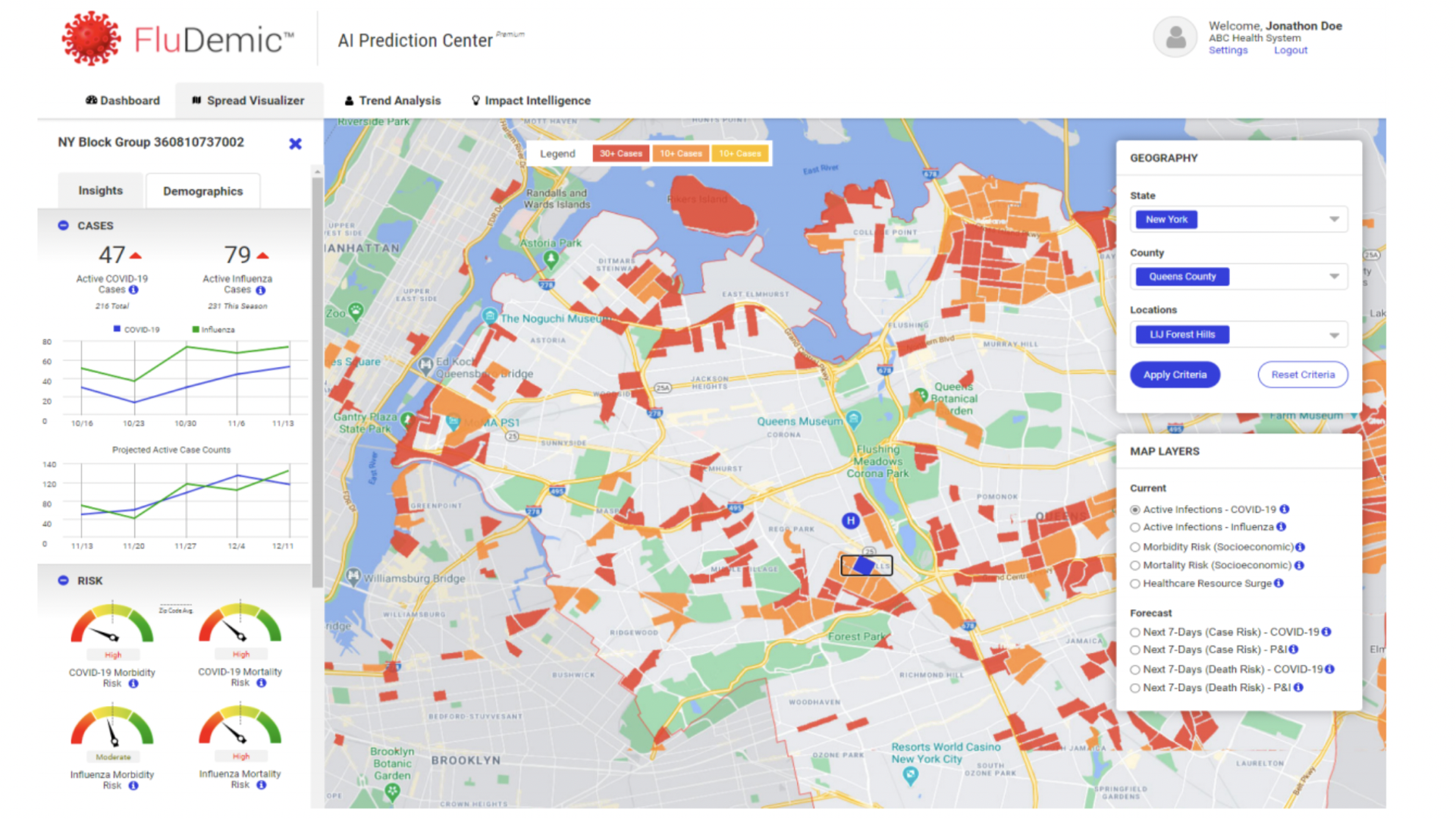 By combining a range of private and public information, a small startup says it is able to predict COVID-19 hot spots at the neighborhood level a week out — with 92% accuracy.
Driving the news: The startup, Data Driven Health, made a version of its flu and COVID-prediction model freely available Wednesday, offering data down to the neighborhood level.
Why it matters: Assuming the company's Fludemic model proves consistently accurate, governments and health systems could use such data to set policy and allocate resources, while individuals could use it to evaluate the personal risk of planned outings.
How it works: Fludemic takes in a range of data daily using a mix of clinical data, socioeconomic indicators and factors such as mask-wearing policy and mobility trends.
Yes, but: While the model is said to be 92% accurate at detecting hot spots, it is somewhat less accurate when looking at sparsely populated areas or predicting death rates.
Between the lines: The company began working on a flu prediction model last year, but quickly shifted gears to COVID-19 once the pandemic began.
While the neighborhood-level data is being made publicly available, Data Driven Health has a premium product aimed at governments and health systems that uses more data types and offers predictions down to the block level.
The big picture: Others have used a mix of tech and data to map disease. Google, for example, had a flu tracker that aimed to predict flu trends using search queries. That effort shut down in 2015 amid criticism. More recently, smart thermometer maker Kinsa has spotted flu outbreaks.
What's next: Longer-term, the company hopes to be able to update its models even more frequently as well as to address other types of health conditions.
"We want individuals to be able to see what's happening in their communities in real time or near real time," CEO Jack Rush told Axios.
Go deeper