Lawmakers hide behind AG's investigation as Cuomo lingers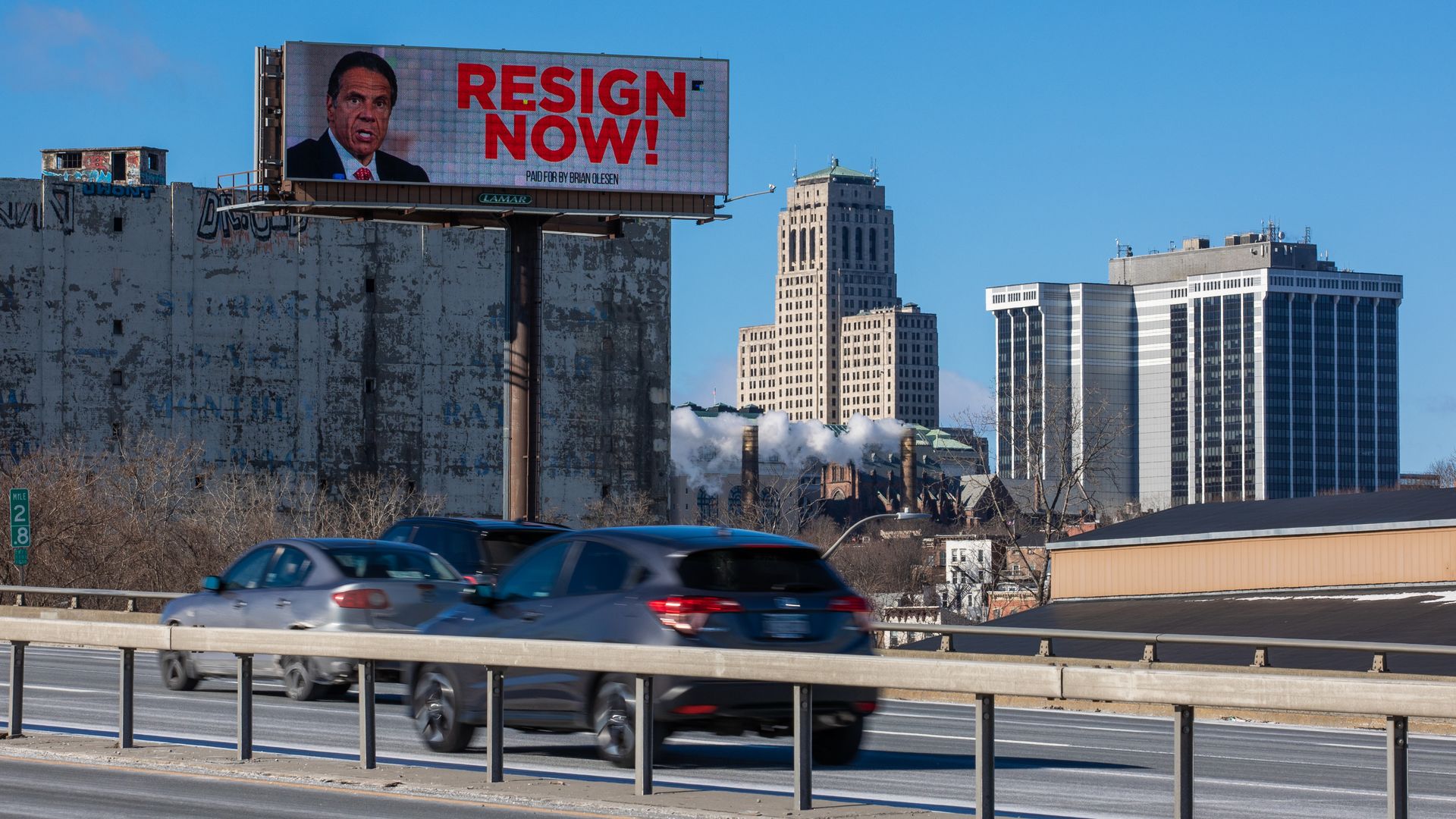 New York Gov. Andrew Cuomo is politically wounded but not yet dead, several state lawmakers tell Axios.
The state of play: Most are holding their fire and punting to state Attorney General Letitia James' investigation into sexual harassment allegations. They expect the inquiry to be credible and thorough — and buy Cuomo badly needed breathing room.
Part of Cuomo's staying power is rooted in his image as a feared figure who holds one of the most powerful governorships in the country. He also was expected to be the kingmaker in this year's high-stakes New York City mayoral election.
Nobody thinks he'll quit without a fight — putting many Democrats in a corner.
Why it matters: The sexual harassment allegations and growing pressure against Cuomo are testing how much of a survivor the New York governor really is — and revealing the enmity he's fostered over the years among lawmakers at every level.
While Rep. Kathleen Rice (D-N.Y.) has called for his resignation, most have yet to follow suit. They're not defending him, though.
"The reservoir of goodwill was clearly never built up; it was empty," said Rep. Lee Zeldin (R-N.Y.). He announced Tuesday he's exploring a run for governor, something he had already been considering.
"The governor should resign," Zeldin added. "I don't expect him to, but it's obvious to many that it's past time for him to go."
What they're saying:
"I believe women, so I think it should be thoroughly investigated," said Rep. Carolyn Maloney (D-N.Y.), chair of the House Oversight Committee.
"I'm confident that Attorney General Tish James will get to the bottom of everything," Rep. Hakeem Jeffries (D-N.Y.), the No. 5 Democrat in the House, told reporters Tuesday. "Then we can decide the best way to proceed thereafter."
Sen. Kirsten Gillibrand (D-N.Y.) refused to answer when asked whether Cuomo should resign.
NYC mayoral candidate Maya Wiley said, "No one should throw around words like 'impeachment' or 'resignation' lightly." She said New York "must see immediate action to address the disgusting behavior."
What to watch: Redistricting could also create political danger for Cuomo.
New York is expected to lose one or two congressional seats after the census data is released later this year, which could prompt some sitting members to challenge him rather than leave office altogether.
The buzz on Capitol Hill is that Rep. Elise Stefanik (R-N.Y.) could be one, and she didn't rule out a potential run during an appearance on a recent podcast.
Go deeper