Window closing in on theaters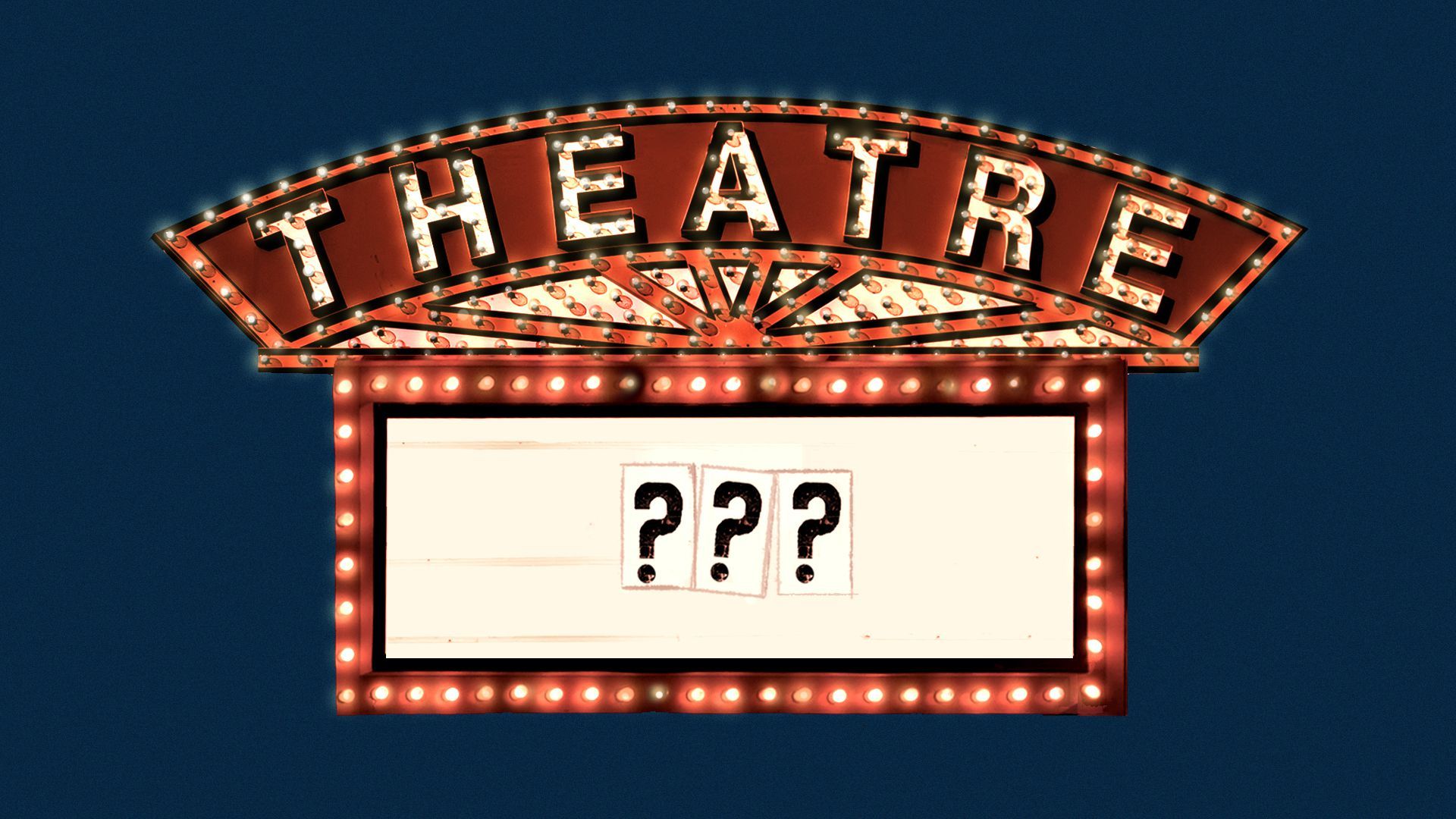 Nearly every major movie studio has departed from the tradition of waiting 90 days after theatrical release before letting consumers view their films at home.
Why it matters: Experts disagree as to whether the shortened theater windows will last forever. As the theater industry begins to slowly come back to life, exhibitors will be banking on strong showings to boost their chances at ever again seeing a big chunk of exclusive airing time.
Driving the news: ViacomCBS announced last week that some of its biggest blockbusters, including "Mission: Impossible 7" and "A Quiet Place Part II," will be on Paramount+ after just 45 days of airing in theaters. Others will hit streaming services after just 30 days.
The big picture: ViacomCBS' strategy is conservative compared to some of its Hollywood rivals.
Warner Bros. said last year that it would release all 2021 movies on HBO Max, the streaming service owned by its parent AT&T, at the same time that the films debut in theaters. After a month, the films will leave the streaming service and will continue to appear exclusively in theaters for the next 60 days.
Universal has struck deals with Cinemark and AMC theater chains to allow most Universal films to appear on premium video on-demand services after being made available in theaters for 17 days — a significant departure from the traditional 90-day theatrical window.
Disney last year experimented with putting two of its biggest hits — the live action remake of "Mulan" and Pixar's "Soul" — on its streaming service Disney+. This year, it has committed to putting just one film, "Raya and the Last Dragon," on Disney+ with a "premier access fee" in conjunction with theaters as an experiment in March.
Be smart: The pandemic-driven lockdowns have forced some theaters to broker deals with studios that aren't optimal for their long-term survival, but they don't have much of a choice.
Walt Disney Company chief exec Bob Chapek said Monday that he's "not sure there's going back" to pre-pandemic theatrical windows.
Disney, like most studios, is experimenting with different windowing options during this unusual time, to see what makes the most sense long-term.
Some analysts are more optimistic about the theater's return to normalcy.
"Ultimately, I think we go back to normal," says says Michael Pachter, a research analyst at Wedbush Securities.
"The studios want to make as much money as possible. The theatrical window was created to maximize revenue for studios."
"They may tweak the window for some films from 90 days to around 70, but if they go from 90 to 17 days, they won't make as much money, period."
Between the lines: 2019 was the second best year ever for the North American box office.
That increase was mostly attributed to higher ticket prices and an increase in major action and adventure franchises. Most films don't gain enough box office attention to warrant lengthy exclusive theatrical windows.
The bottom line: "The traditional windowing models are the product of a bygone era and in these modern times where the confluence of technology and content are undeniable, it only makes sense to create new models for the distribution of films," says Comscore senior media analyst Paul Dergarabedian.
"[B]ut those strategies must honor the importance, essential nature and revenue generating power of a theatrical release ... Movie theaters are here to stay and so is streaming; both can coexist and enhance each other."
Go deeper: Theater windows shrink
Go deeper