Cuomo barraged by fellow Dems after second harassment accusation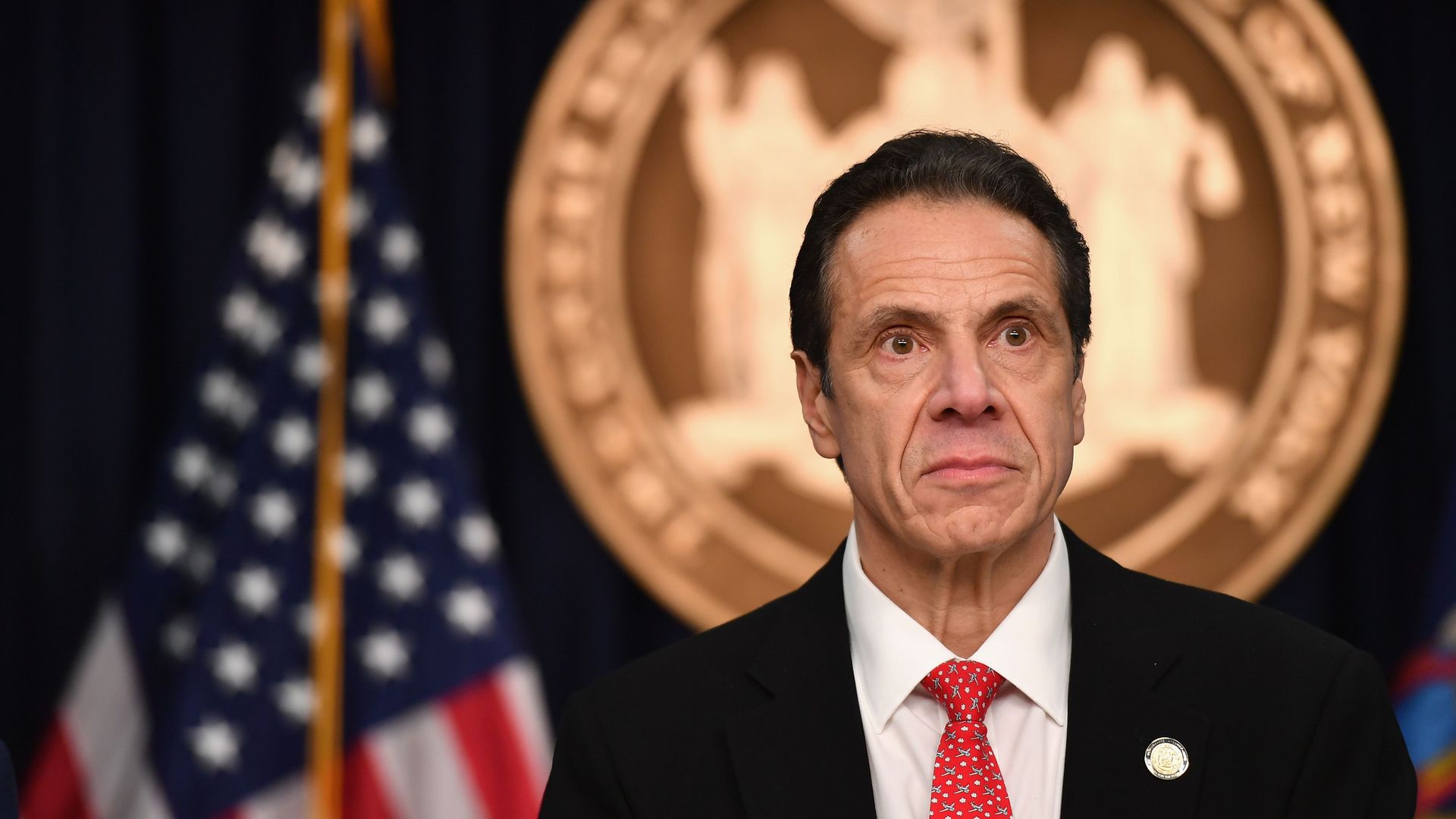 New York Gov. Andrew Cuomo faced a barrage of criticism from fellow Democrats after The New York Times reported that the second former aide in four days had accused him of sexual harassment.
Why it matters: Cuomo had faced a revolt from legislators for his handling of nursing-home deaths from COVID. Now, the scandal is acutely personal, with obviously grave political risk.
What they're saying: Rep. Alexandria Ocasio-Cortez tweeted that the women's "detailed accounts of sexual harassment by Gov. Cuomo are extremely serious and painful to read," and said the state attorney general should investigate.
She was among several Democrats said an "independent review" announced by Cuomo was inadequate.
President Biden would support an independent review into the allegations of sexual misconduct and believes the review should move "as quickly as possible," White House press secretary Jen Psaki said Sunday on CNN.
"This is no joke," Rep. Kathleen Rice (D-N.Y.) tweeted above the Times story. "There must be an independent investigation into these allegations. The accused CANNOT appoint the investigator. PERIOD."
Charlotte Bennett, 25, an executive assistant and health policy adviser in the Cuomo administration until November, told The Times that the governor, 63, had harassed her during the height of the state's COVID fight, including asking whether "she had ever had sex with older men."
The most disturbing encounter came June 5, when she was alone with Cuomo in his Capitol office, The Times reports:
[S]he said the governor had asked her numerous questions about her personal life, including whether she thought age made a difference in romantic relationships, and had said that he was open to relationships with women in their 20s — comments she interpreted as clear overtures to a sexual relationship.
Bennett said Cuomo complained about being lonely during the pandemic, mentioning that he "can't even hug anyone," then asking her: "Who did I last hug?"
Cuomo requested an independent review, and said in a statement that he had intended to act as a mentor: "I never made advances toward Ms. Bennett nor did I ever intend to act in any way that was inappropriate."
Sen. Mazie Hirono (D-Hawaii) told ABC's George Stephanopoulos on "This Week" that she wants an independent investigation and said of the one Cuomo announced: "I wouldn't consider that to be independent."
On Wednesday, former aide Lindsey Boylan, 36, wrote that Cuomo suggested: "Let's play strip poker."
Go deeper