Impeachment managers, Trump legal team trade briefs ahead of trial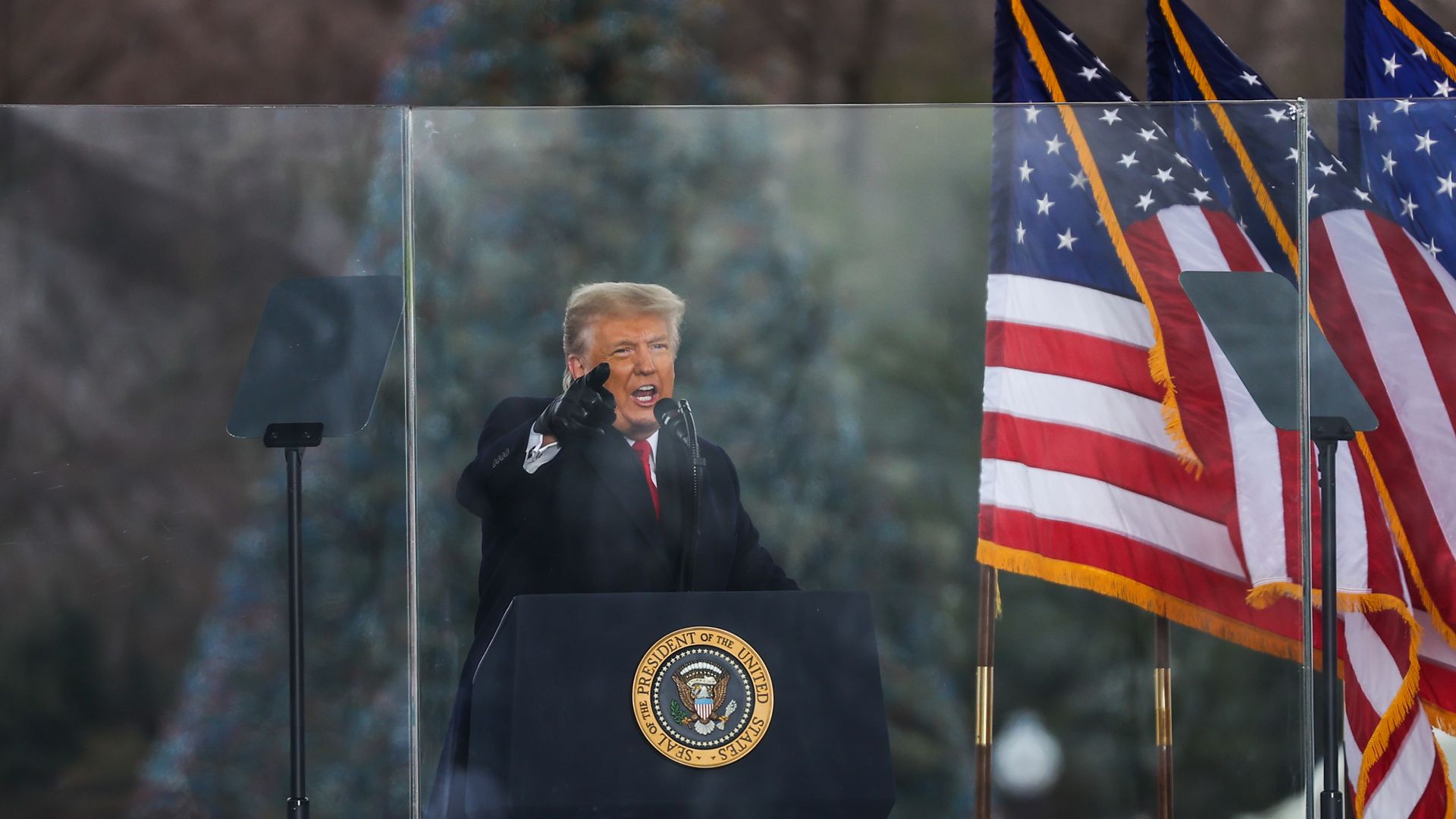 Former President Trump's legal team filed a brief on Monday condemning his impeachment as "political theater," as Senate Majority Leader Chuck Schumer and Minority Leader Mitch McConnell closed in on an agreement setting the parameters for the historic trial kicking off Tuesday.
The state of play: Impeachment managers and Trump's attorneys will debate the issue of constitutionality of the trial on Tuesday, which the Senate will then vote on at a simple majority threshold.
Sen. Rand Paul (R-Ky.) raised a point of order last month to hold a vote on the constitutionality of impeaching a president when they are no longer in office, but the Senate voted to table it.
Five Republicans — Sens. Susan Collins (Maine), Lisa Murkowski (Alaska), Mitt Romney (Utah), Ben Sasse (Neb.) and Pat Toomey (Pa.) — joined all Democrats to table Paul's point of order.
Starting Wednesday at noon, impeachment managers and Trump's lawyers will have up to 16 hours per side for presentations. The allotted time can be stretched across a maximum of two days each. Time will be included at the end of the trial for closing arguments and a vote.
Managers could debate calling witnesses, but it's not clear if they will or who they will call.
At the request of the former president's counsel, no trial proceedings during the Jewish Sabbath (between Friday after 5 p.m. or on Saturday).
The trial would reconvene the afternoon of Sunday, Feb. 14.
Schumer said on Monday that all parties have agreed to the trial rules.
Driving the news: In a 78-page brief filed Monday, Trump's lawyers slammed the impeachment as unconstitutional and called for the trial to be dismissed for the following arguments:
The Senate lacks jurisdiction because Trump is no longer in office
The allegations in the article of impeachment are "self-evidently wrong," based on the transcript of Trump's speech before the Jan. 6 riot
Trump was deprived of due process due to the rushed nature of the impeachment
The article violates Trump's First Amendment right to freedom of speech
The article is "constitutionally flawed" because it charges multiple incidents of allegedly impeachable conduct in a single article
The other side: House impeachment managers responded to Trump's legal brief at noon Monday, rebutting claims that the impeachment trial lacks jurisdiction.
"There is no "January Exception" to the Constitution that allows Presidents to abuse power in their final days without accountability," the nine Democratic managers wrote.
They argued that Trump's public conduct in the weeks leading up to Jan. 6 revealed a president "concerned almost exclusively with overturning his electoral defeat, rather than quelling the violence or defending the U.S. Capitol."
On the accusation that they did not afford Trump due process, the managers note that they invited the former president to testify under oath — a request that his lawyers turned down and called a "political stunt."
In response to claims the impeachment charge violates Trump's First Amendment rights, the managers wrote: "The House did not impeach President Trump because he expressed an unpopular political opinion. It impeached him because he willfully incited violent insurrection against the government."
In response to the House referencing multiple incidents in a single impeachment charge, they wrote: "The Article of Impeachment charges that President Trump 'engaged in high Crimes and Misdemeanors by inciting violence against the Government of the United States."
Go deeper:
Go deeper