GOP megadonor Sheldon Adelson dies at 87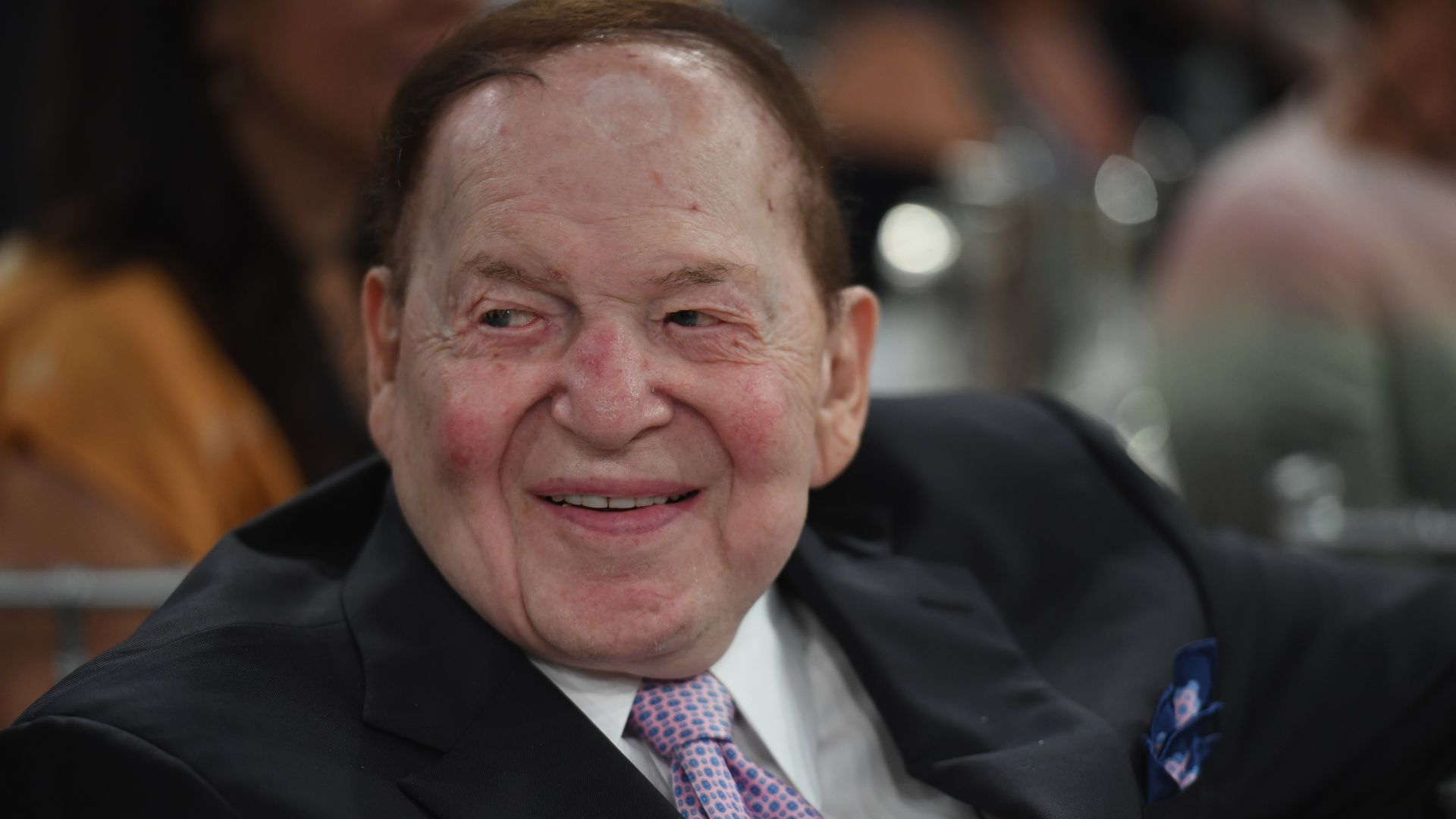 Billionaire casino owner and Republican megadonor Sheldon Adelson died at age 87 on Monday night from complications related to treatment for non-Hodgkin's Lymphoma, his company Las Vegas Sands announced Tuesday.
The big picture: Adelson and his wife, Miriam, were President Trump's largest donors. The couple have donated more than $525 million to federal political campaigns and committees since the 2010 cycle, per OpenSecrets.
Adelson was a fierce supporter of Israel who used his wealth to elevate the issue as a top cause for many GOP officials.
In addition to the Nevada-based Las Vegas Review-Journal, Adelson owned the Israeli daily newspaper Israel Hayom and weekly newspaper Makor Rishon.
In 2018, Trump awarded Miriam Adelson the President Medal of Freedom — the nation's highest civilian honor — for her and her husband's philanthropy.
In August, Trump lashed out at Adelson for not donating more to support his re-election, mortifying GOP officials who feared the president had alienated the party's largest donor.
But just days later, Adelson's top adviser said the billionaire was "110% behind the president" and that it would "become apparent shortly."
Filings show that Adelson and his wife gave a record-setting $218 million to Republicans and conservative groups during the 2020 election cycle.
What they're saying:
Las Vegas Sands: "Born to immigrant parents and raised in a poor section of Boston, Mr. Adelson went from a teenager selling newspapers on a street corner to becoming one of the world's most successful entrepreneurs. ... While his business credentials – having started or been involved in more than 50 different enterprises - are unquestioned, his dedication to philanthropy and commitment to his family will truly be his legacy."
President Trump: "Sheldon lived the true American dream. His ingenuity, genius, and creativity earned him immense wealth, but his character and philanthropic generosity his great name. Sheldon was also a staunch supporter of our great ally the State of Israel. ... The world has lost a great man. He will be missed."
Former President George W. Bush: "Laura and I mourn the passing of a friend, Sheldon Adelson. Sheldon battled his way out of a tough Boston neighborhood to build a successful enterprise that loyally employed tens of thousands - and entertained millions. He was an American patriot, a generous benefactor of charitable causes, and a strong supporter of Israel."
House GOP Leader Kevin McCarthy: "Sheldon has now gone home. But the legacy he leaves behind will last many lifetimes. We will always remember how he helped to improve the nations he loved, advance the democratic values they stand for, and support the people who call them home. He was freedom's greatest friend."
Go deeper