Updated Jan 7, 2021 -

World
"Disgraceful scenes": World leaders condemn chaos at U.S. Capitol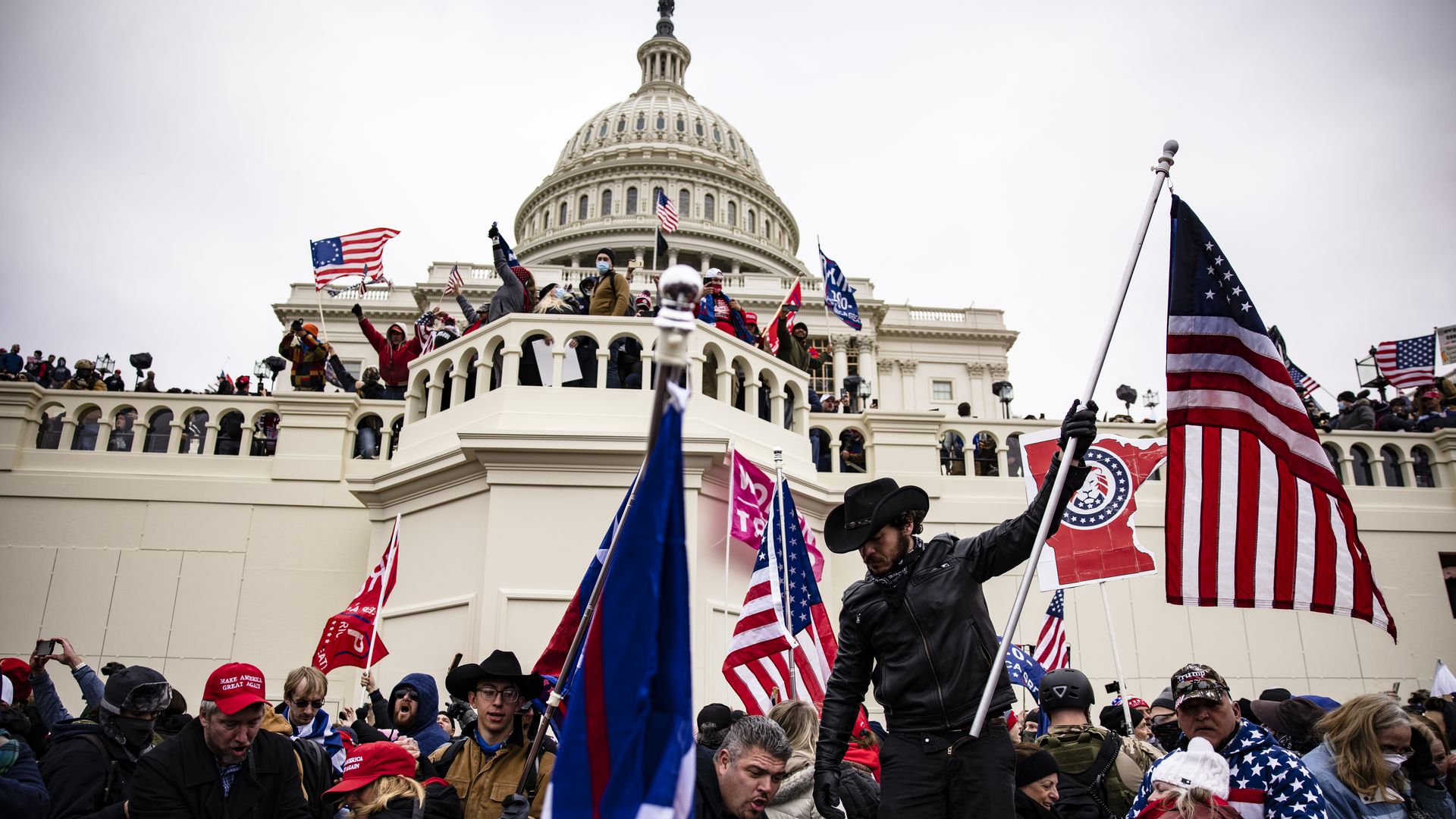 World leaders reacted with horror after a pro-Trump mob assaulted American democracy and the peaceful transfer of power by storming the U.S. Capitol on Wednesday, as lawmakers were attempting to certify President-elect Biden's victory in November.
Why it matters: The U.S. government is typically a leading voice in condemning political violence all over the world.
What they're saying
German Chancellor Angela Merkel: "These images made me furious and also sad, and I'm quite sure I feel like most friends of the United States, like millions of people who admire America's democratic tradition. And I regret very much that President Trump since November has not conceded his defeat, and not yesterday either."
French President Emmanuel Macron: "When, in one of the world's oldest democracies, supporters of an outgoing president take up arms to challenge the legitimate results of an election, that one idea — that of 'one person, one vote' — is undermined."
"Today, France stands strongly, fervently and resolutely with the American people and will all the people who want to choose their leaders, determine their own destinies and their own lives through free and democratic elections. And we will not yield to the violence of a few individuals who want to challenge that."
Israeli Prime Minister Benjamin Netanyahu: "The rampage of the Capitol building in Washington was a disgraceful act, and it must be condemned. I have no doubt that the American democracy will prevail."
U.K. Prime Minister Boris Johnson: "Disgraceful scenes in U.S. Congress. The United States stands for democracy around the world and it is now vital that there should be a peaceful and orderly transfer of power."
Canadian Prime Minister Justin Trudeau: "Canadians are deeply disturbed and saddened by the attack on democracy in the United States, our closest ally and neighbour. Violence will never succeed in overruling the will of the people. Democracy in the US must be upheld - and it will be."
NATO Secretary-General Jens Stoltenberg: "Shocking scenes in Washington, D.C. The outcome of this democratic election must be respected."
EU foreign policy chief Josep Borrell Fontelles: "In the eyes of the world, American democracy tonight appears under siege. This is an unseen assault on US democracy, its institutions and the rule of law. This is not America. The election results of 3 November must be fully respected."
Indian Prime Minister Narendra Modi: "Distressed to see news about rioting and violence in Washington DC. Orderly and peaceful transfer of power must continue. The democratic process cannot be allowed to be subverted through unlawful protests."
German Foreign Minister Heiko Maas, translated: [The enemies of democracy will find out about these incredible images #WashingtonDC looking forward. Insurgent words turn into violent acts - on the steps of the Reichstag, and now in the #Capitol. The disdain for democratic institutions is devastating.]
Ukrainian Foreign Minister Dmytro Kuleba: "Concerning scenes in Washington, D.C. I'm confident American democracy will overcome this challenge. The rule of law & democratic procedures need to be restored as soon as possible. This is important not only for the U.S., but for Ukraine and the entire democratic world as well."
Dutch Prime Minister Mark Rutte: "Horrible images from Washington D.C. Dear [Donald Trump], recognise [Joe Biden] as the next president today."
Irish Prime Minster Micheál Martin: "The Irish people have a deep connection with the United States of America, built up over many generations. I know that many, like me, will be watching the scenes unfolding in Washington DC with great concern and dismay."
Italian Prime Minister Giuseppe Conte: "I am following what is happening in #Washington with great concern. Violence is incompatible with the exercise of democratic rights and freedoms. I am confident in the strength and robustness of the institutions of the United States."
First Minister of Scotland Nicola Sturgeon: "The scenes from the Capitol are utterly horrifying. Solidarity with those in [the United States] on the side of democracy and the peaceful and constitutional transfer of power. Shame on those who have incited this attack on democracy."
Norwegian Prime Minister Erna Solberg: "Unbelievable scenes from Washington D.C. This is a totally unacceptable attack on democracy. A heavy responsibility now rests on President Trump to put a stop to this."
Anadolu Agency, Turkish state media: "Turkey invites all parties in US to use moderation, common sense to overcome this domestic political crisis. Turkey concerned over developments in US, urges calm and lawful solution to problems, says parliament head."
Go deeper