CDC replaces COVID-19 cruise ban with less restrictive "conditional sailing order"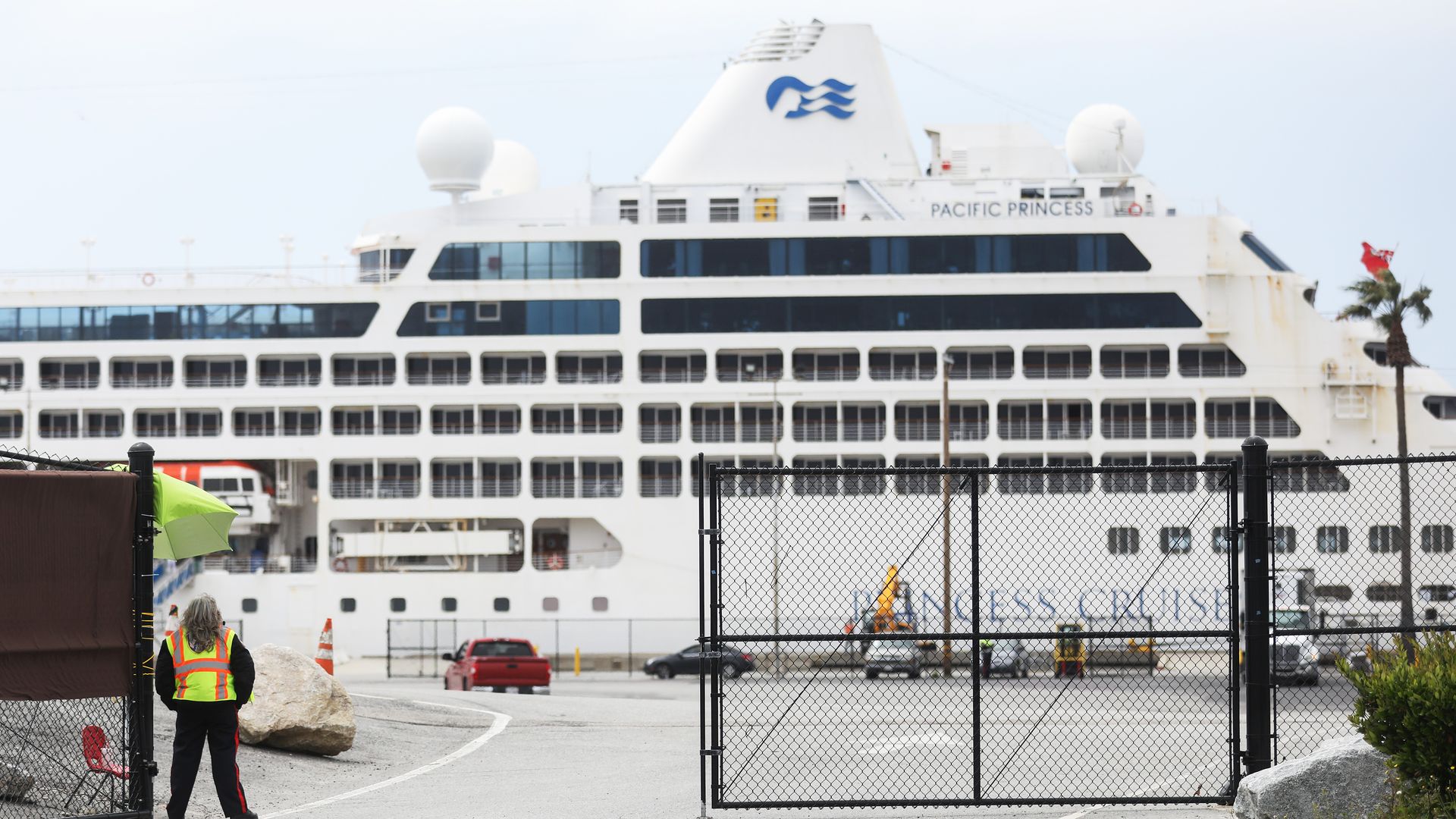 The Centers for Disease Control and Prevention announced Friday it's replacing its "no-sail" order on U.S. cruises with a less restrictive "Conditional Sailing Order," setting the stage for the phased resumption of passenger cruise line travel.
Why it matters: Cruise ships were the sites of some of the most severe coronavirus outbreaks early in the pandemic, before the industry shut down in March.
Details: According to the CDC, the "no sail" order, put in place March 14, will expire this Saturday.
Under the conditional sailing order, cruise ship operators must demonstrate in the initial stages "adherence to testing, quarantine and isolation, and social distancing requirements to protect crew members while they build the laboratory capacity needed to test crew and future passengers," the agency said.
"Subsequent phases will include simulated (mock) voyages with volunteers playing the role of passengers to test cruise ship operators' ability to mitigate COVID-19 risk, certification for ships that meet specific requirements, and return to passenger voyages in a manner that mitigates COVID-19 risk among passengers, crew members, and communities."
The conditional order applies to passenger ships with the capacity to carry at least 250 passengers in waters subject to U.S. jurisdiction.
What they're saying: "This framework provides a pathway to resume safe and responsible sailing," CDC director Robert Redfield said in a statement. "It will mitigate the risk of COVID-19 outbreaks on ships and prevent passengers and crew from seeding outbreaks at ports and in the communities where they live."
Kelly Craighead, president and CEO of Cruise Lines International Association, added that CLIA member lines "are 100 percent committed to helping to protect the health of our guests, our crew and the communities we serve, and are prepared to implement multiple layers of protocols informed by the latest scientific and medical knowledge."
Between the lines: Redfield was overruled when he pushed to extend a "no-sail order" on passenger cruises into 2021, two sources with direct knowledge of the conversation told Axios' Jonathan Swan late last month.
Public health officials have privately complained that the thwarting of Redfield is politically motivated because the industry is a major economic presence in Florida — a key battleground state.
The White House denies politics played any role in the decision.
The bottom line: Under the latest order, it will likely be months before U.S. cruises resume with passengers on board.
Many major cruise lines have suspended all ships leaving from U.S. ports until at least Dec. 1, per the Miami Herald.
The CDC still has in place its "Level 3" warning for cruise ship travel, urging travelers to defer all cruise travel worldwide. 
Go deeper