Unrest in Philadelphia after fatal police shooting of Black man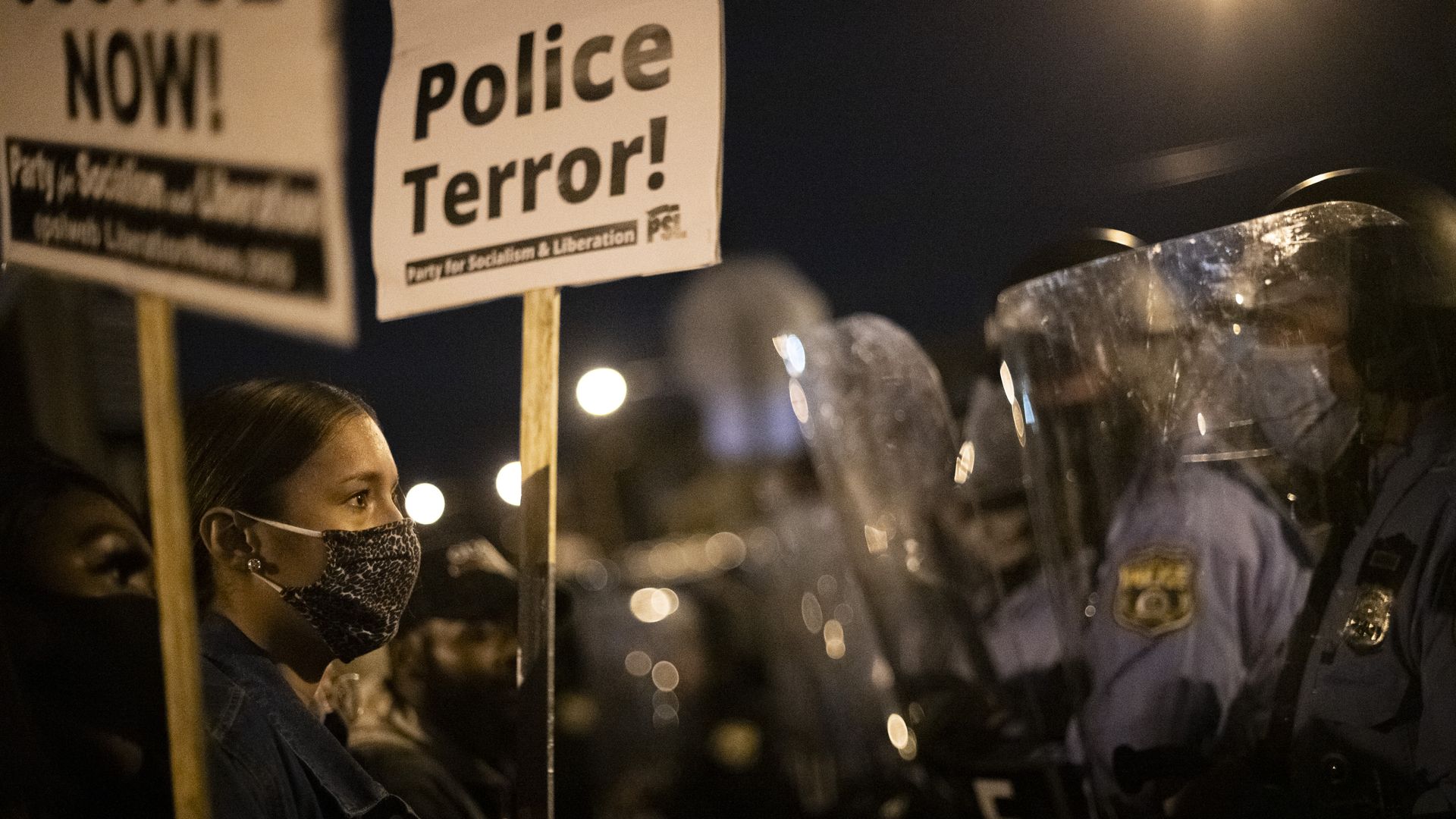 The Pennsylvania National Guard was mobilized Tuesday during a tense second night of protests in Philadelphia over the fatal police shooting of Walter Wallace, a 27-year-old Black man.
Driving the news: Philadelphia Mayor Jim Kenney (D) and Police Commissioner Danielle Outlaw said in a joint statement a "full investigation" would be launched to answer questions that arose from video that captured part of Monday's incident.
Wallace's father told the Philadelphia Inquirer that the family had called 911 for a "medical intervention" from an ambulance as the 27-year-old was experiencing a mental health episode. But the police arrived instead.
Philadelphia Police Sgt. Eric Gripp told CBS Philly that officers were responding to reports of a man with a knife "and he was brandishing it, and waving it erratically."
Video shows Wallace walking toward the officers and then shots are fired.
For the record: Wallace's family had earlier called for calm. Following an evening of peaceful demonstrations Tuesday, police used batons and pepper spray and some protesters "hurled debris" at officers during clashes, per the Inquirer.
The Philadelphia Police Department tweeted late Tuesday that residents in several districts should remain indoors because of "widespread demonstrations that have turned violent with looting."
The Pennsylvania National Guard said in a statement to news outlets it was "staffing several hundred members in Philadelphia to protect the right to peacefully assemble and protest while keeping people safe" at the request of Philadelphia County.
What they're saying: ACLU of Pennsylvania executive director Reggie Shuford said in a statement, "This city is overdue for a reckoning with the brazenly violent and abusive behavior in its police department. The Philadelphia police have a long history of brutality against city residents, particularly against Black Philadelphians."
Fraternal Order of Police Lodge #5 president John McNesby said in a statement, "Our police officers are being vilified for doing their job and keeping the community safe, after being confronted by a man with a knife. We support and defend these officers, as they too are traumatized by being involved in a fatal shooting."
Of note: White House press secretary Kayleigh McEnany blamed Democrats for what she claimed was their "war on police" in a statement just after midnight, saying the Trump administration "stands proudly with law enforcement, and stands ready, upon request, to deploy any and all Federal resources to end these riots," per NPR.
Meanwhile, Democratic presidential candidate Joe Biden and running mate Sen. Kamala Harris said in a joint statement earlier Tuesday, "Walter Wallace's life, like too many others', was a Black life that mattered — to his mother, to his family, to his community, to all of us.
"At the same time, no amount of anger at the very real injustices in our society excuses violence. Attacking police officers and vandalizing small businesses ... does not bend the moral arc of the universe closer to justice. It hurts our fellow citizens. Looting is not a protest, it is a crime. It draws attention away from the real tragedy of a life cut short."
— Biden and Harris
Editor's note: This article has been updated with new details throughout.
Go deeper