Tim Scott says Trump "misspoke" when he told Proud Boys to "stand by"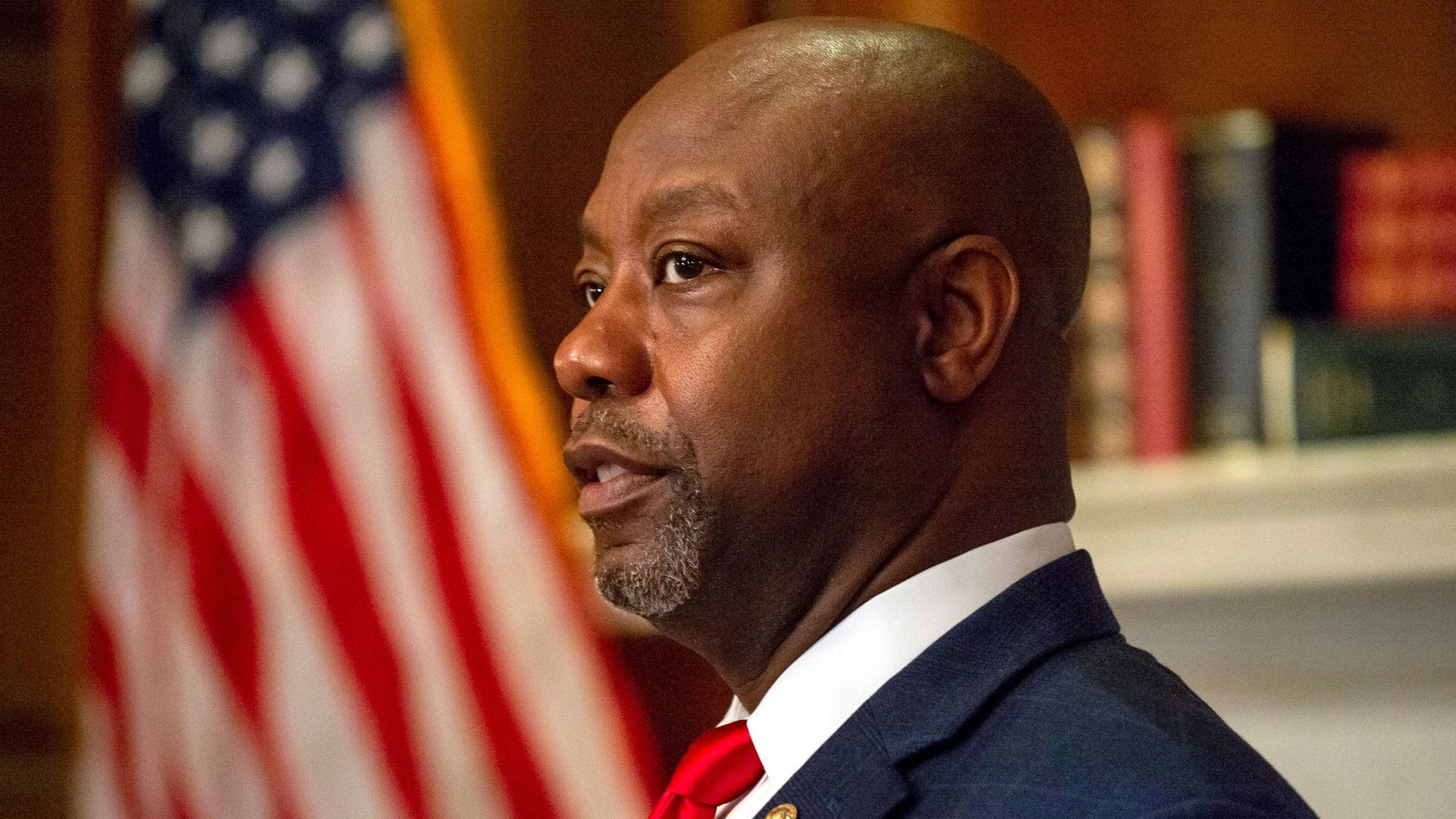 Sen. Tim Scott (R-S.C.) told reporters on Wednesday that he believes President Trump "misspoke" when he told the far-right "Proud Boys" group to "stand back and stand by" in response to a question about condemning white supremacy at the first presidential debate.
Catch up quick: Moderator Chris Wallace asked Trump on Tuesday, "Are you willing, tonight, to condemn white supremacists and militia groups and to say that they need to stand down?" Trump asked who specifically he should condemn, and then responded, "Proud Boys, stand back and stand by. But I'll tell you what, somebody's got to do something about antifa and the left."
Why it matters: Scott is the only Black Republican in the Senate. Trump's refusal to explicitly condemn white supremacist groups has sparked outrage and was celebrated by members of the Proud Boys group on online messaging boards.
What they're saying: "I think he misspoke in response to Chris Wallace's comment. He was asking Chris what he wanted [him] to say, I think he misspoke. I think he should correct it. If he doesn't correct it, I guess he didn't misspeak," Scott said.
Other Republican lawmakers have also responded to Trump's non-condemnation:
Sen. Mitt Romney (R-Utah) said "of course" when asked if Trump should have condemned white supremacists, adding, "It was not a Lincoln-Douglas debate, that's for sure."
Sen. John Kennedy (R-La.) said the debate was "a bit turgid in terms of understanding the candidates' positions on the issues," but responded "that's all I have for you" when asked about the white supremacist remarks.
Sen. Mike Rounds (R-S.D.) said, "He should have been very clear, and he should have made it very clear that there's no room for people on the far left or the far right when it comes to either an antifa or these white supremacist groups. He should have been very clear."
Sen. Todd Young (R-Ind.) would not respond to Trump's comments specifically, only saying, "I condemn white supremacy, all extremist groups. I think that all of these groups are hateful, and I condemn them in the strongest terms."
Sen. Lindsey Graham (R-S.C.) tweeted: "I agree with Sen. Tim Scott's statement about President Trump needing to make it clear Proud Boys is a racist organization antithetical to American ideals."
Senate Majority Leader Mitch McConnell (R-Ky.): "With regard to the white supremacy issue, I want to associate myself with the remarks of Sen. Tim Scott. I think he said it exactly correctly, and that's exactly how I would express myself on that issue."
Sen. Susan Collins (R-Maine) said Trump should "absolutely" condemn white supremacy and that his comments were a "mistake." She added that it was the "least educational debate" she's ever seen and said that "there was fault on both sides."
Go deeper