Rock the Vote event highlights women's suffrage in push to register new voters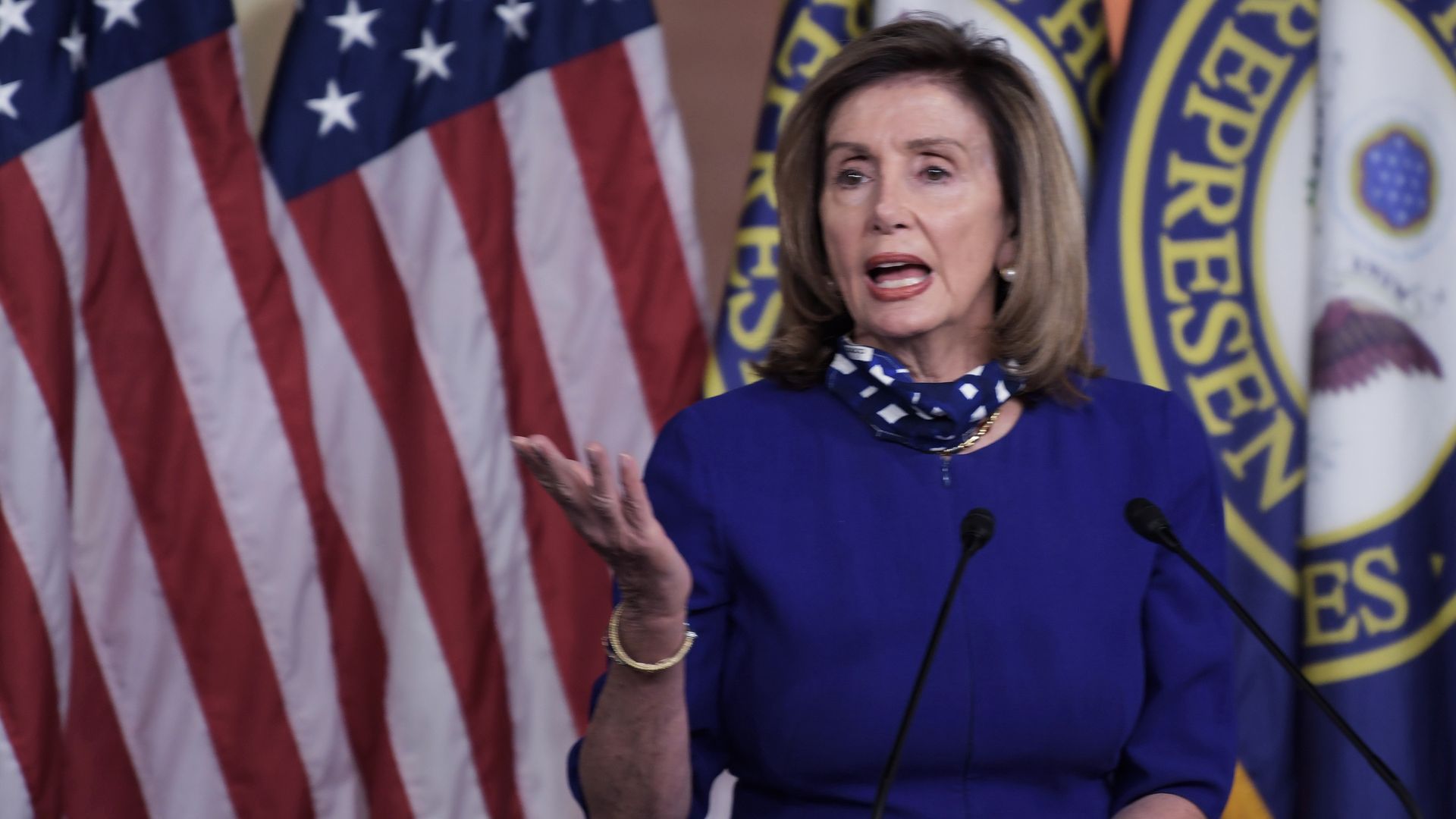 Female office-holders stood on the shoulders of suffragettes at a virtual Rock the Vote event Monday celebrating a century of progress since the 19th Amendment passed, but demanding more action to achieve equality.
Driving the news: That's what House Speaker Nancy Pelosi (D) and other speakers noted at Monday night's event. Pelosi also celebrated "the most diverse caucus in history, over 60% women, people of color and LGBTQ."
Rep. Ayanna Pressley (D-Mass.) was among several other politicians to speak at the event. She noted that for Black women, "the struggle for the ballot didn't end in 1920," with key tenets of the Voting Rights Act "stripped away."
There's a "daily struggle to prevent voter suppression, intimidation, disinformation, and the disenfranchisement of millions of Black and brown Americans," she said."[A]s long as systemic barriers create inequitable access to the ballot box, full and fair representation will remain out of reach."
In her speech, New Mexico Gov. Michelle Lujan Grisham (D) spoke of how the "promise of equality remains hollow for far too many people of color who face the injustice of America's unaddressed, systemic racism."
Why it matters: The goal of Rock the Vote is to register more than 400,000 new young voters through a summer-long campaign.
Organizers aim to "channel the energy among young people around racial, economic, and health justice into one of the most powerful actions they can take: voting," according to a Rock the Vote statement.
The big picture: The two-hour event, called "We Vote. We Rise," featured an array of women leaders, emerging artists and young influencers looking forward to the America of the next 100 years, and what can be achieved if every woman can vote.
While many of the political speakers were liberal, conservative pundit Tara Setmayer also made an address.
The event is in partnership with the American Federation of Teachers, the House of Blues Music Forward Foundation, Ignite, the Institute for Women's Policy, the League of Women Voters, March for Our Lives, March On, the National Center for Lesbian Rights, the National Women's Law Center, Period — The Menstrual Movement, She Should Run, Sisters Rising coalition, Supermajority, TIME'S UP, and Vote Run Lead.
Editor's note: This article has been updated with more details from the event.
Go deeper