1 killed in Portland amid clashes between Trump supporters and counterprotesters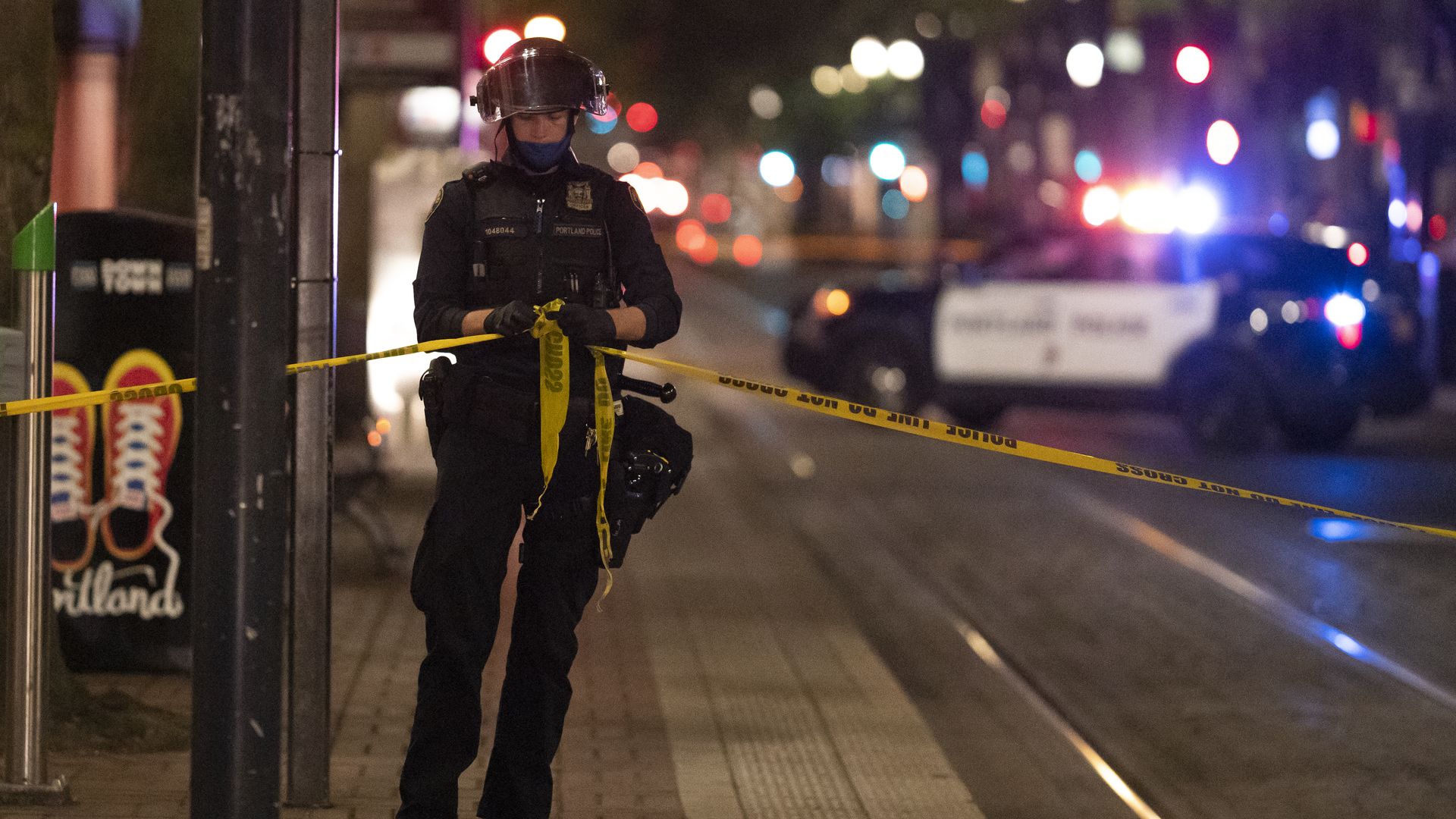 A man wearing a hat featuring a symbol of far-right group Patriot Prayer was fatally shot during clashes between supporters of President Trump and anti-racism protesters in Portland, Oregon, on Saturday night, per multiple reports.
Details: It wasn't immediately clear if the death was connected to skirmishes that erupted after some 1,000 Trump supporters rallied in the city, the Oregonian notes. The Portland Police Bureau said in a statement they had opened a homicide investigation into the shooting, which happened at 8:46pm.
Police tweeted about a political caravan holding up traffic just before the shooting.
"There have been some instances of violence between demonstrators and counterdemonstrators," the police said. "Officers have intervened and in some cases made arrests."
Times reporter Mike Baker shared video from the scene of people he identified as Trump supporters unleashing paintballs and pepper spray while passing in a caravan of vehicles.
What they're saying: President Trump spent much of early Sunday morning tweeting and retweeting videos from the protests, attacking "Antifa" and Democratic leadership in cities and demanding that Portland Mayor Ted Wheeler resign.
Two days earlier, Wheeler had sent Trump a letter rejecting his offer to send federal law enforcement to help quell violence in the city. "We don't need your politics of division and demagoguery," Wheeler wrote.
The big picture: The shooting occurred on the 94th straight day of Black Lives Matter protests in Portland, which began in response to the May killing by police of George Floyd in Minneapolis, Minnesota.
The clashes come after the president said in his Republican National Convention speech Thursday that if his Democratic presidential rival Joe Biden were elected, "They will make every city look like Democrat-run Portland, Oregon."
Editor's note: This article has been updated with new details throughout.
Go deeper