Biden plans modified return to campaign trail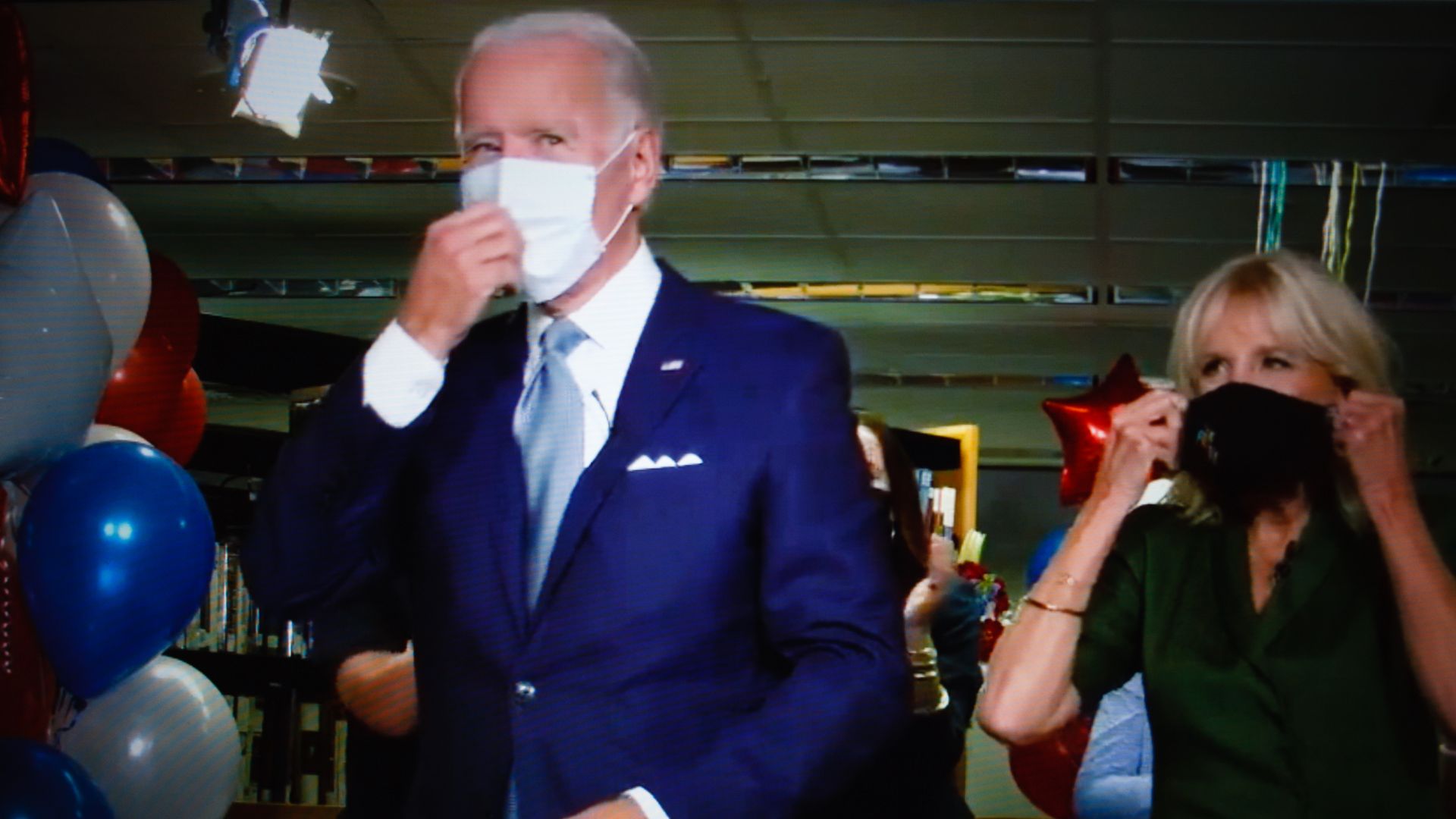 Joe Biden announced plans on Thursday to start traveling to swing states, promising not to violate "state rules about how many people can in fact assemble."
Why it matters: Biden's announcement comes after Axios first reported that the campaign was considering how to travel in a way that honored local regulations while reaching voters in important states.
As some polls suggest Biden's lead is narrowing, some Democrats worry that President Trump could gain a tactical advantage at crunch time if he's campaigning in person and Biden's only out there virtually.
Still, many Biden advisers remain convinced that there's a strategic benefit to drawing a sharp contrast with President Trump when it comes to curbing travel and social distancing — as well as a public health benefit.
What he's saying: "We plan on, without jeopardizing or violating state rules about how many people can in fact assemble," Biden told a group of donors, according to reporters present. "One of the things we're thinking about is I'm going to be going up to Wisconsin, and Minnesota, spending time in Pennsylvania, out in Arizona."
"But we're going to do it in a way that is totally consistent with being responsible, unlike what this guy's doing," Biden added, referring to Trump. "He's on the White House lawn tonight first of all violating the Hatch Act. Virtually throwing every major rule in the dustbin ... he's totally irresponsible."
"I'm going to be traveling throughout the country where I can do it consistent with the state rules about how many people can be assembled."
Biden continued: "I'm a tactile politician. I really miss being able to, you know, grab hands, shake hands, you can't do that now. But I can in fact appear beyond virtually, in person, in many of these places."
Biden said his campaign would get out and meet people in communities and local businesses, not at "irresponsible rallies."
Between the lines: Biden has been saying for months that he'd only travel if it's medically safe, as he seeks to draw a contrast with Trump, who has addressed rallies during the pandemic and who has had live audiences for Republican National Convention events this week.
But Biden campaign officials have long said they would reevaluate their travel posture around Labor Day and let the virus dictate whether and where it's safe to fly.
Biden likely will opt for some short trips — but not like Trump.
He also is likely to scrap any potential plans if doctors and scientists advise against them.
Be smart: There isn't the same grassroots groundswell for Biden to travel to swing states as Trump finds in his own base. Many Democratic activists and lawmakers share Biden's view that it's simply too dangerous to gather large crowds with case positivity still so high.
"The whole Republican Party is being reckless with their rallies," said Bill Jacobs, the Democratic Party chair in Clinton County, Iowa. "Biden could visit, but you'd have to keep the crowd size very small."
"The Biden-Harris campaign is not going to risk spreading COVID-19," said Rep. Ruben Gallego (D-Ariz.) "The American public appreciates that. It is why he is winning."
Go deeper