What to expect from Kamala Harris and Barack Obama's DNC speeches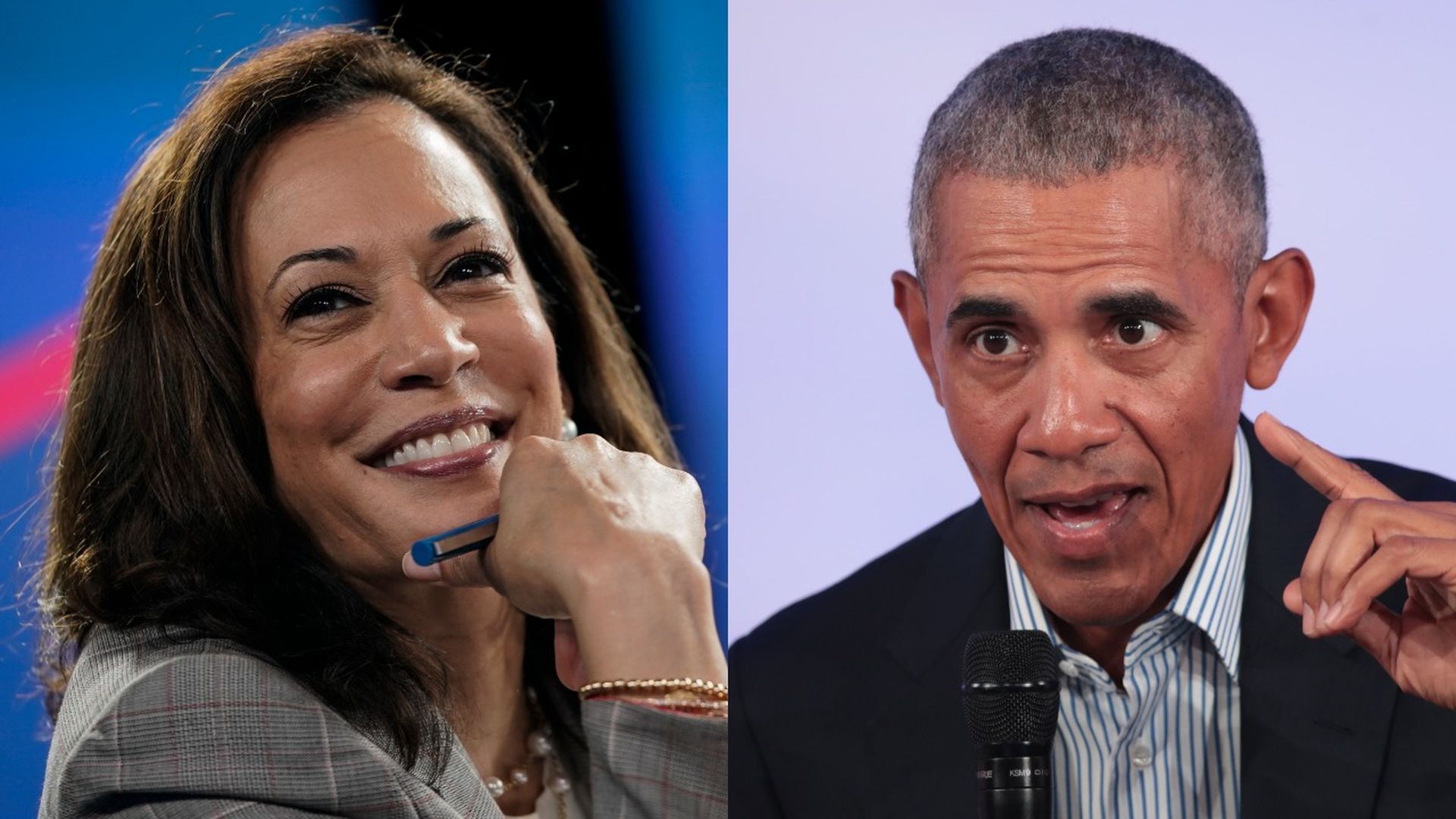 Former President Obama will tell Americans tonight that "democracy itself is on the line," setting the stage for a heavily personal and biographical appeal by Kamala Harris "for people to see themselves in her speech," advisers to both tell Axios.
Driving the news: Each is speaking on Day Three of the Democratic National Convention — with Harris capping the night when she formally accepts the vice presidential nomination on Joe Biden's ticket.
Obama will frame the choice between Biden, who served as his VP for both terms, or a second term of President Trump, as a choice between hope and cynicism, an aide said.
Details: As the first Black woman and first Asian-American woman to be named to a major-party U.S. presidential ticket, Harris' speech is expected to draw on themes of diversity and inclusion.
A Harris aide says she'll "tell her own story and highlight the examples and experiences of others."
Obama will touch on Biden's experience steering the recovery after the 2008 financial crisis. He'll highlight what he sees as Trump's blunders on foreign policy, the economy and health care. He'll also critique moves by Trump to discourage or complicate voting — and urge Americans to vote early.
Between the lines: One veteran Democratic strategist outside the campaign says that while Harris' heritage speaks to themes of inclusion and representation, it isn't her defining characteristic — and that her work and political experience and skills as a communicator can appeal across wide swaths of the electorate.
"Voters are looking for a team that can build us out of this mess and return us to competent government," the strategist said. "Kamala's challenge tonight is to prove she's that ticket."
Obama excerpts
"I never expected that my successor would embrace my vision or continue my policies. I did hope, for the sake of our country, that Donald Trump might show some interest in taking the job seriously; that he might come to feel the weight of the office and discover some reverence for the democracy that had been placed in his care," Obama will say.
"But he never did. He's shown no interest in putting in the work; no interest in finding common ground; no interest in using the awesome power of his office to help anyone but himself and his friends; no interest in treating the presidency as anything but one more reality show that he can use to get the attention he craves.
"Donald Trump hasn't grown into the job because he can't. And the consequences of that failure are severe. 170,000 Americans dead. Millions of jobs gone. Our worst impulses unleashed, our proud reputation around the world badly diminished, and our democratic institutions threatened like never before."
Obama's bottom line: "Democracy was never meant to be transactional – you give me your vote; I make everything better. So I am also asking you to believe in your own ability – to embrace your own responsibility as citizens – to make sure that the basic tenets of our democracy endure. Because that's what at stake right now. Our democracy."
Harris excerpts
"[I am] committed to the values she [my mother] taught me, to the word that teaches me to walk by faith, and not by sight, and to a vision passed on through generations of Americans—one that Joe Biden shares," Harris will say.
"A vision of our nation as a beloved community–where all are welcome, no matter what we look like, where we come from, or who we love. A country where we may not agree on every detail, but we are united by the fundamental belief that every human being is of infinite worth, deserving of compassion, dignity and respect."
"A country where we look out for one another, where we rise and fall as one, where we face our challenges, and celebrate our triumphs. Together. Today, that country feels distant. Donald Trump's failure of leadership has cost lives and livelihoods."
Harris's bottom line: "We're at an inflection point. The constant chaos leaves us adrift. The incompetence makes us feel afraid. The callousness makes us feel alone. It's a lot. And here's the thing: We can do better and deserve so much more."
Go deeper