Updated Aug 11, 2020 -

World
U.S. officials condemn Belarus election and "senseless" protest crackdown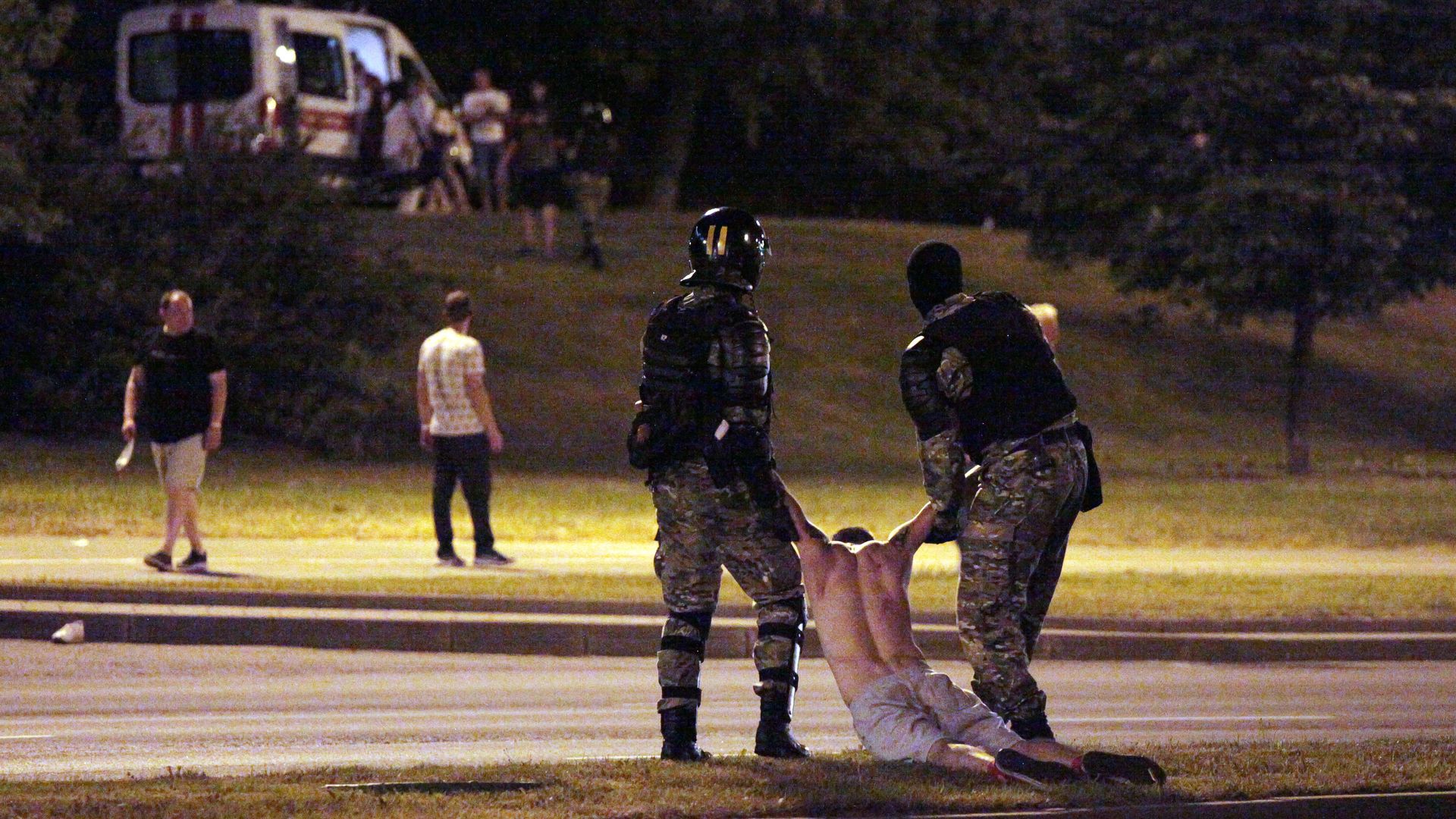 Trump administration members, Democratic and Republican lawmakers and former Vice President Joe Biden expressed concern Monday over Belarus' weekend elections and subsequent brutal crackdown on protesters in the country.
Why it matters: President Aleksander Lukashenko, known as "Europe's last dictator," claimed to have won in a landslide against the pro-democracy opposition in a Sunday election widely viewed as rigged.
Thousands of protesters have taken to the streets in cities across Belarus, where clashes with riot police for two consecutive nights have left at least one person dead, hundreds injured and thousands arrested.
The main opposition candidate, Svetlana Tikhanovskaya, had not been seen or heard from for hours on Monday after filing a complaint at the Central Election Commission. Her team later issued a short and mysterious statement, saying: "Svetlana Tikhanovskaya has made contact. She's fine."
What they're saying: In a Medium post, Biden called for a transparent and accurate vote count, the release of all political prisoners, for Lukashenko to respect the right to protest and for the violence to end. "After a presidential election marred by electoral fraud, citizens peacefully protesting to demand an accurate vote count are now being met with riot police using stun grenades, tear gas, and rubber bullets," he noted.
"The Lukashenka regime has cut internet access, arrested protesters and independent journalists, and tried to muzzle foreign observers. These are not the actions of a political leader confident that he has won a fairly conducted election."
— Excerpt from Biden's post
White House press secretary Kayleigh McEnany said at a briefing the administration was "deeply concerned" about the election and the "detention of peaceful protesters and journalists," as she urged authorities to "refrain from the use of force."
House Foreign Affairs Committee Chair Eliot Engel (D-N.Y.) and ranking member Michael McCaul (R-Texas) said in a joint statement, "We stand with those who are bravely risking their safety to push for a free and democratic nation and call on President Alexander Lukashenko to end these senseless acts of violence."
Secretary of State Mike Pompeo denounced the Belarus election in a statement on Monday as "not free and fair" and urged the country's authoritarian government to "refrain from use of force" against protesters who have taken to the streets.
"We strongly condemn ongoing violence against protesters and the detention of opposition supporters, as well as the use of internet shutdowns to hinder the ability of the Belarusian people to share information about the election and the demonstrations."
— Excerpt from Pompeo's statement
Go deeper: Protests erupt in Belarus after "Europe's last dictator" claims election win
Editor's note: This article has been updated with more comments and the latest details on the unrest.
Go deeper