The labs handling coronavirus testing for pro sports leagues
The NFL, NBA and MLS have all enlisted the same company, BioReference Laboratories, to handle coronavirus testing during their respective restarts.
The big picture: Coronavirus testing in sports has become a hot-button issue, with some concerned that leagues are consuming limited resources while many Americans either can't get tested or have to wait too long for results.
BioReference chairman Jon Cohen pushed back against that narrative, saying the company's work with sports leagues hasn't impacted its ability to test the general public in Florida and other states where it has facilities.
"Our current capacity is somewhere in the vicinity of 50,000 to 70,000 tests a day," he told The Athletic's Joe Vardon (subscription). "So the amount of testing we're doing for the sports franchises is minimal compared to our total testing."
NFL: testing will reportedly cost around $75 million, and will be evenly paid for by all 32 teams. The fee includes 120 tests per team per day, with the option to add additional tests for $125 each.
NBA: Players receive both a nasal and saliva swab every other day, administered by the ~100 BioReference employees living in the bubble. The samples are driven 75 minutes away to a lab in Melbourne, Florida, for analysis.
MLS: Like its Disney World counterpart, players are tested every other day. There hasn't been a positive test among the 24 participating clubs since July 10. Tests take 12–15 hours to process.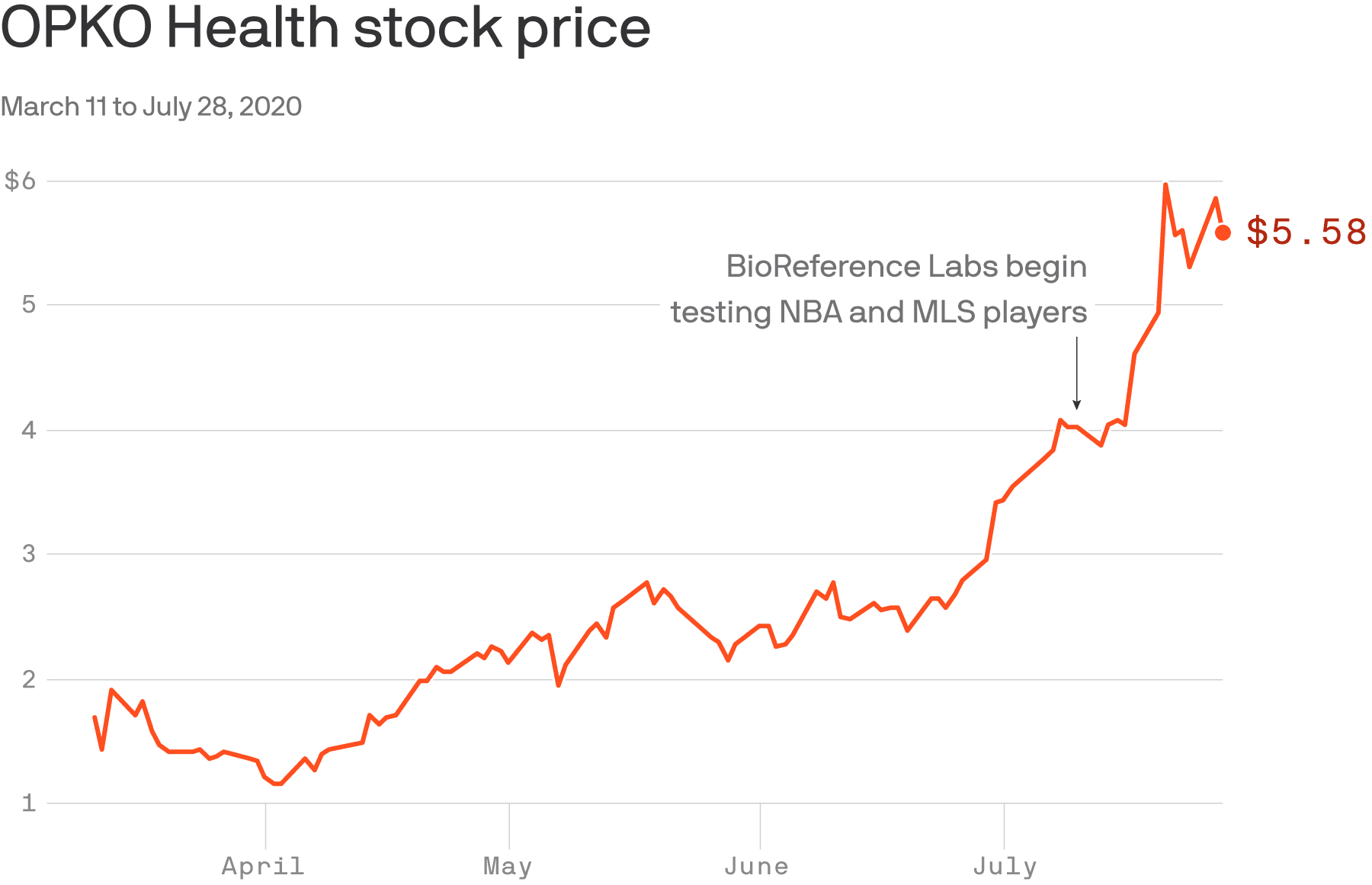 The impact: Shares in BioReference's parent company, OPKO Health, are up nearly 300% since the start of the year, and the stock has surged since testing began in the NBA and MLS bubbles.
Other testing partners:
Go deeper