Tech CEOs' task: Stay cool, wave flag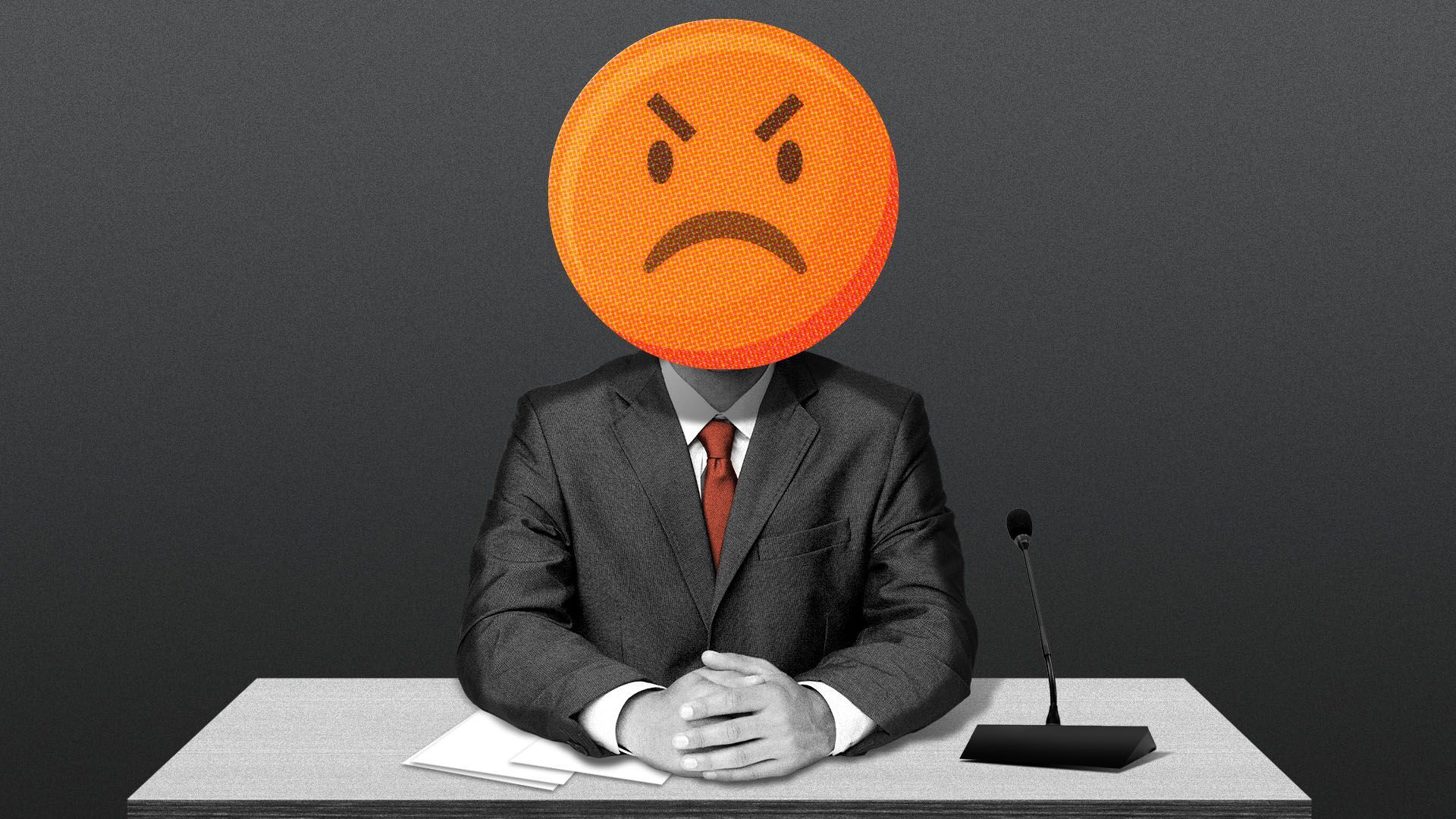 When CEOs testify before Congress, as tech's leaders will Wednesday, they have one job: to demonstrate their firms are good corporate citizens by enduring questioning without offending or putting their feet in their mouths.
The big picture: In recent history, CEOs have failed in one of two ways — making self-serving statements that are transparently untrue, or letting their contempt for the machinery of democracy show.
Tobacco CEOs famously did the former in 1994.
Bill Gates arguably did the latter when Microsoft was under antitrust threat in 1998.
What to watch: Of the four CEOs testifying before the House Judiciary Committee, Mark Zuckerberg already passed this test with flying colors two years ago.
His retort to Sen. Orrin Hatch's question about how Facebook profits without charging users —"Senator, we sell ads" — was disarmingly forthright.
Tim Cook and Sundar Pichai have also testified before.
They're both consummate technocrats who are unlikely to flinch, weird out or crack under pressure.
Jeff Bezos is the wild card. It's his first time before Congress, and for most of the 25 years he's run Amazon he has avoided confronting hostile questions in public.
He's also the richest person in the world, by most accountings, and that could give him a sense of invulnerability. (Although it wasn't enough to protect him from having his intimate photos stolen.)
In opening statements posted Tuesday, all four executives plan to offer different versions of a "we're good for America" argument.
Zuckerberg: "Facebook is a proudly American company. We believe in values — democracy, competition, inclusion and free expression — that the American economy was built on. Many other tech companies share these values, but there's no guarantee our values will win out. For example, China is building its own version of the internet focused on very different ideas, and they are exporting their vision to other countries."
Cook: "Apple is a uniquely American company whose success is only possible in this country."
Bezos: "The trust customers put in us every day has allowed Amazon to create more jobs in the United States over the past decade than any other company."
Pichai: "Our work would not be possible without the long tradition of American innovation, and we're proud to contribute to its future... Our teams of engineers are helping America solidify its position as the global leader in emerging technologies like artificial intelligence, self-driving cars, and quantum computing."
Yes, but: The high drama in the collision between lawmakers and tech leaders won't play out under the hot lights of a Capitol chamber but in the cool squares of a videoconference, thanks to pandemic-era social distancing.
That has left some critics of the tech companies' practices fretting that the CEOs will get off easy.
It will also underscore how thoroughly every sector of society, including government, now depends on their screens and services.
Of note: The videoconferencing provider Congress uses is Cisco Webex.
What's next: The show begins at noon EST.
Go deeper:
Go deeper