Updated Jul 21, 2020 -

World
EU leaders strike "historic" $857 billion coronavirus recovery deal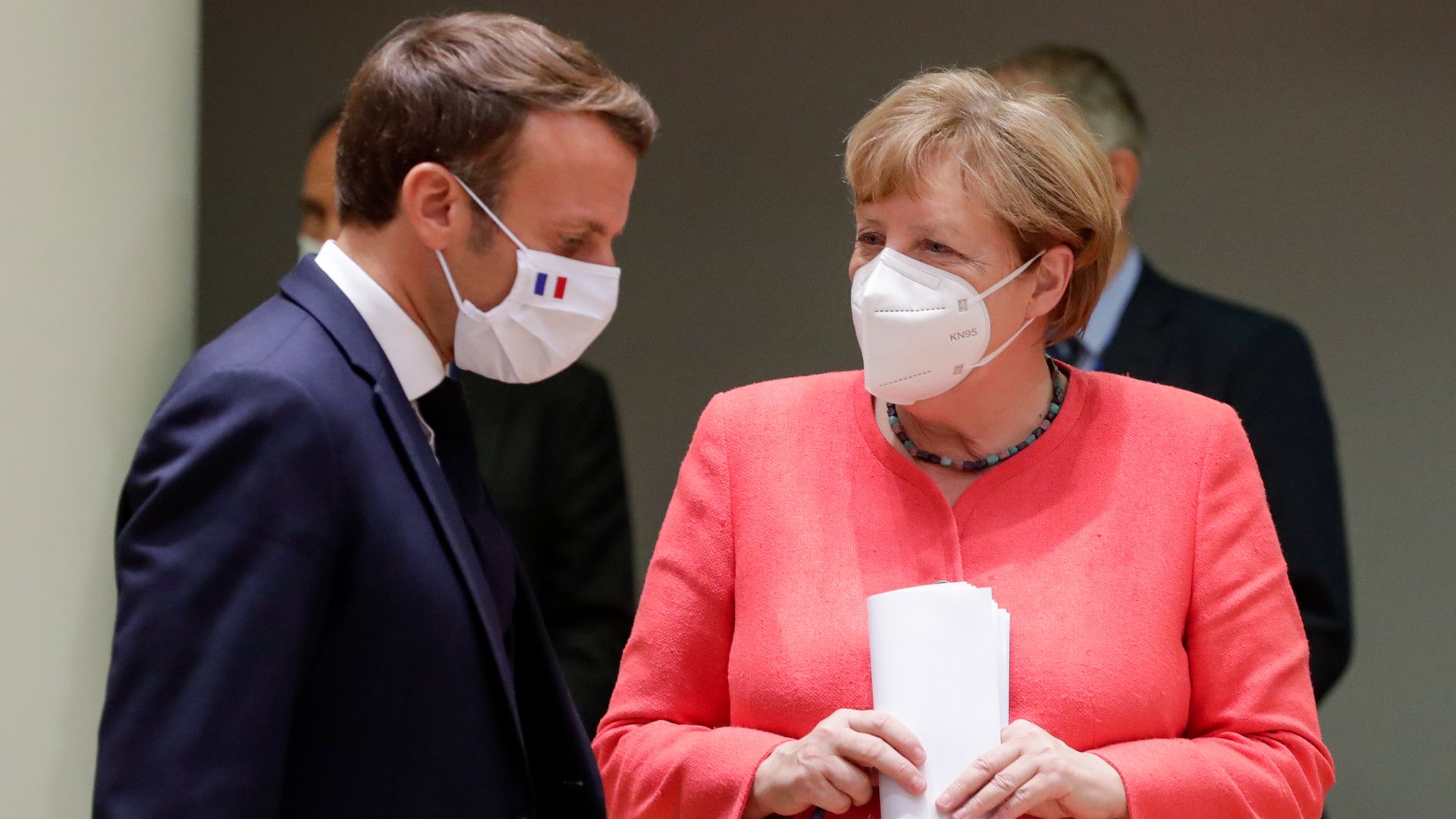 EU leaders agreed to a €750 billion ($857 billion) post-pandemic economic recovery package, summit chair Charles Michel confirmed in a tweet early Tuesday local time, stating: "Deal!"
Why it matters: French President Emmanuel Macron said in a statement the agreement that was unanimously approved by all 27 EU leaders after almost five days of intense negotiations in Brussels marked "a historic day for Europe."
"We have put in place the capability to borrow collectively, to put in place a collective recovery plan, for the first time. With this recovery plan, we will reach a near doubling of the European budget over the next three years."
— Statement by Macron
The economic reconstruction fund consisting of 360 billion euros in low-interest loans and 390 billion euros in grants proposed by Michel marks the largest joint borrowing agreement ever reached the EU.
Michel, the European Council president, said at a briefing Tuesday morning the deal marked "a pivotal moment" for Europe, after negotiators managed to overcome staunch opposition to some aspects of the proposed package at the talks, which began last Friday.
Background: Macron crafted the original proposal with German Chancellor Angela Merkel in May.
Before Michel's plans were passed, there had been major disagreements between the leaders of the countries worst affected by the novel coronavirus and the self-described "frugal four" nations of Denmark, Sweden, the Netherlands and Austria.
The "frugal four" voiced opposition to plans to offer €500 billion in grants, which they insisted should be capped at €375 billion the BBC notes. Italy and Spain did not think the fund should be less than €400 billion.
How it works: "The European Commission will borrow the [€750 billion] on international markets and distribute the aid," the BBC reports. "There will also be a means by which member states can reject a spending plan."
Editor's note: This article has been updated with new details throughout.
Go deeper