New York Times front page honors COVID-19 victims as death toll nears 100,000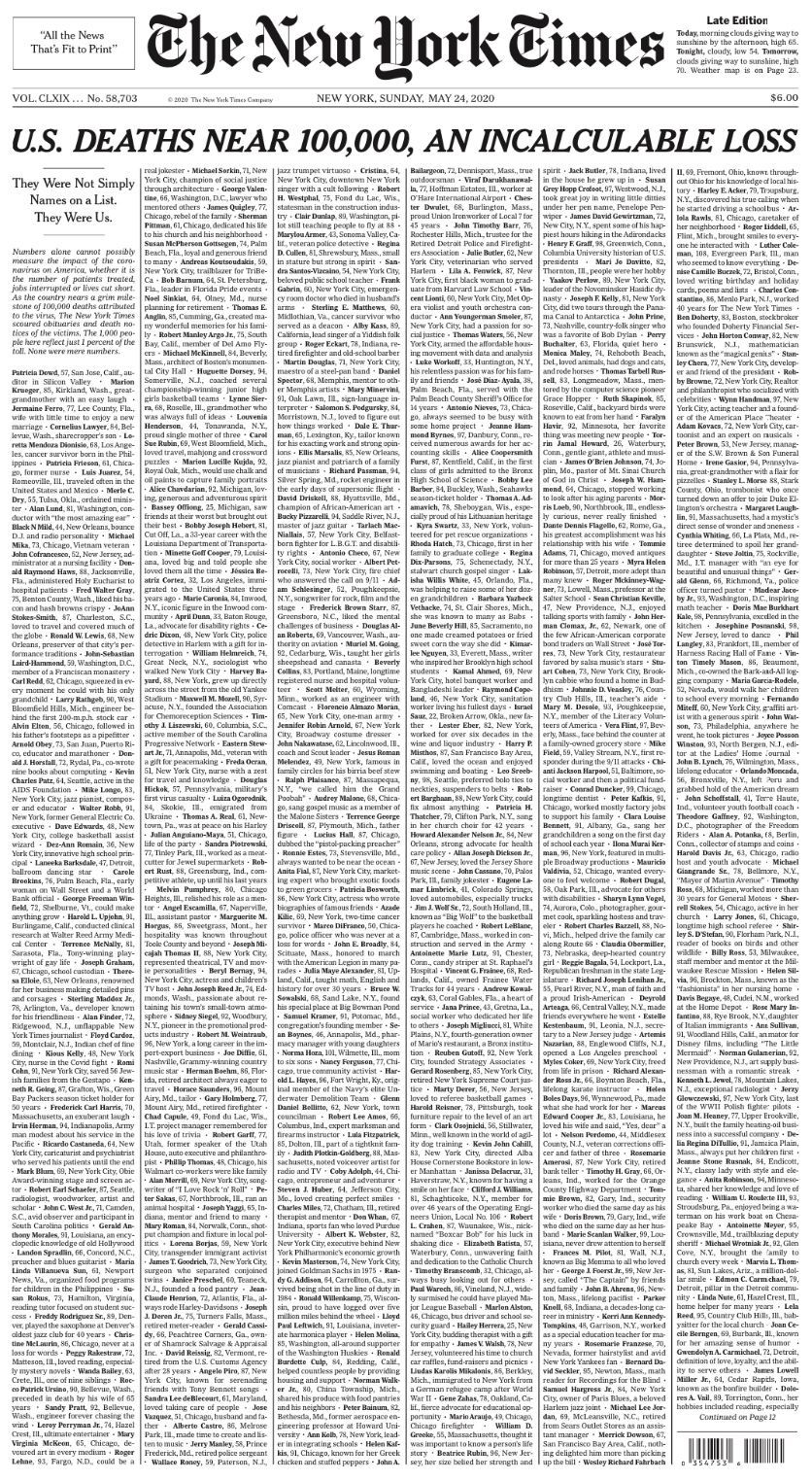 The stark front page of today's New York Times, plus three inside pages, consist of two-line obituaries ("Always first on the dance floor. ... Preferred bolo ties and suspenders") for 1,000 of the nearly 100,000 Americans who have died of the coronavirus — 1% of the toll.
The big picture: A huge team at The Times drew the accounts "from hundreds of obituaries, news articles and paid death notices that have appeared in newspapers and digital media over the past few months."
Marc Lacey, national editor, said: "I wanted something that people would look back on in 100 years to understand the toll of what we're living through."
A sampling:
Cornelia Ann Hunt, 87, Virginia Beach, her last words were "thank you" • Rita Paas, 88, Comstock Park, Mich., never missed "Wheel of Fortune," "Jeopardy" or "Lawrence Welk" • Lila A. Fenwick, 87, New York City, first black woman to graduate from Harvard Law School • Alice Coopersmith Furst, 87, Kentfield, Calif., in the first class of girls admitted to the Bronx High School of Science.
Bobby Lee Barber, 84, Buckley, Wash., Seahawks season-ticket holder • Rhoda Hatch, 73, Chicago, first in her family to graduate college • Regina Dix-Parsons, 75, Schenectady, N.Y., stalwart church gospel singer • Lakisha Willis White, 45, Orlando, Fla., was helping to raise some of her dozen grandchildren.
Barbara Yazbeck Vethacke, 74, St. Clair Shores, Mich., she was known to many as Babs • June Beverly Hill, 85, Sacramento, no one made creamed potatoes or fried sweet corn the way she did • Kimarlee Nguyen, 33, Everett, Mass., writer who inspired her Brooklyn high school students • Kamal Ahmed, 69, New York City, hotel banquet worker and Bangladeshi leader • Israel Sauz, 22, Broken Arrow, Okla., new father.
Go deeper