What they're saying: Opposition erupts to Trump halting WHO funding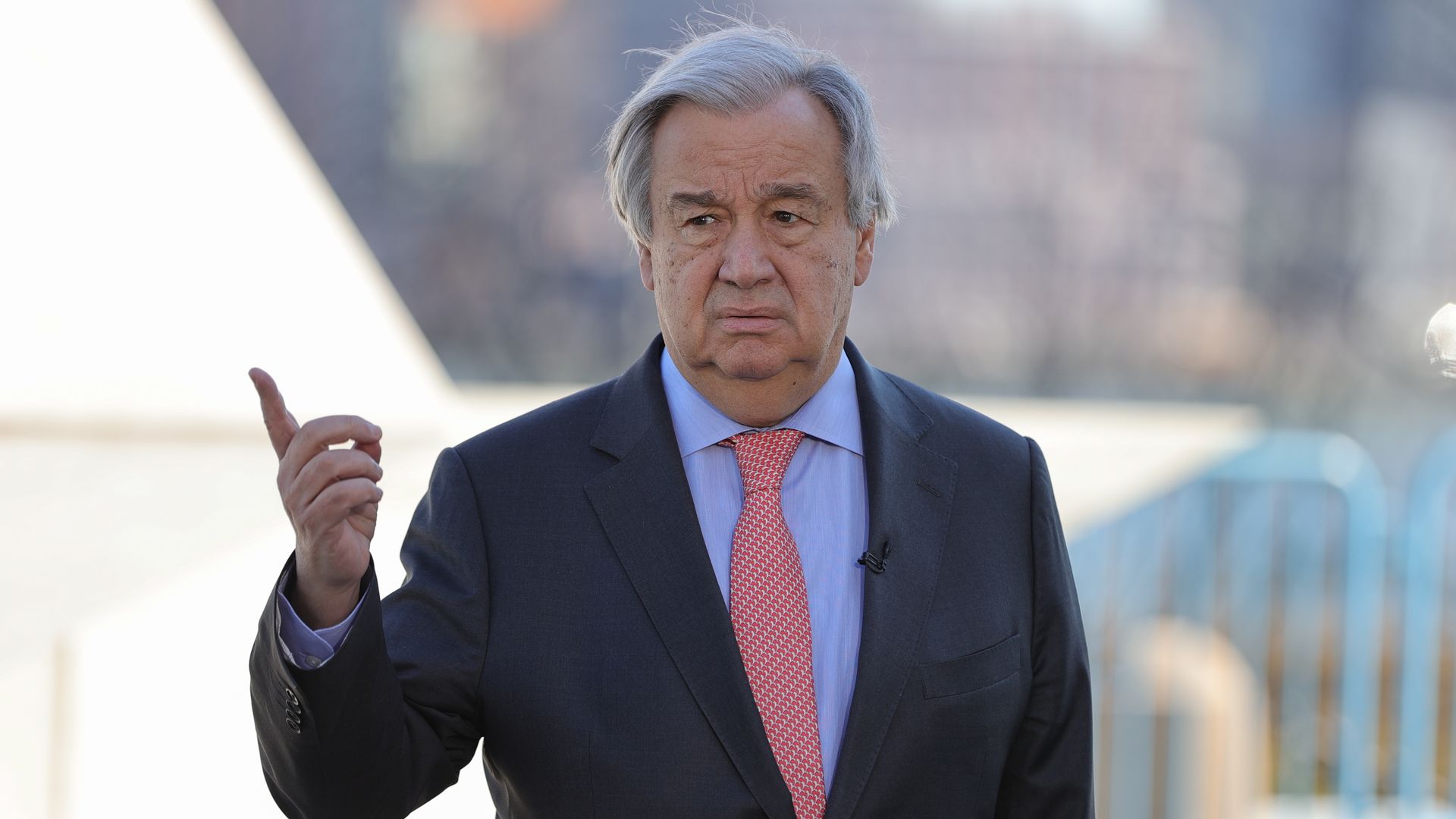 UN Secretary-General António Guterres on Tuesday denounced President Trump's announcement that he's suspending U.S. funding to the World Health Organization over its handing of the novel coronavirus pandemic.
The big picture: Trump has faced widespread backlash to his decision to halt funding in the middle of the pandemic, with the conservative Heritage Foundation and the U.S. Chamber of Commerce among the outside groups that have called the move a mistake.
What they're saying:
Guterres: "Now is a time for unity in the global battle to push the COVID-19 pandemic into reverse, not a time to cut the resources of the World Health Organization (WHO), which is spearheading and coordinating the global body's efforts."
House Speaker Nancy Pelosi: "This is another case, as I have said, of the President's ineffective response, that 'a weak person, a poor leader, takes no responsibility.  A weak person blames others.' This decision is dangerous, illegal and will be swiftly challenged."
American Medical Association president Patrice Harris said in a statement that halting the funding during "the worst public health crisis in a century" is a "dangerous step in the wrong direction that will not make defeating COVID-19 easier." "The AMA is deeply concerned by this decision and its wide-ranging ramifications, and we strongly urge the President to reconsider," Harris added.
U.S. Chamber of Commerce executive vice president Myron Brilliant said in a statement that the organization supports a "reformed but functional World Health Organization." He said, "U.S. leadership and involvement are essential to ensuring its transparency and accountability going forward. However, cutting the WHO's funding during the COVID-19 pandemic is not in U.S. interests."
The Heritage Foundation, a conservative think tank based in Washington, D.C., said in a statement the action "is not the most effective move the administration can make" as China could use it to its messaging advantage at a time when developed and developing nations are "expressing anger toward China" over the pandemic.

"[T]he threat of future withholding will be more effective than a preemptive decision. Instead of ending funding during the current crisis, the U.S. should condition future funding to specific actions by the World Health Organization," the group said, noting the impact of Trump's measure wouldn't be felt for months.

Bill Gates tweeted Wednesday, "Halting funding for the World Health Organization during a world health crisis is as dangerous as it sounds. Their work is slowing the spread of COVID-19 and if that work is stopped no other organization can replace them. The world needs @WHO now more than ever."
Sen. Patrick Leahy (D-Vt.), the top Democrat on the Senate Appropriations Committee, said in a statement, "The White House knows that it grossly mishandled this crisis from the beginning, ignoring multiple warnings and squandering valuable time, dismissing medical science, comparing COVID 19 to the common cold, and saying 'everything will be fine.'"
House Intelligence Chairman Adam Schiff (D-Calif.) tweeted, "Trump is looking to deflect blame for his own failures. After he wasted weeks calling COVID-19 as harmless as the flu. International cooperation on public health has never been more critical. Freezing funding for the World Health Organization will only make it worse."
The other side: White House economic adviser Peter Navarro told Fox News Tuesday WHO officials have "blood on their hands." "President Trump is absolutely correct to have a full investigation of how that happened and what China's role might've been ... because we cannot have a World Health Organization that's going to fail us in a pandemic and that's what happened," he said.
Secretary of State Mike Pompeo told Fox News: "[W]e need transparency, and we need the World Health Organization to do its job, to perform its primary function, which is to make sure that the world has accurate, timely, effective, real information about what's going on in the global health space. And they didn't get that done here."
The big picture: Trump has been fuming for days about what he sees as the WHO's botched response to the pandemic and its deference to China, per Axios' Alayna Treene and Jonathan Swan.
"As the organization's leading sponsor, the United States has a duty to insist on full accountability," the president said in his announcement Tuesday.
"One of the most dangerous and costly decisions from the WHO was its disastrous decision to oppose travel restrictions from China and other nations," Trump added.
Go deeper: Trump announces U.S. will halt funding for WHO over coronavirus response
Editor's note: This article has been updated with new details throughout.
Go deeper