UPS to buy 10,000 electric trucks from U.K. startup Arrival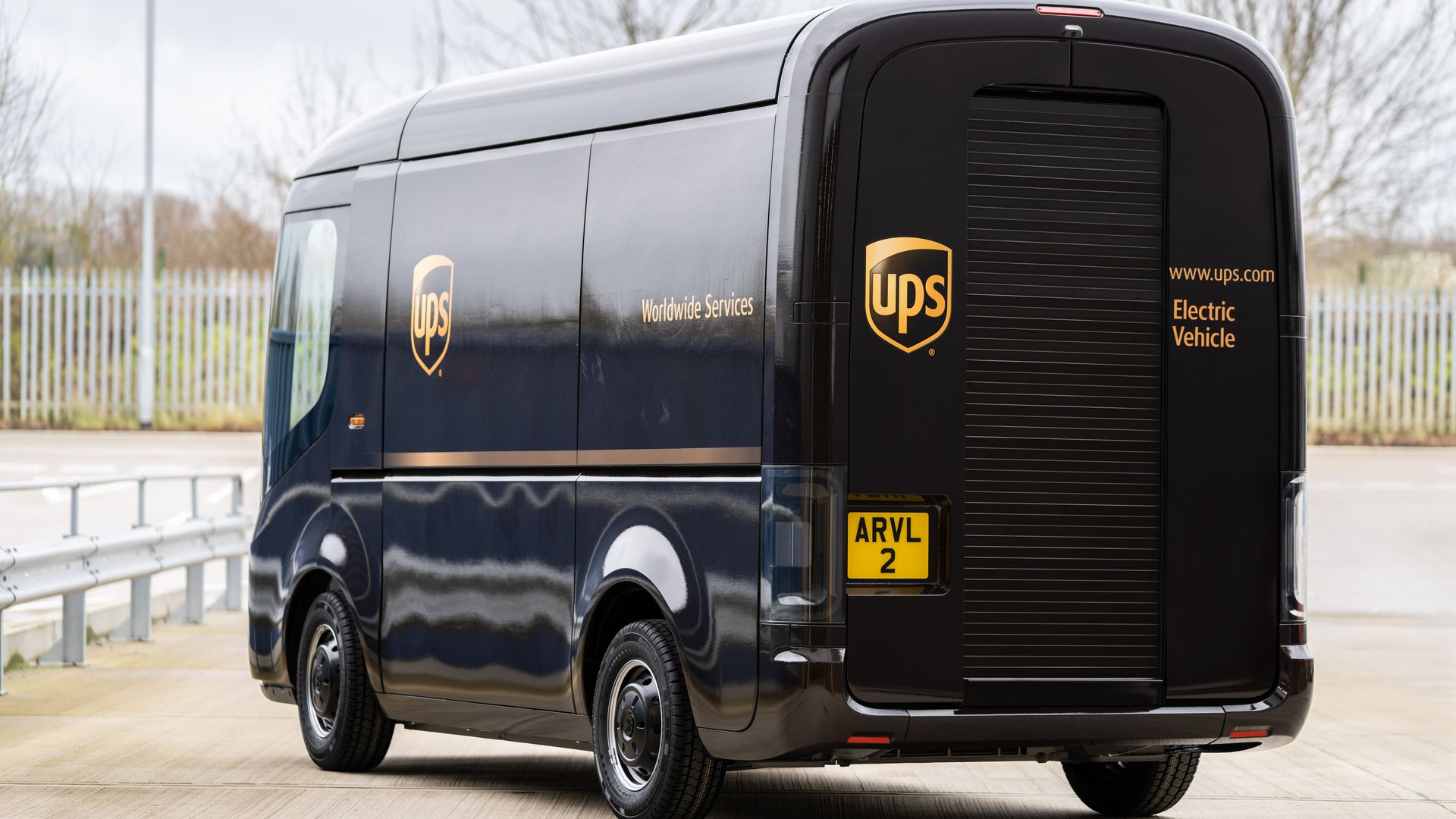 UPS is investing in Arrival, a U.K.-based electric truck manufacturer, and plans to buy at least 10,000 battery-powered delivery trucks worth $440 million over the next five years.
Why it matters: UPS is transforming its global logistics business to keep up with exploding e-commerce and increased urbanization — and the fallout from those trends like worsening congestion and climate change.
The purchase represents 10% of UPS' current fleet of 100,000 package delivery trucks in the U.S.
It more than doubles UPS' worldwide fleet of roughly 10,000 alternative fuel vehicles.
What's happening: UPS said it would take an undisclosed minority stake in Arrival, a company virtually unknown in the U.S. until recently.
Arrival has been quietly developing its EV skateboard platform since 2015, emerging last October as a potential rival to another buzzy electric truck manufacturer, Michigan-based Rivian.
UPS has an option to buy another 10,000 trucks by 2023, for a total order worth nearly $1 billion, Arrival said.
The two companies plan to collaborate on the design and production of future trucks designed to UPS' specifications.
Earlier this month, Hyundai and Kia also announced a $110 million investment in Arrival and said they, too, would work together on purpose-built EVs, especially for Europe, where stricter environmental regulations are kicking in.
How it works: Arrival designed its electric vehicles from the ground up to match the cost of gasoline or diesel trucks.
It uses lightweight materials and a modular EV base, which incorporates the battery pack, electric motor and driveline components.
The company says its EVs provide a range of up to 300 miles for planned routes and a 50% reduction in the total cost of ownership of traditional trucks.
The company's "autonomous-ready" platform is outfitted with sensors and advanced driver assistance systems with the ultimate goal of full autonomy.
The big picture: UPS' interest in Arrival is part of a broader sustainability effort.
In recent years, the company has invested more than $1 billion to deploy about 10,000 alternative-fuel vehicles and infrastructure globally, including electric, hybrid, ethanol, natural gas and propane trucks.
It is expanding the use of route optimization and navigation software to reduce fuel consumption and emissions.
In London, UPS is testing smart-grid technology and energy storage batteries to charge an entire fleet of 170 electric trucks simultaneously overnight.
The company is collaborating with cities on innovative last-mile delivery systems like cargo e-bikes in dense urban areas.
Go deeper: Waymo pilot with UPS hints at future autonomous truck plan
Go deeper