The GOP senators signaling support for witnesses following Bolton report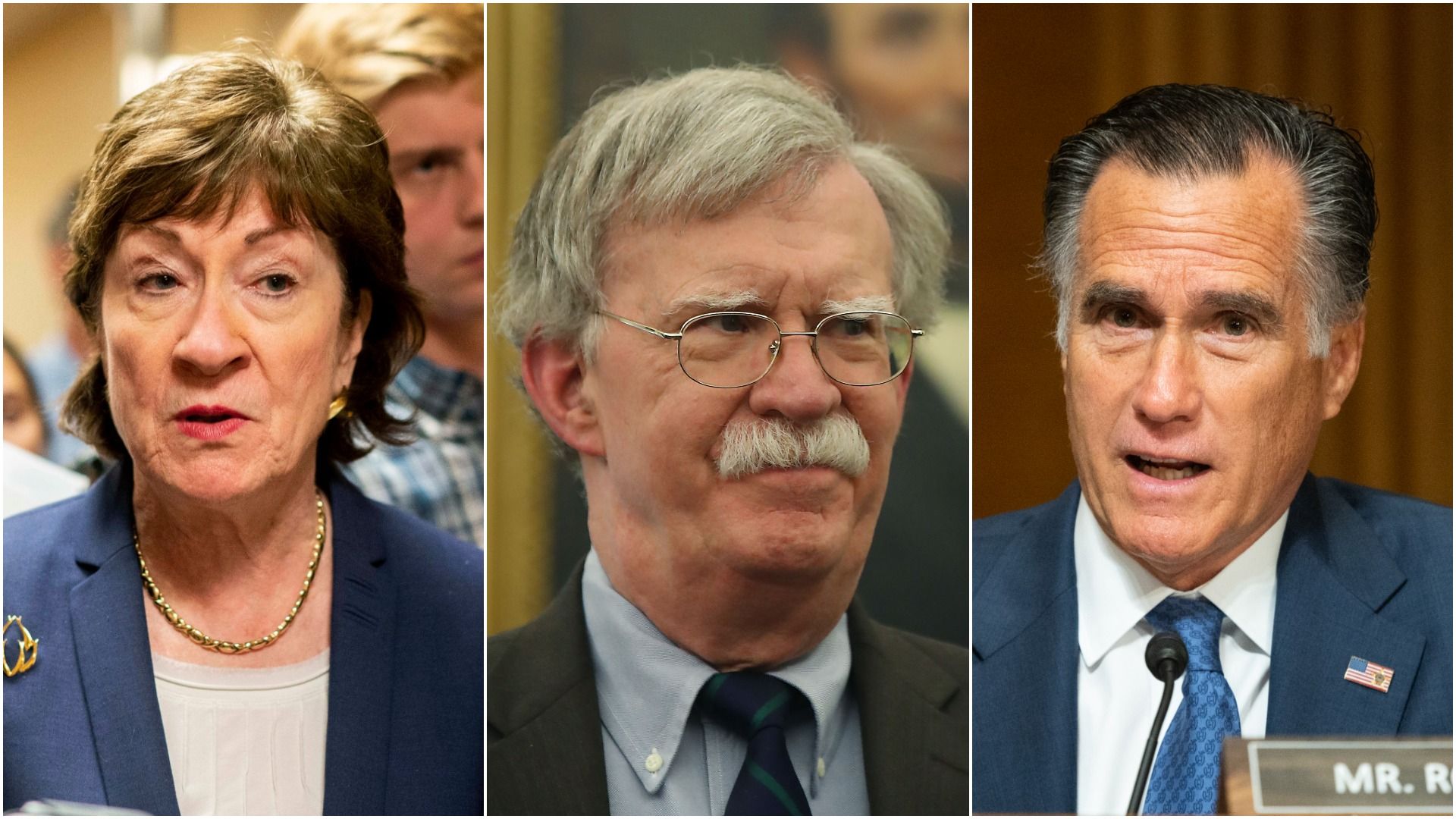 At least three Republican senators are signaling support for calling John Bolton as a witness in President Trump's Senate impeachment trial, following reports that the former national security adviser's forthcoming book includes allegations that Trump said he conditioned aid to Ukraine on the nation investigating his political rivals.
The state of play: The revelations from Bolton's book could be enough to sway the four Republican senators needed to vote for witness testimony in the trial, GOP sources told Axios on Monday.
Sources close to Senate Majority Leader Mitch McConnell tell Axios' Alayna Treene that, if it appears that at least 51 senators will vote for witnesses, McConnell and Schumer would likely try to hash out an agreement, rather than going straight to a vote.
If the Senate goes that route, Republicans are likely to demand their own list of witnesses — with Joe Biden's son Hunter at the top.
Senators considering witnesses:
Sen. Mitt Romney (R-Utah) told reporters Monday, "It's increasingly apparent that it would be important to hear from John Bolton. I, of course, will make a final decision on witnesses after we've heard from not only the prosecution but also the defense, but I think at this stage it's pretty fair to say that John Bolton has relevant testimony. ... I think it's increasingly likely that other Republicans will join those of us who think we should hear from John Bolton."
Sen. Lisa Murkowski (R-Ala.) tweeted, "I stated before that I was curious as to what John Bolton might have to say. From the outset, I've worked to ensure this trial would be fair and that members would have the opportunity to weigh in after its initial phase to determine if we need more information. I've also said there is an appropriate time for us to evaluate whether we need additional information — that time is almost here. I look forward to the White House wrapping up presentation of its case."
Sen. Susan Collins (R-Maine) said in a statement on Monday "reports about John Bolton's book strengthen the case for witnesses and have prompted a number of conversations among my colleagues."
What else they're saying:
Sen. Lindsay Graham (R-S.C.): Graham said on Wednesday he does not feel that additional witnesses are needed, adding "one could assume everything attributable to John Bolton is accurate and still the House case would fall well below the standards to remove a president from office."

When asked on Monday if he would support a subpoena for the manuscript, Graham said, "I want to know what's in the manuscript, yeah, I think that's important," CNN reports.

Sen. Rick Scott (R-Fla.) said, per CNN: "If we're going to invite people like John Bolton, I think we need to hear from Adam Schiff and the Bidens and some other people," he
Sen. Patrick Toomey (R-Pa.) said he was "very, very skeptical" that witnesses would be necessary to shed light on factual disputes in the Senate trial on Wednesday, the Philadelphia Inquirer reports.

This follows Toomey's statement at a Monday private luncheon that he'd be open to calling witnesses like Bolton if one more favorable to Trump was called in exchange, per the New York Times.

Sen. John Thune (R-S.D.), per CNN, said his advice to senators in his party is to "stay calm here," and wait to see how Trump's defense team reacts to the Bolton news. Asked if he was confident the party would defeat the witness vote, Thune said Monday: "I'm never confident until we cast them."
Sen. Thom Tillis (R-N.C.) said "not at this point" on Monday when asked if the Bolton news changed his view that witnesses should not be called, per CNN.
Sen. Mike Crapo (R-Idaho) said, "I don't think we need to" when asked by CNN if he wants to hear from Bolton, noting that he wants to hear from Trump's defense team first.
Sen. Lamar Alexander (R-Tenn.) told reporters on Monday he'd "decide then at that time" on witnesses, per CNN.
Sen. Cory Gardner (R-Colo.) said in a statement on Wednesday "I do not believe we need to hear from an 18th witness," per the Denver Post.
Go deeper: Republicans brace for domino effect on witnesses
Editor's note: This piece has been updated with the latest comments from senators.
Go deeper