Trump team opts to not burn down the house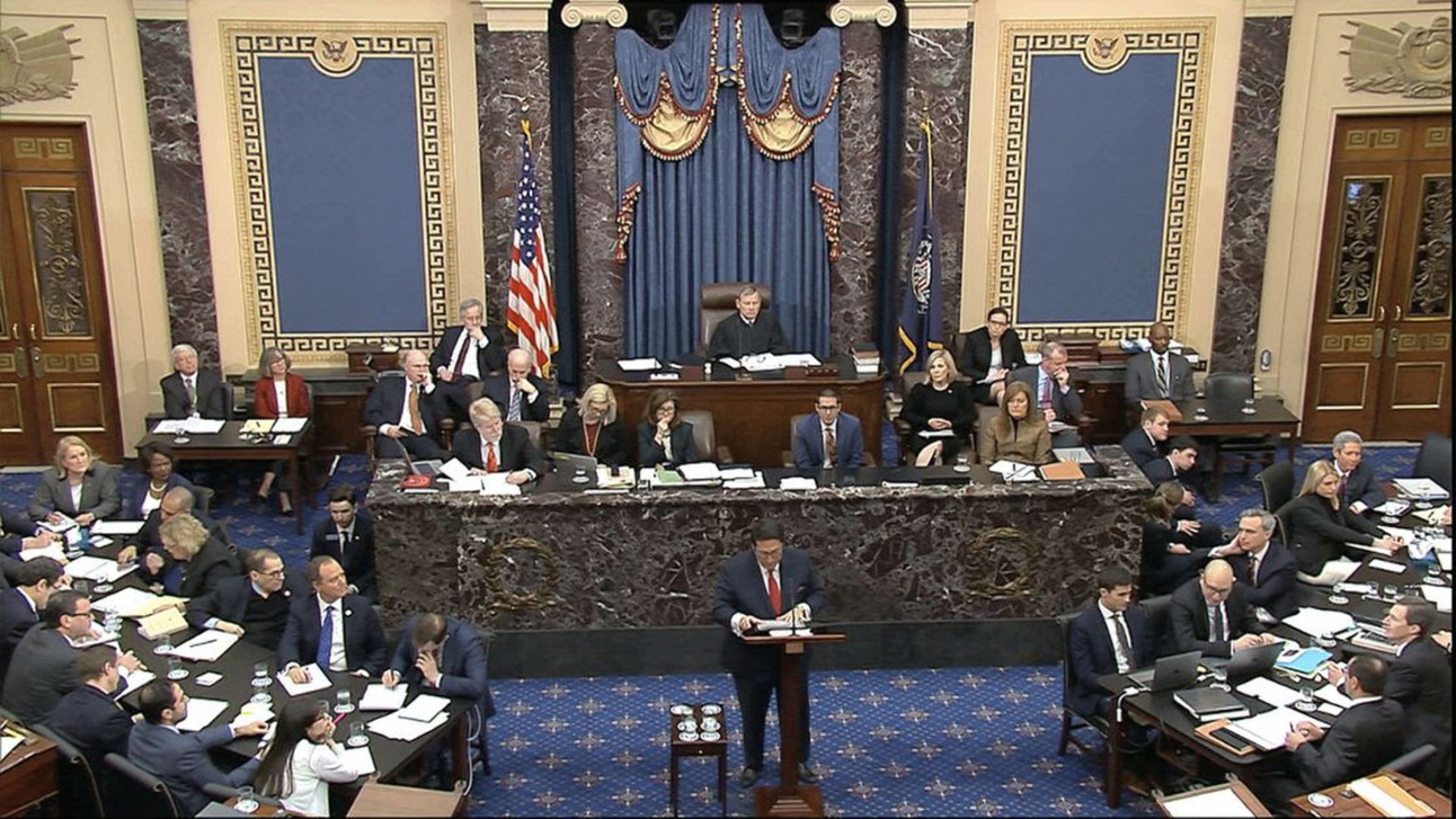 On opening day of the defense case, President Trump's legal team didn't try to burn down the house by going after the Bidens.
The state of play: The team put on a fairly conventional legal rebuttal — trying to poke holes in the House impeachment managers' case, and arguing that Democrats just don't have enough evidence of wrongdoing to throw Trump out of office — especially in a year when he's up for re-election.
"They have the burden of proof, and they have not come close to meeting it," White House counsel Pat Cipollone said.
In the chamber: 
Sen. Collins, Murkowski and Gardner were the most diligent notetakers of the Senate Republicans who are being eyed as possible votes to call witnesses.
Sen. Mitt Romney, sitting at the back of the chamber, and Sen. Lamar Alexander mostly sat back and listened.
Republicans mostly paid close attention to most of the presentations, though a few began looking away or reading as White House deputy counsel Patrick Philbin spoke. Democrats looked more bored.
Senate Democratic Leader Chuck Schumer listened closely, scowling.
2020 watch:
Sen. Bernie Sanders sat slumped back in his seat, fidgeting or resting with his chin in his hand (though he leaned forward with a puzzled look when Philbin criticized Schiff).
Sen. Elizabeth Warren spent a long time hunched over a legal pad, writing and not appearing to pay close attention — though she sat up and listened to Cipollone's closing remarks.
Sen. Amy Klobuchar took some notes and listened to some of the arguments, but often looked away and stared around the room.
What to watch: Whether the Trump team stays focused on the legal issues or veers into attacks on the Bidens when they resume arguments Monday at 1 p.m.
Either way, Cipollone said the team doesn't plan to take the full 24 hours — because they don't think they need it.
Go deeper: Impeachment trial draws shrugs — by design
Go deeper