House managers plan for next week's Senate impeachment trial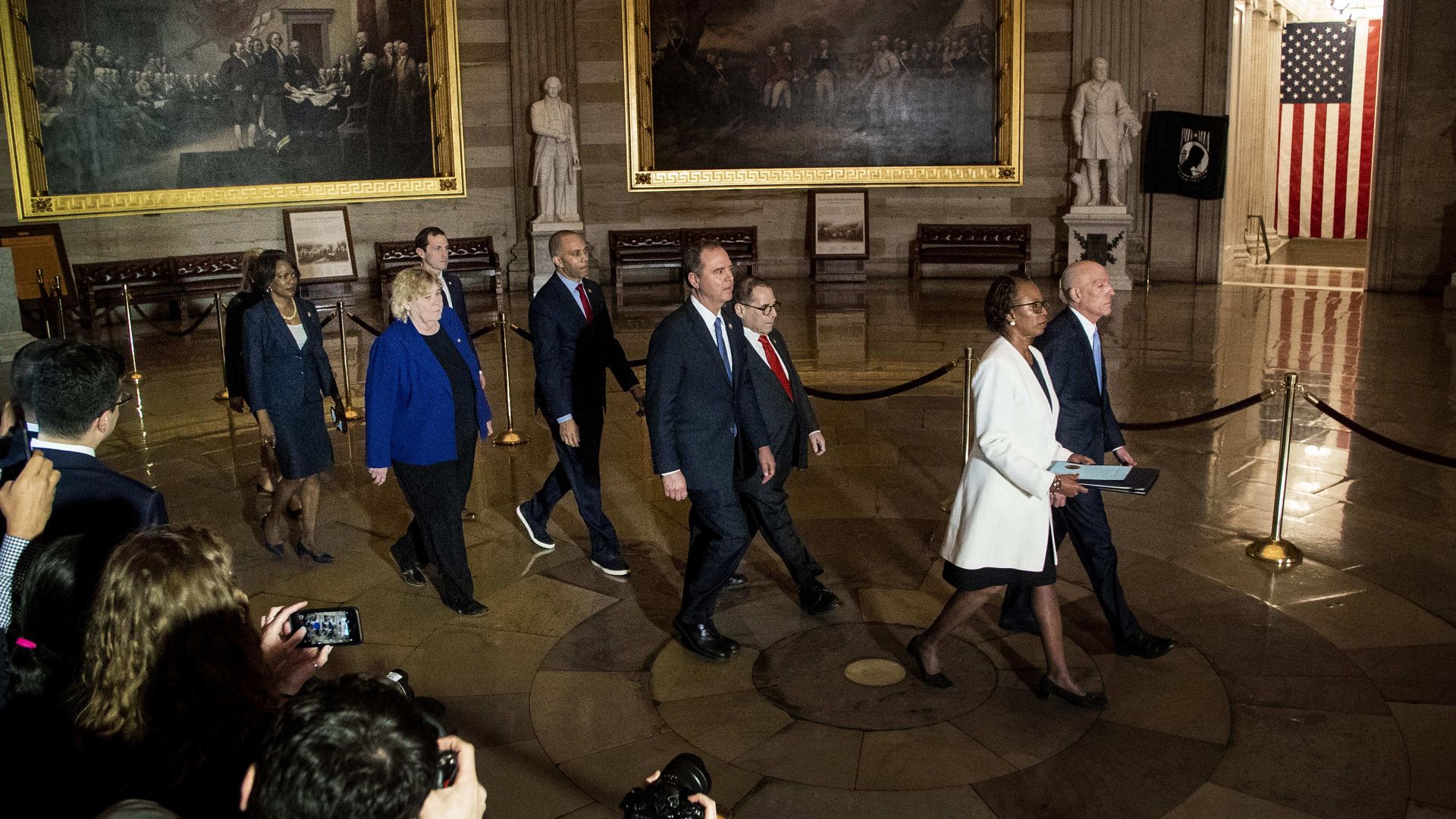 The seven House managers representing Democrats' case for the impeachment of President Trump will work through the weekend in their home districts refining their case, then will return to Washington on Sunday, where they will meet as a team at the Capitol, a Democratic aide working on the Senate trial told reporters Friday.
The bottom line: In their opening arguments this week, the managers will drive home their core message: That Trump undermined U.S. democracy by inviting a foreign government to interfere in U.S. elections on his behalf.
"He should be called the commander-in-cheat!" the Democratic aide said.
Other key arguments:
Obstruction of Congress article: They'll say Trump's efforts to block witnesses and documents is unprecedented, and point to how Trump blocked all document requests and 12 key witnesses from complying with the House investigation. Meanwhile, President Clinton's trial included extensive public debate over his alleged crimes and three witness depositions.
"If you don't believe me, ask Ken Starr. … Ask him how many documents Clinton provided? 90,000. 0 were provided here," the aide said.
Witnesses: They'll roll back the game tape from Clinton's 1999 impeachment trial, and point to Senate Majority Leader Mitch McConnell and Senator Lindsey Graham's comments in which they pushed to hear from witnesses.
"They'll also argue that delaying the vote over whether to include witnesses provides unnecessary hurdles for everyone involved, and robs them of any chance to plan in advance: It speaks to the fundamental fairness of the trial, and it is out of sync with precedent, with law, and what the American people want," the aide said.
Potential rebuttals:
The managers will be watching closely to ensure they are given the same privileges that House managers received in 1999, congruent with McConnell's push to follow the Clinton precedent.
The aide noted that during the Clinton trial, each side was given 24 hours to make its case, which they expect they'll be given.
When discussing evidence, they will point to Senate resolution 16, which provided that publicly submitted materials produced by the House Judiciary Committee, even after the House's impeachment vote, can be submitted for the record.
What's next:
The House managers' briefs are due 5 p.m. Saturday.
Trump's briefs are due 12 p.m. Monday.
The House managers' reply is due 12 p.m. Tuesday.
Opening arguments begin 1 p.m. Tuesday.
Go deeper:
Go deeper