Inside Trump's improbable Middle East deals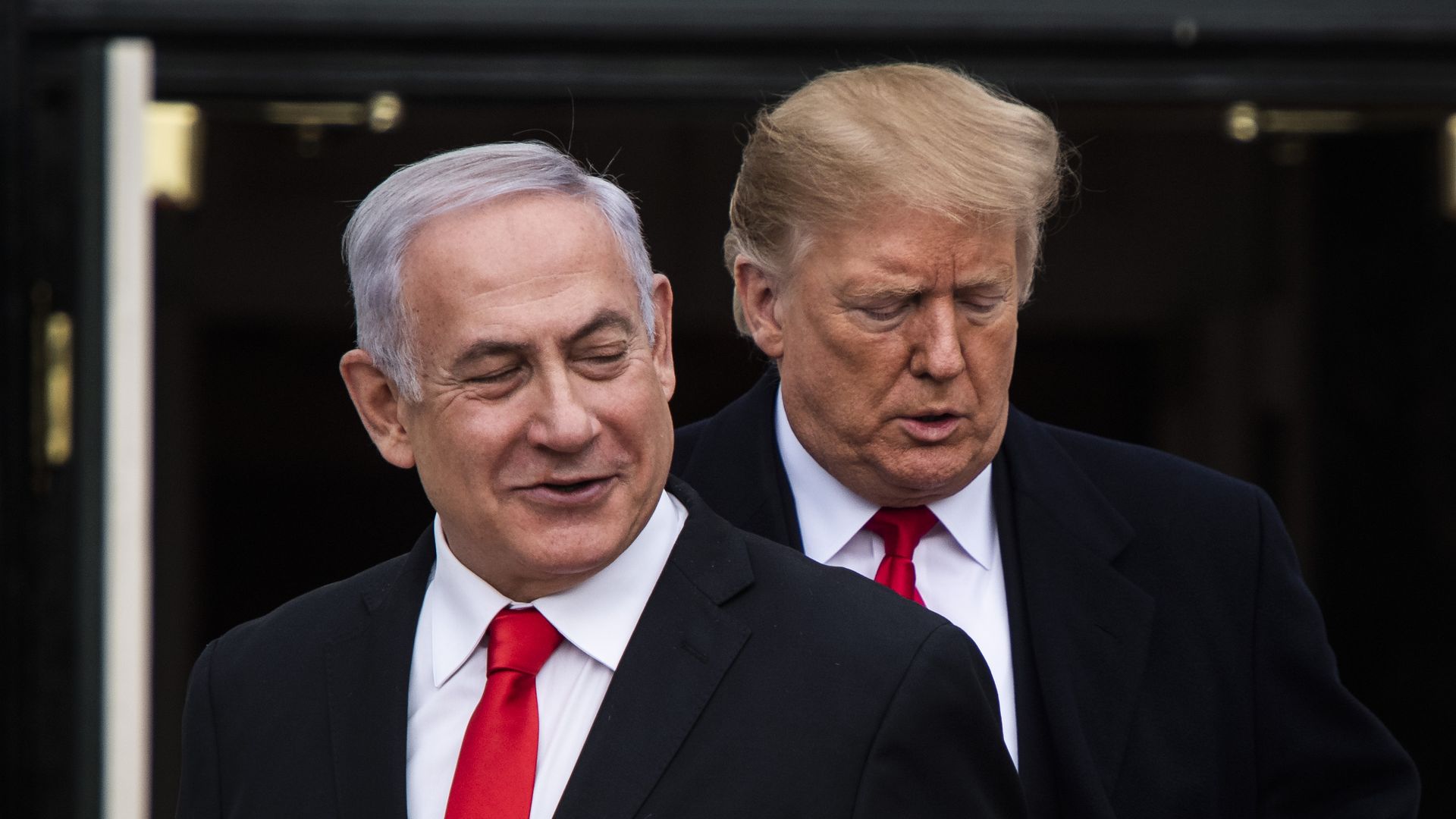 One of the hallmarks of President Trump's foreign policy has been his insistence that he can cut the deals that have eluded his predecessors: a durable peace deal between the Israelis and the Palestinians, and a deal that would not only stop Iran from getting a nuclear bomb but would also stop Iran from projecting force across the Middle East.
But, but, but: On the Middle East peace plan, which Israeli officials believe could be announced before the Israeli elections in March, White House national security adviser Robert O'Brien tells Axios said the Trump administration is under "no illusions" that "this will be an easy process."
O'Brien said the administration is not depending on Israel's leadership crisis being resolved before it releases its peace plan.
"I don't think it necessarily depends on the elections. They will have had three elections in a row, we'll have to see. … The president is looking for a solution on the Israeli-Palestinian front that is durable, is long-lasting, and we're not timing anything we do based on the domestic politics, either the Palestinians or the Israelis."
The Palestinians have already rejected Trump's Middle East peace approach. Trump has slashed aid to the Palestinians and officially recognized Jerusalem as Israel's capital. Talks between the U.S. and Palestinians ended more than two years ago.
Asked whether it affected the Trump administration's planned timing of the peace plan's release when Benny Gantz, O'Brien said the main political opponent to Prime Minister Benjamin Netanyahu, said releasing the plan before Israel's March 2 elections would be "a harsh interference in the electoral process in Israel," per Axios colleague Barak Ravid's reporting.
"No," O'Brien replied. "We're not focused on the Israeli election calendar or when the Palestinians end up having an election."
On Iran, O'Brien said Trump would never consider doing the one thing the Iranians have demanded he do before they begin negotiations with him: remove U.S. sanctions. (This is what the French had been trying to negotiate last summer, as intermediaries between the U.S. and Iran.)
The Trump administration has made clear "in no uncertain terms that that will never happen," O'Brien added.
He said it's the "classic rogue regime, pariah regime negotiating position. If you want talks with us you give up something first, just for the privilege of having talks."
"We don't need talks," O'Brien added. "Our economy is doing fantastic. … The Iranians are the ones that need talks with us. Why would we give up anything first?"
More from the interview:
Go deeper