Updated Jan 10, 2020 -

World
Iraqi PM asks Pompeo to send delegation to plan U.S. troop withdrawal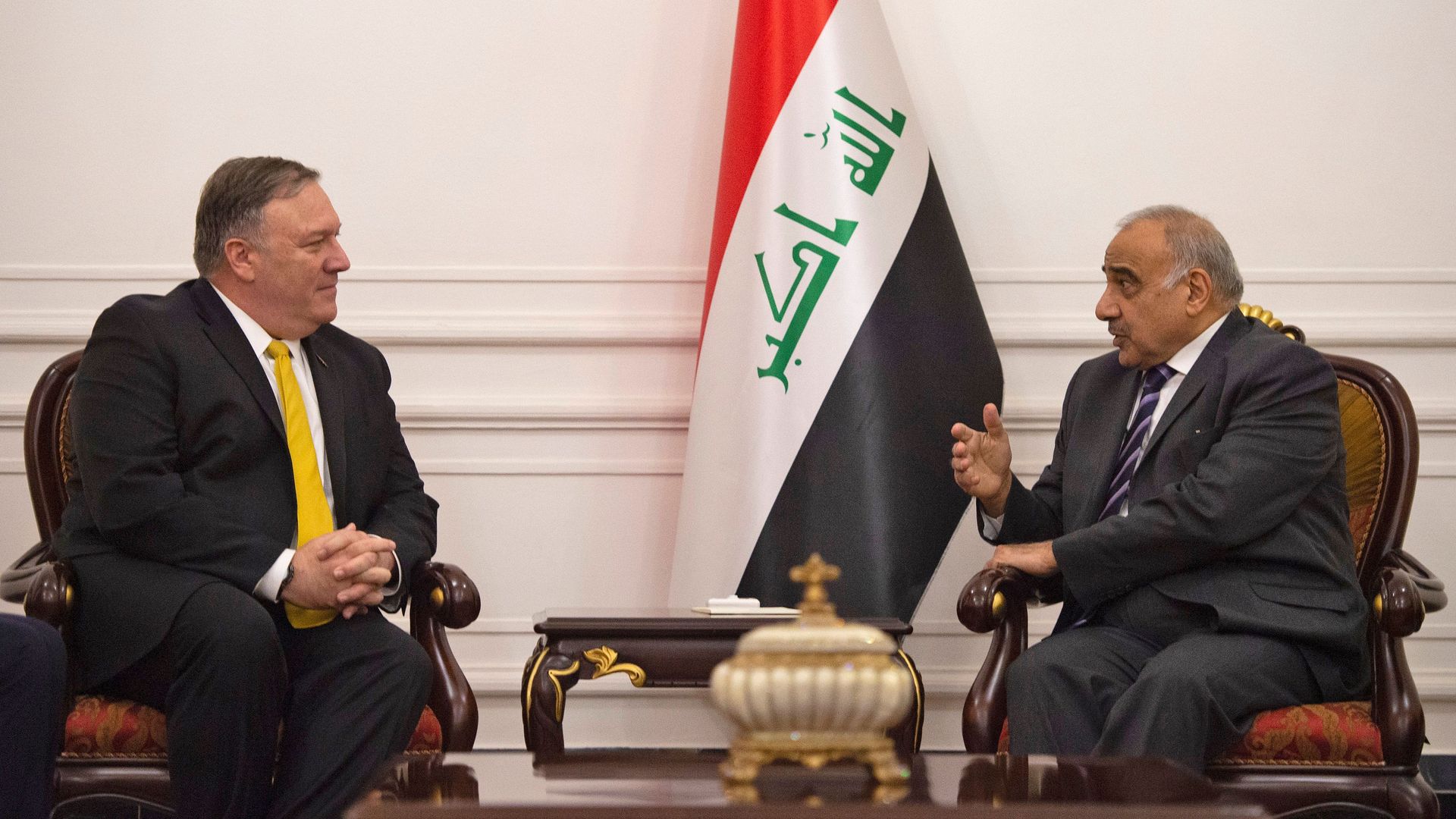 Iraqi Prime Minister Adel Abdul-Mahdi told Secretary of State Mike Pompeo on Friday that the U.S. should send delegates to Iraq in order to determine the best way to withdraw all of its troops there, the AP reports.
The big picture: While tensions between the U.S. and Iran seem to be lessening, Abul-Mahdi is standing his ground and backing the Iraqi parliament's non-binding resolution to expel all U.S. troops from the country.
Iraq was the proxy battleground between the U.S. and Iran — with the storming of the U.S. embassy complex in Baghdad, the killing of Iranian general Qasem Soleimani and the Iranian retaliation against U.S. bases all taking place on its soil.
Why it matters: A U.S. exit from Iraq could ultimately be one of the most consequential results of the escalation in U.S.-Iran tensions, because it would significantly hamper the fight against ISIS and achieve a major Iranian objective.
In a statement, Abdul-Mahdi's office said Iraq rejects all violations against its sovereignty and asked Pompeo to "send delegates to Iraq to prepare a mechanism to carry out the parliament's resolution regarding the withdrawal of foreign troops from Iraq."
Secretary of Defense Mark Esper has previously said U.S. troops will not be leaving Iraq, despite a snafu earlier this week over a "poorly worded" letter that seemed to indicate a withdrawal.
The other side: The State Department issued a statement rebuffing Abdul-Mahdi's request, saying, "At this time, any delegation sent to Iraq would be dedicated to discussing how to best recommit to our strategic partnership — not to discuss troop withdrawal, but our right, appropriate force posture in the Middle East."
"Our military presence in Iraq is to continue the fight against ISIS and as the Secretary has said, we are committed to protecting Americans, Iraqis, and our coalition partners."
Go deeper:
Go deeper