Poll: Sanders surges in early states as Warren falters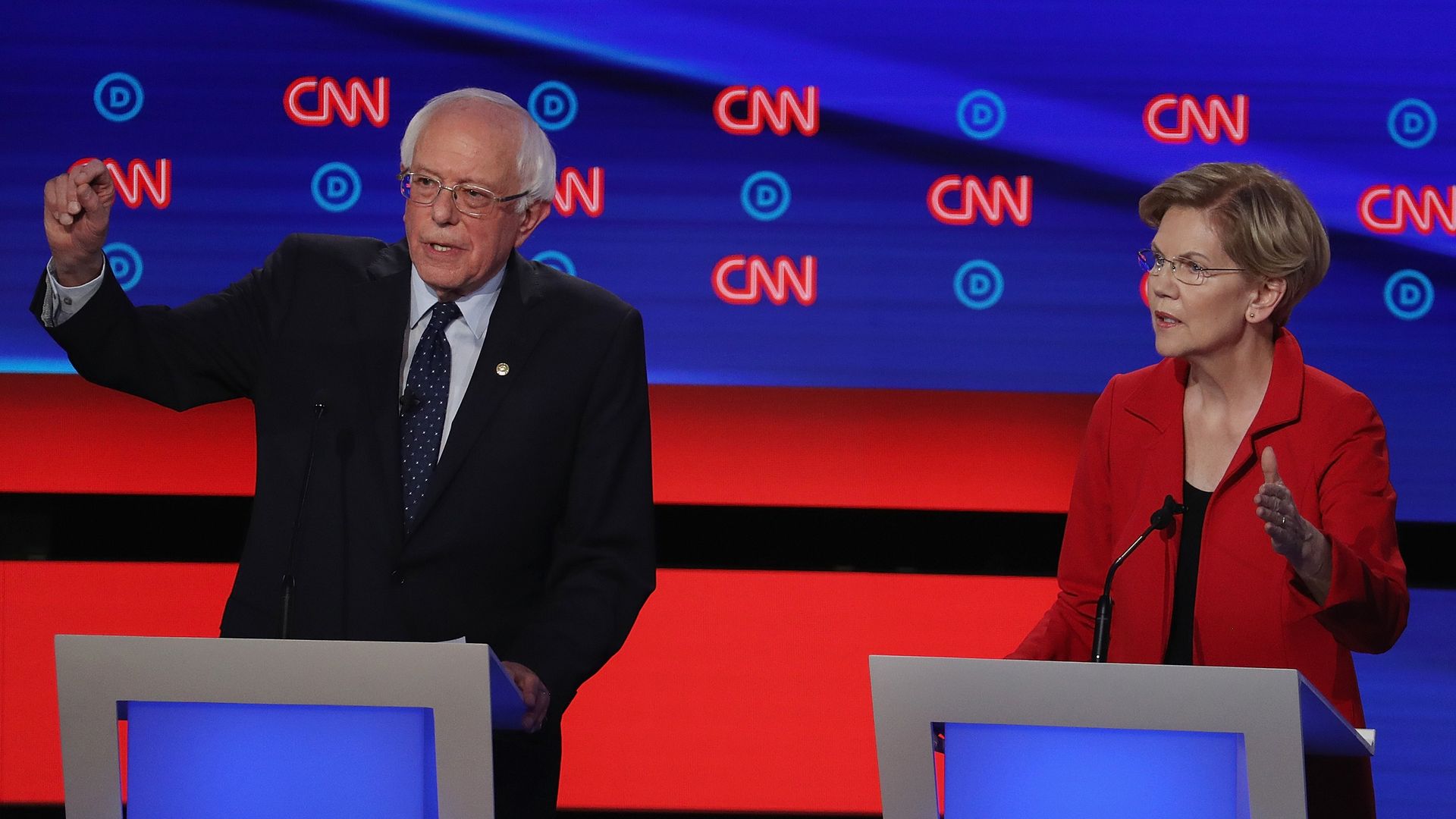 Sen. Bernie Sanders is starting 2020 in a three-way tie for first place in Iowa, joining former Vice President Joe Biden and former South Bend Mayor Pete Buttigieg at 23% each, according to a CBS News/YouGov poll published Sunday.
The big picture: Sanders' surge has come at the expense of fellow progressive Sen. Elizabeth Warren, who soared to the front of the race in the fall but has since fallen back to Earth, trailing the three frontrunners in Iowa with 16%.
Sen. Amy Klobuchar came in fifth with 7%. The Midwestern moderate has outlasted a number of her competitors and landed a spot on the January debate stage, but she has still failed to crack the top tier in early-state or national polling.
All other candidates failed to break 3% in the Iowa poll.
Sanders also landed first place in CBS/YouGov's New Hampshire poll, with 27% of voters selecting him as their first choice.
Biden came in second at 25%, followed by Warren at 18%, Buttigieg at 13% and Klobuchar at 7%.
Warren had led the pack in CBS/YouGov's two most recent New Hampshire polls, coming in at 31% in November and 32% in October.
Between the lines: Sanders has been one of the most consistent candidates in the 2020 race, remaining a top-tier contender along with Joe Biden while their competitors have fluctuated.
His supporters also show incomparable loyalty: Sanders leads the pack in voters who say they've made up their minds, with 43% and 47% in Iowa and New Hampshire, respectively.
A win in both Iowa and New Hampshire would provide a significant boost in momentum for Sanders going forward.
What to watch: The Iowa caucuses are just under a month away on Feb. 3. The New Hampshire primary is on Feb. 11.
Methodology: CBS News/YouGov polled 2,000 registered voters in Iowa, including 953 self-identifying Democrats and Democratic-leaning independents with a margin of error of 3.8%. In New Hampshire, they polled 1,100 voters, including 519 self-identifying Democrats and Democratic-leaning independents with a 5.3% margin of error.
Go deeper:
Go deeper