Updated Jan 3, 2020 -

World
Democrats condemn Trump's strike on Soleimani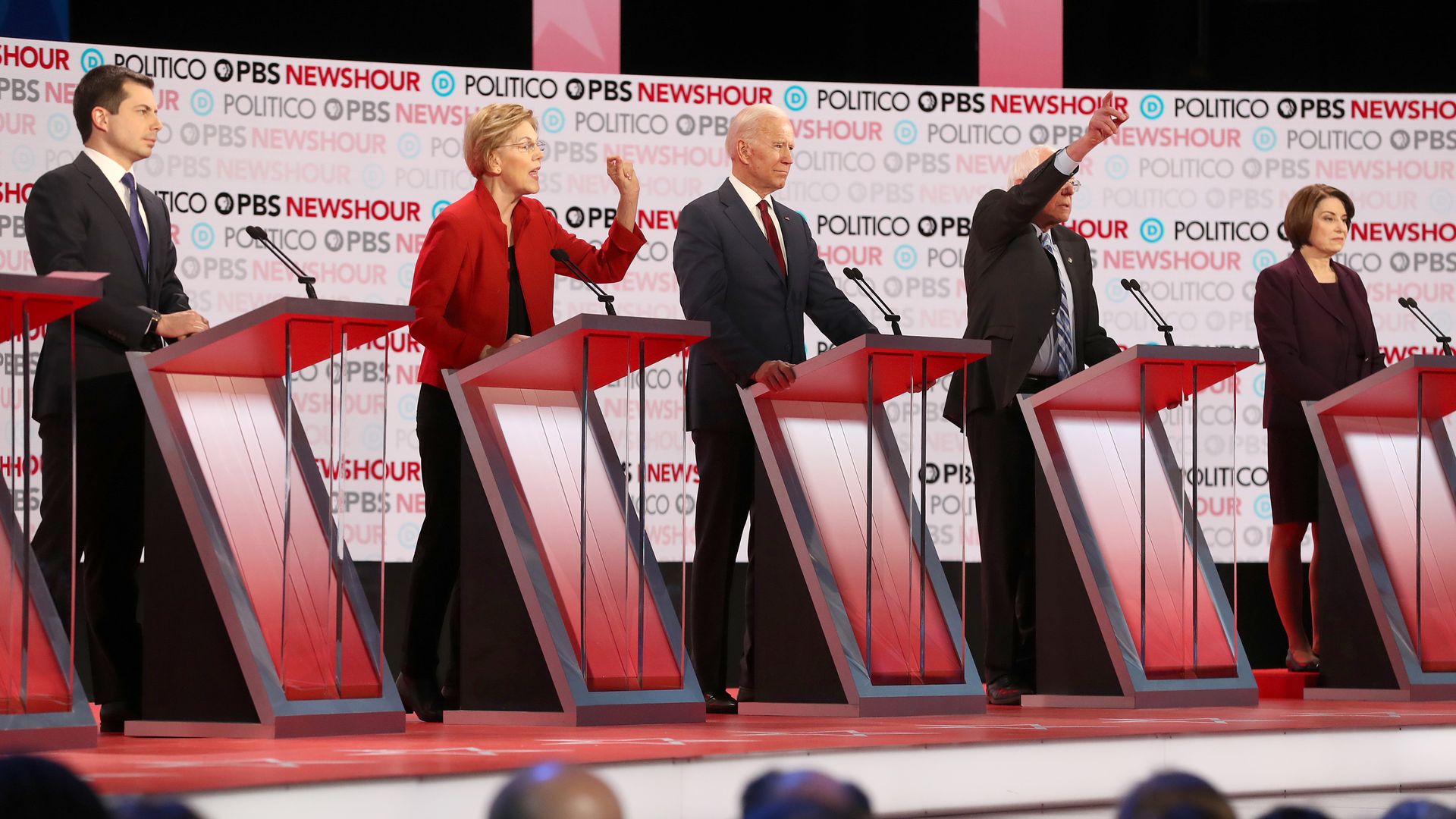 Democrats, including top 2020 presidential candidates, have condemned the process behind and possible repercussions of the U.S. airstrike in Iraq that killed Iran's top general, Qasem Soleimani.
The state of play: House Speaker Nancy Pelosi said in a statement that the Iraq strike "was taken without the consultation of the Congress" and "risks provoking further dangerous escalation of violence."
"The full Congress must be immediately briefed on this serious situation and on the next steps under consideration by the Administration, including the significant escalation of the deployment of additional troops to the region."
What they're saying:
Former Vice President Joe Biden said President Trump "tossed a stick of dynamite into a tinderbox" with the targeted killing of Iran's top general, and said it could leave the U.S. "on the brink of a major conflict across the Middle East," AP reports.
Bernie Sanders: "Trump's dangerous escalation brings us closer to another disastrous war in the Middle East that could cost countless lives and trillions more dollars."
Elizabeth Warren called Soleimani "a murderer, responsible for the deaths of thousands, including hundreds of Americans." But she said Trump's "reckless move escalates the situation with Iran and increases the likelihood of more deaths and new Middle East conflict."
Andrew Yang tweeted: "War with Iran is the last thing we need and is not the will of the American people. We should be acting to deescalate tensions and protect our people in the region."
Michael Bloomberg said in a statement that he hopes Trump "has carefully thought through the national security implications of this attack for our country," adding that the administration should now work to "de-escalate this crisis in order to prevent wider conflicts and protect American lives."
Amy Klobuchar said in a statement that Trump should have consulted Congress and the "timing, manner, and potential consequences of the administration's actions raise serious questions and concerns about an escalating conflict."
Cory Booker told MSNBC that "we also have to look at the larger strategic situation in that area. We have a president who has had really a failure in his Iranian policy, who had no larger strategic plan and has made that region less stable and less safe."
Michael Bennet told WGBH's Morning Edition that the act was "terribly reckless and provocative" adding, "I think you couldn't be more naive to believe that this was going to result somehow in Iran coming to the negotiating table, rather than creating the potential for another war — which is the last thing we need in the Middle East."
Pete Buttigieg acknowledged Suleimani as a national security threat: "But there are serious questions about how this decision was made and whether we are prepared for the consequences." He added: "The lawful, constitutional role of Congress in matters of war and peace must be respected."
Deval Patrick said in a statement that "a difficult situation is becoming more dangerous because of a lack of leadership [...] Our priorities must now be de-escalation, protecting our country and our allies, the American people, and innocents everywhere[.]"
The other side: Top Republicans, including Sens. Marco Rubio (Fla.) and Tom Cotton (Ark.), have celebrated Soleimani's death.
Go deeper: America's war footing against Iran
Go deeper