39 GOP senators sign brief asking Supreme Court to revisit Roe v. Wade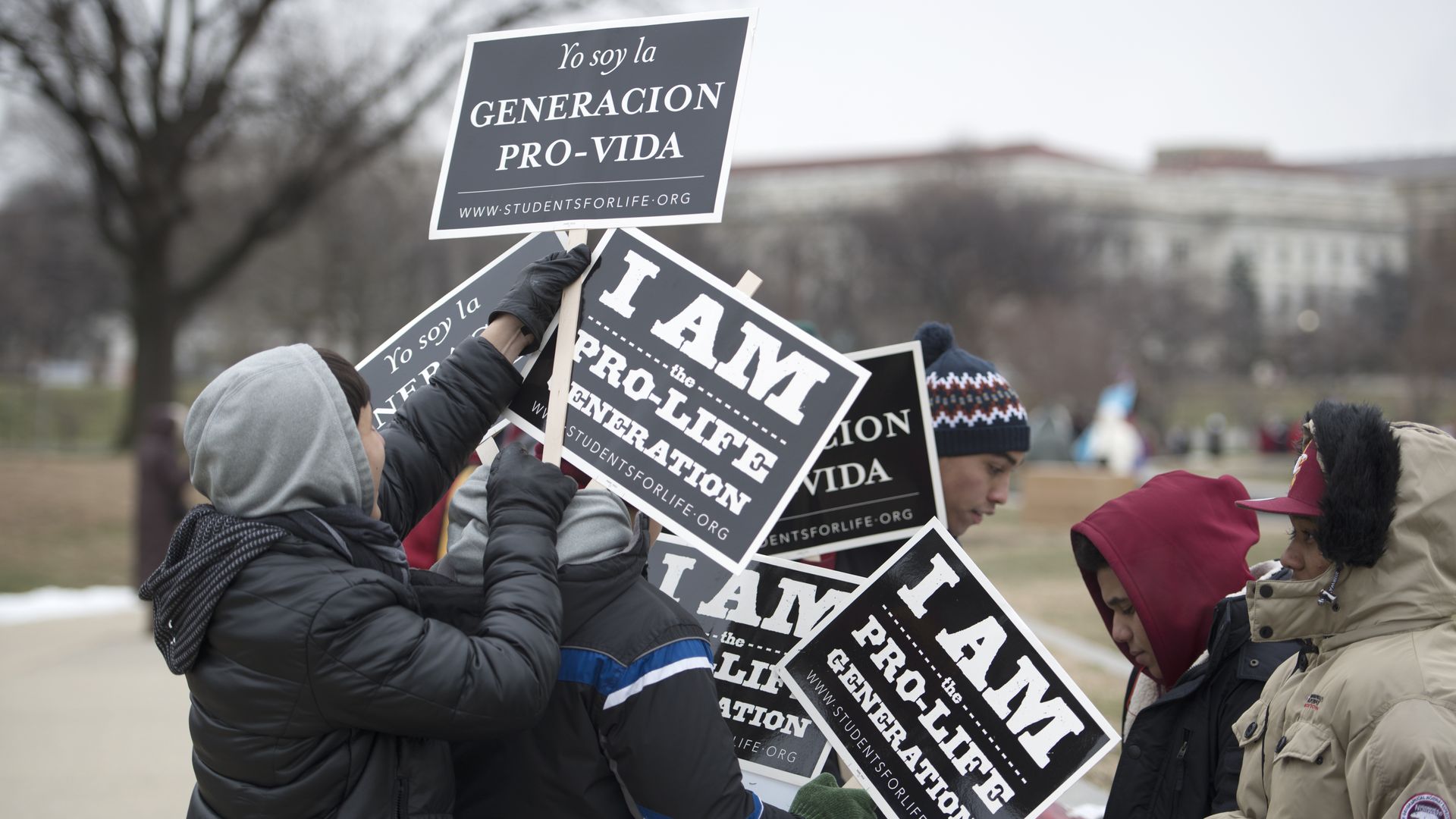 39 Republican senators and 168 representatives signed an amicus brief on Thursday asking the Supreme Court to revisit and potentially overturn Roe v. Wade, which protects the right for women to seek an abortion.
The big picture: Roe v. Wade has, since the Supreme Court's landmark decision in 1973, served as a barrier against Republicans who have sought to restrict reproductive rights. But with the court's conservative majority and Trump in the Oval Office, right-leaning lawmakers have been testing the limits of the law.
A number of states have issued time restrictions on abortions in recent months, usually limiting the procedure to the first trimester of pregnancy.
Many cases are being challenged in the courts, with reproductive-rights advocates arguing that curbing the procedure is against Constitutional protections.
Details... The following Republican senators signed the brief, which calls Roe v. Wade's standards unworkable:
Sen. John Kennedy (La.)
Sen. Marsha Blackburn (Tenn.)
Sen. John Barrasso (Wy.)
Sen. Roy Blunt (Mo.)
Sen. John Boozman (Ark.)
Sen. Mike Braun (Ind.)
Sen. Richard Burr (N.C.)
Sen. Bill Cassidy (La.)
Sen. John Cornyn (Tex.)
Sen. Tom Cotton (Ark.)
Sen. Kevin Cramer (N.D.)
Sen. Mike Crapo (Idaho)
Sen. Ted Cruz (Tex.)
Sen. Steve Daines (Mont.)
Sen. Michael Enzi (Wyo.)
Sen. Joni Ernst (Iowa)
Sen. Deb Fischer (Neb.)
Sen. Chuck Grassley (Iowa)
Sen. John Hoeven (N.D.)
Sen. Cindy Hyde-Smith (Miss.)
Sen. James M. Inhofe (Okla.)
Sen. Ron Johnson (Wisc.)
Sen. James Lankford (Okla.)
Sen. Michael S. Lee (Utah)
Sen. Jerry Moran (Kan.)
Sen. Rand Paul (Ky.)
Sen. Rob Portman (Ohio)
Sen. James Risch (Idaho)
Sen. Pat Roberts (Kan.)
Sen. Mitt Romney (Utah)
Sen. Mike Rounds (S.D.)
Sen. Marco Rubio (Fla.)
Sen. Ben Sasse (Neb.)
Sen. Tim Scott (S.C.)
Sen. Thom Tillis (N.C.)
Sen. John Thune (S.D.)
Sen. Pat Toomey (Penn.)
Sen. Roger F. Wicker (Miss.)
Sen. Todd Young (Ind.)
Republican senators who did not sign include: Sens. Susan Collins (Maine), Lisa Murkowksi (Alaska), Dan Sullivan (Alaska), Martha McSally (Ariz.), Shelley Moore Capito (W. Va.), Cory Gardner (Colo.), Majority Leader Mitch McConnell (Ky.), Lamar Alexander (Tenn.), Lindsey Graham (S.C.), Josh Hawley (Mo.), David Perdue (Ga.), Rick Scott (Fla.) and Richard Shelby (Ala.)
Among the representatives who signed were Trump loyalists like Reps. Jim Jordan (R-Ohio), Mark Meadows (R-N.C.) and Steve Scalise (R-La.).
Democratic Reps. Dan Lipinski (Ill.) and Collin Peterson (Minn.) also signed on.
Go deeper: How many steps it takes to get an abortion in each state
Go deeper