Drug price hikes are back for 2020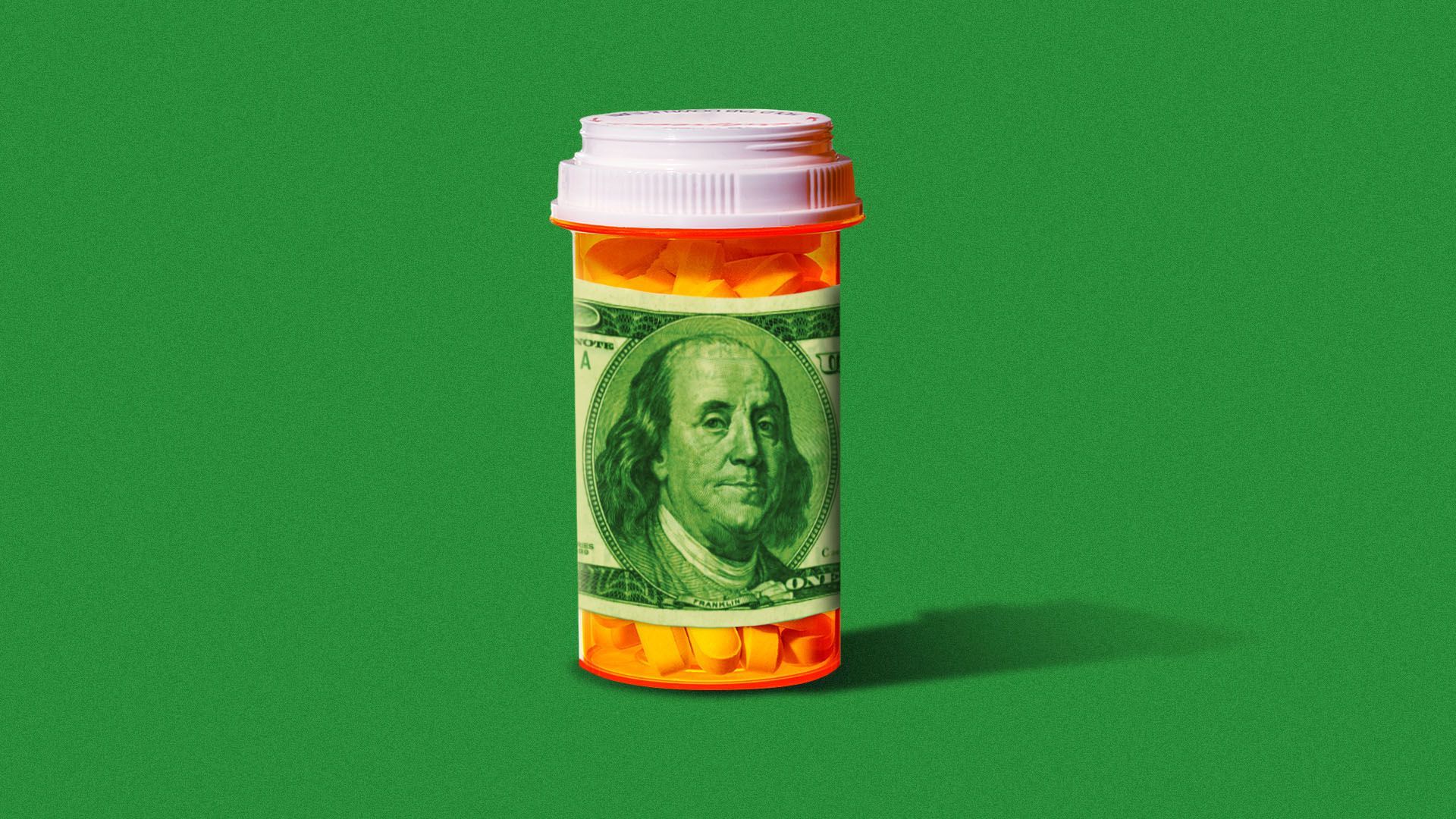 Pharmaceutical manufacturers have raised the sticker prices on hundreds of drugs at the start of 2020, with most of the increases coming under 10%.
The big picture: It may be a new year, but the same drugs are once again subject to the same industry practices.
Between the lines: Political pressure has forced some drugmakers to consider fewer price hikes on their medicines or to keep the increases in single-digit percentages.
Raising prices doesn't necessarily mean net drug spending (after rebates and other discounts given to health insurers) goes up — but it usually does, and many drug price increases aren't justifiable.
The price increases are salt in the wound following Congress' failure to pass meaningful drug price legislation in 2019, and are already being used to make the political case for action this year.
By the numbers: As of Friday, drug companies had increased the prices of 445 products by a median of 5%, according to an analysis by 3 Axis Advisors. More hikes are expected throughout January.
Pfizer increased the prices of 58 drugs, the most of any company by far. Novartis, Allergan and GlaxoSmithKline each had counts in the twenties.
What we're seeing: Some of the biggest pharmaceutical companies are bumping up prices on popular brand-name drugs, according to pharmaceutical industry analyses from several investment firms and consulting firm 3 Axis Advisors.
AbbVie: ⬆️ 7.4% on Humira, the world's top-selling drug that is facing major competition and lower prices everywhere — except the U.S.
Biogen: ⬆️ 6% on Tecfidera, a multiple sclerosis drug that is facing a major patent lawsuit.
Bristol-Myers Squibb: ⬆️ 6% on blood thinner Eliquis and ⬆️ 1.5% on Opdivo, an outpatient cancer drug that usually doesn't have rebates.
Celgene: ⬆️ 6% on cancer treatment Revlimid, which is now owned by Bristol-Myers Squibb.
Gilead: ⬆️ 4.8% on a host of medicines, including its main HIV drugs (Truvada, Descovy and Biktarvy).
Merck: ⬆️ 1.5% on Keytruda, its blockbuster cancer infusion drug that competes with Opdivo and similarly doesn't usually give back rebates.
Novartis: ⬆️ 7% on Cosentyx, a major psoriasis treatment.
Pfizer: ⬆️ 5% on breast cancer pill Ibrance and ⬆️ 7.3% on Prevnar, a vaccine that is the company's best-selling drug.
Purdue Pharma: ⬆️ 5% on its OxyContin painkiller, all while the company sits in bankruptcy court and the Sackler owners dangle billions in public settlement funds.
Yes, but: List prices don't reflect discounts and rebates, which reduce net prices. List prices do, however, affect people who have high deductibles or are uninsured.
Looking ahead: Amgen, Eli Lilly and other companies haven't released any drug price increases yet, usually waiting until a few days or weeks after the start of the new year.
The bottom line: Congress these days is much better at doing nothing than passing legislation, and its inertia is only going to be made worse by the November election. Until something changes, expect increases to happen again.
Go deeper: Drug makers still raising prices, but seeking fewer hikes
Go deeper