Eddie Gallagher's Navy SEAL platoon members blast him in leaked videos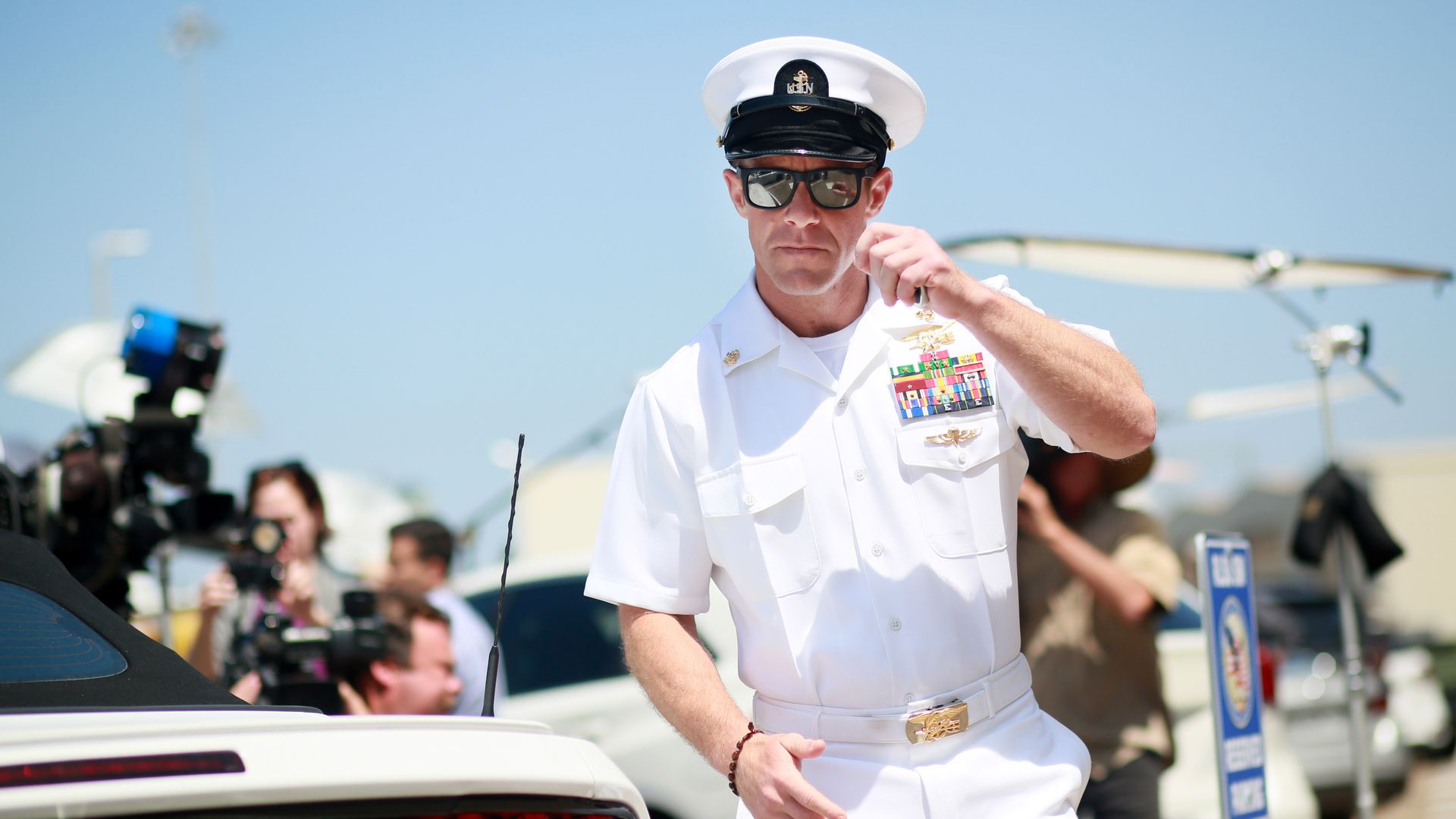 Navy SEAL platoon members painted a dark picture of Chief Petty Officer Eddie Gallagher, their leader who was acquitted of war crimes and had a minor charge cleared by President Trump, in leaked investigatory interview videos and text messages obtained by the New York Times.
Why it matters: The interviews, given by members of the platoon members that served under Gallagher, break the SEALs' unwritten code of silence and describe their leader as violent, "evil" and "toxic" — in contrast with Trump's portrayal of him as a hero.
What they're saying:
"The guy is freaking evil," Special Operator First Class Craig Miller told investigators.
"The guy was toxic," said Special Operator First Class Joshua Vriens, a sniper.
"You could tell he was perfectly okay with killing anybody that was moving," added Special Operator First Class Corey Scott, a medic in the platoon.
What happened: Three SEALs told Navy investigators that they saw Gallagher stab a sedated teenage ISIS fighter to death for no apparent reason, "and then hold an impromptu re-enlistment ceremony over the body, as if it were a trophy," per the Times.
One SEAL said Lt. Jacob Portier, a commander in the platoon, then told the others to gather around the corpse for a photo, leaving the platoon feeling like they had no choice but to do so.
The other side: Gallagher issued a statement to the Times via his lawyer, saying, "My first reaction to seeing the videos was surprise and disgust that they would make up blatant lies about me, but I quickly realized that they were scared that the truth would come out of how cowardly they acted on deployment."
"I felt sorry for them that they thought it necessary to smear my name, but they never realized what the consequences of their lies would be. As upset as I was, the videos also gave me confidence because I knew that their lies would never hold up under real questioning and the jury would see through it."
"Their lies and NCIS' refusal to ask hard questions or corroborate their stories strengthened my resolve to go to trial and clear my name."
Go deeper: Military officials say Trump's SEAL interventions embolden war criminals
Go deeper