Jeff Flake urges former GOP colleagues to "put country over party" in impeachment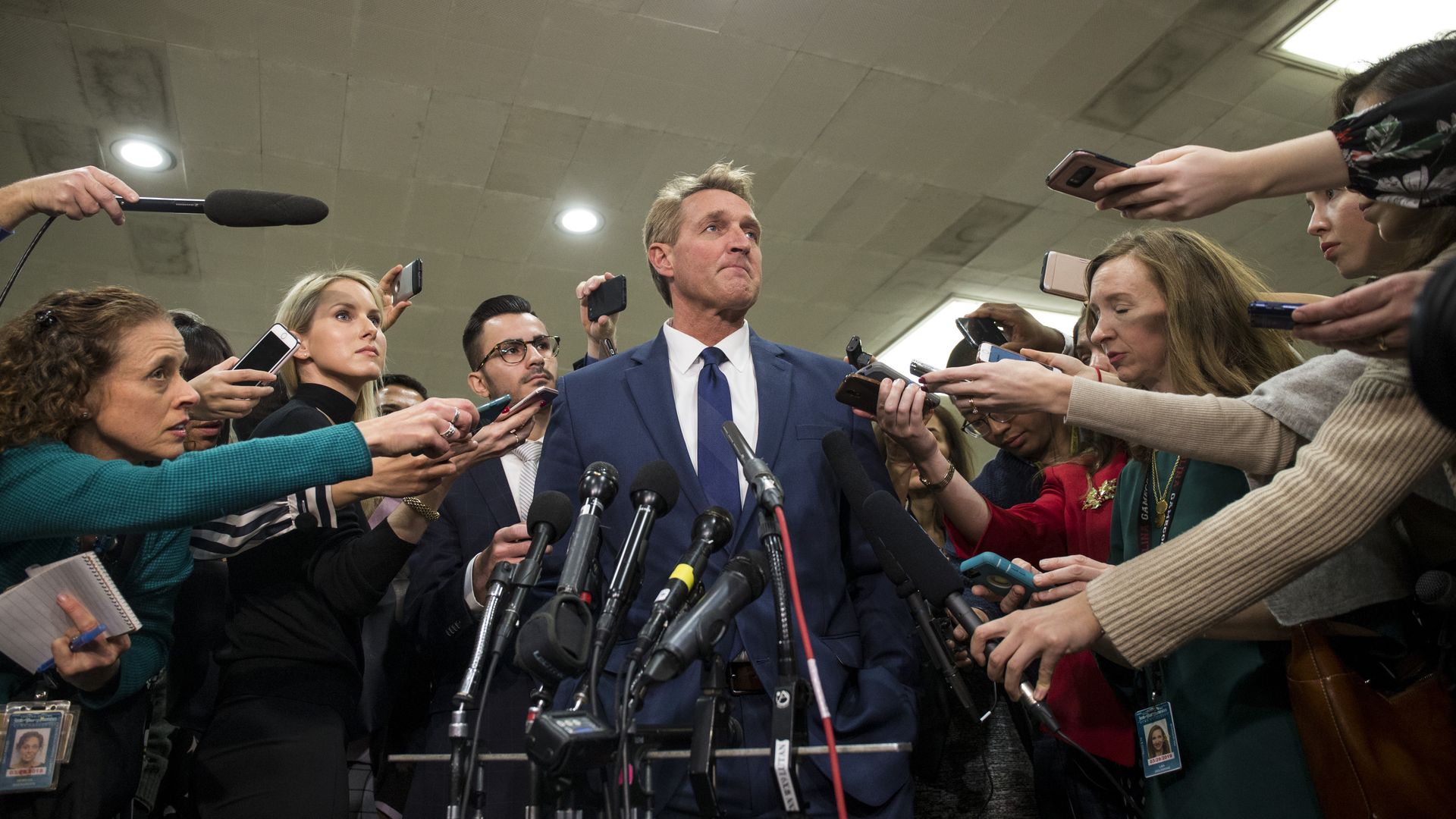 Jeff Flake urged his former GOP colleagues to "put country over party," as the chamber prepares for President Trump's impeachment trial, the ex-Arizona senator wrote in a Washington Post op-ed.
What he's saying: Flake writes that some Republicans may conclude that Trump's action warrant removal from office, while others will believe the president's misdeeds don't rise to the level of impeachment. "But what is indefensible is echoing House Republicans who say that the president has not done anything wrong. He has."
Why it matters: Flake served in the Senate from 2013 to 2019. He was a frequent critic of Trump and fellow Republicans who defended the president's actions. Flake announced he would not seek re-election in 2017, noting to The Arizona Republic "there may not be a place for a Republican like me in the current Republican climate or the current Republican Party."
Highlights:
"Personally, I have never met anyone whose behavior can be described as perfect, but so often has the president repeated this obvious untruth that it has become a form of dogma in our party."
"As we approach the time when you do your constitutional duty and weigh the evidence arrayed against the president, I urge you to remember who we are when we are at our best. And I ask you to remember yourself at your most idealistic."
"My simple test for all of us: What if President Barack Obama had engaged in precisely the same behavior? I know the answer to that question with certainty, and so do you. You would have understood with striking clarity the threat it posed, and you would have known exactly what to do."
"The willingness of House Republicans to bend to the president's will by attempting to shift blame with the promotion of bizarre and debunked conspiracy theories has been an appalling spectacle. It will have long-term ramifications for the country and the party, to say nothing of individual reputations."
The bottom line: "President Trump is on trial. But in a very real sense, so are you. And so is the political party to which we belong," Flake writes.
Go deeper:
Go deeper