Read: Pelosi's letter to Democrats on impeachment eve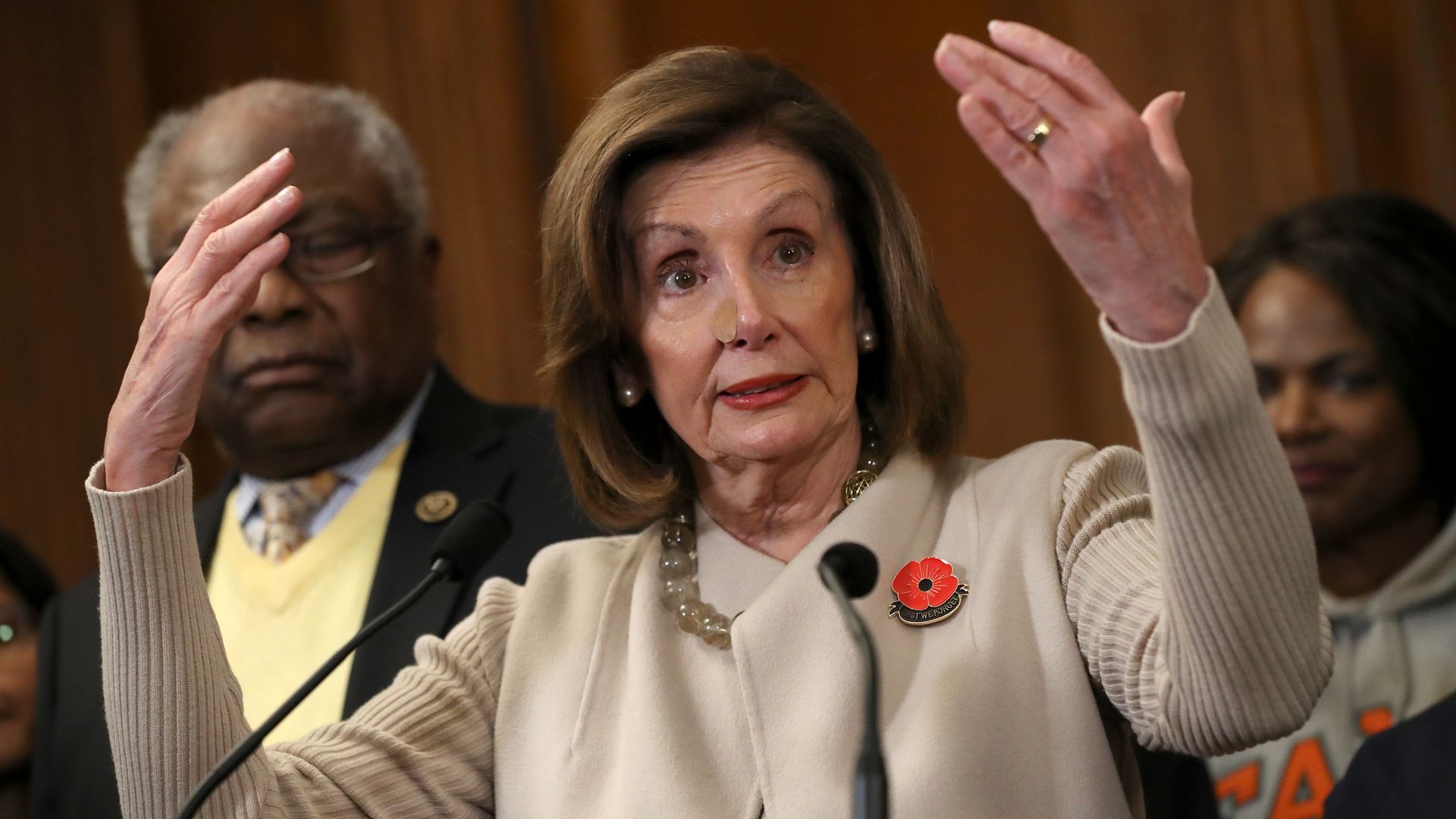 Speaker Nancy Pelosi addressed her fellow Democrats in a letter on Tuesday evening, ahead of Wednesday's full House vote to approve the articles of impeachment against President Trump.
Driving the news: Trump wrote a blistering letter to Pelosi on Tuesday that doubled as his own formal statement on impeachment, arguing that "more due process was afforded to those accused in the Salem Witch Trials."
Read highlights from Pelosi's letter:
"No Member came to Congress to impeach a President. But every one of us, as our first act as a Member of Congress, stood on the House Floor, raised our hand and took a sacred oath: 'I do solemnly swear that I will support and defend the Constitution of the United States against all enemies, foreign and domestic.' That oath makes us Custodians of the Constitution. If we do not act, we will be derelict in our duty.
I salute the Chairs of the Committees for the great seriousness and solemnity with which they have proceeded down this path, and for conducting all hearings in a manner that was fair, transparent and deliberative, so that the American people could see the truth for themselves. Very sadly, the facts have made clear that the President abused his power for his own personal, political benefit and that he obstructed Congress as he demanded that he is above accountability, above the Constitution and above the American people.  In America, no one is above the law.
When the House convenes to take the impeachment vote tomorrow morning, I urge each of you to join me on the Floor. Our constituents look to us to be respectful of the Constitution and Defenders of our Democracy, and to proceed in a manner worthy of our oath of office to support and defend the Constitution of the United States."
Flashback: In September, Pelosi said impeachment felt unavoidable, per Axios' Margaret Talev and Alayna Treene. A source who discussed the issue with Pelosi said the speaker hated the politics of impeachment, but she had "succumbed to the inevitability."
Go deeper: Trump accuses Democrats of subverting democracy in blistering letter to Pelosi
Go deeper